The Power of Praying with Scripture: Meditating on God's Word in Prayer allows us to connect deeply with God through reflection, contemplation, and conversation. By incorporating passages from the Bible into our prayers, we stay focused, find the right words, deepen our understanding of God, apply biblical wisdom, align our desires with His will, foster community, and experience spiritual growth. Let us embrace this powerful practice and allow scripture to shape and enrich our prayer lives.
---
---
The Power of Praying with Scripture: Meditating on God's Word in Prayer
The Power of Praying with Scripture: Meditating on God's Word in Prayer
Prayer is a deeply personal and powerful way to connect with God. It allows us to communicate our thoughts, hopes, fears, and desires to the divine. While prayer can take many forms, one particularly effective and enriching approach is praying with scripture.
Meditating on God's word in prayer has been practiced for centuries by faithful individuals seeking a deeper connection with their Creator. It involves using passages from the Bible as prompts for reflection, contemplation, and conversation with God. This practice offers numerous benefits that can enhance our spiritual journey and relationship with the divine.
Scripture provides us with a rich tapestry of verses and stories that convey God's love, wisdom, and guidance. Through prayerful meditation, we can internalize these teachings on a personal level and allow them to shape our thoughts, actions, and attitudes. As we delve into the word of God, we discover timeless truths that offer solace, encouragement, and inspiration in our daily lives.
One of the key advantages of praying with scripture is the way it helps us stay focused during prayer. Oftentimes, our minds can wander as we try to commune with God, leading to distractions and a lack of depth in our conversations. By incorporating scripture into our prayers, we have a specific focus for our thoughts and intentions. This not only keeps us centered, but also opens up avenues for greater spiritual growth and understanding.
Additionally, scripture provides a language for our prayers. Sometimes, we struggle to find the right words or express our emotions to God. The poetic and profound verses found in the Bible can give us the vocabulary and expressions we need to communicate with our heavenly Father. Whether it is a psalm of praise, a prayer of confession, or a plea for guidance, the scriptures offer us a framework to articulate our deepest longings and connect with God in a meaningful way.
Another benefit of praying with scripture is the way it deepens our understanding of God's character. The Bible presents a multifaceted portrait of God: a loving father, a compassionate healer, a wise teacher, and a faithful guide. As we meditate on these aspects of God's nature, we gain a clearer picture of who He is and how He relates to us. This, in turn, fosters a deeper sense of trust, intimacy, and reverence in our prayers.
Furthermore, praying with scripture allows us to apply biblical wisdom to our specific circumstances and challenges. The Bible addresses every facet of human existence, and within its pages, we find comfort, guidance, and solutions to life's problems. When we read and reflect on God's word, we can discern how these teachings relate to our own lives, helping us navigate difficulties, make sound decisions, and grow in spiritual maturity.
Incorporating scripture into our prayer life also helps us align our desires with God's will. The Bible provides a moral compass and a framework for discerning what is pleasing to God. When we meditate on God's word and include it in our prayers, it reshapes our hearts and minds according to His purposes. It cultivates humility, surrender, and a desire to seek first His kingdom. In this way, praying with scripture not only transforms our prayers but also transforms us.
Additionally, praying with scripture fosters a sense of community and unity among believers. The Bible contains numerous passages that emphasize the importance of praying together and supporting one another in faith. When we incorporate shared scripture into our communal prayers, we join a chorus of believers who have uttered these same words throughout the ages. This shared practice unites us and reinforces our common bonds as followers of Christ.
In conclusion, the power of praying with scripture cannot be overstated. It offers us focus, language, insight, and growth in our conversations with God. By meditating on God's word in prayer, we open ourselves up to the transformative work of God's spirit within us. So, let us embrace this powerful practice and allow scripture to shape and enrich our prayer lives, drawing us closer to the heart of God.
I hope this prayer inspired image brings you hope and peace. Share it with someone who needs it today!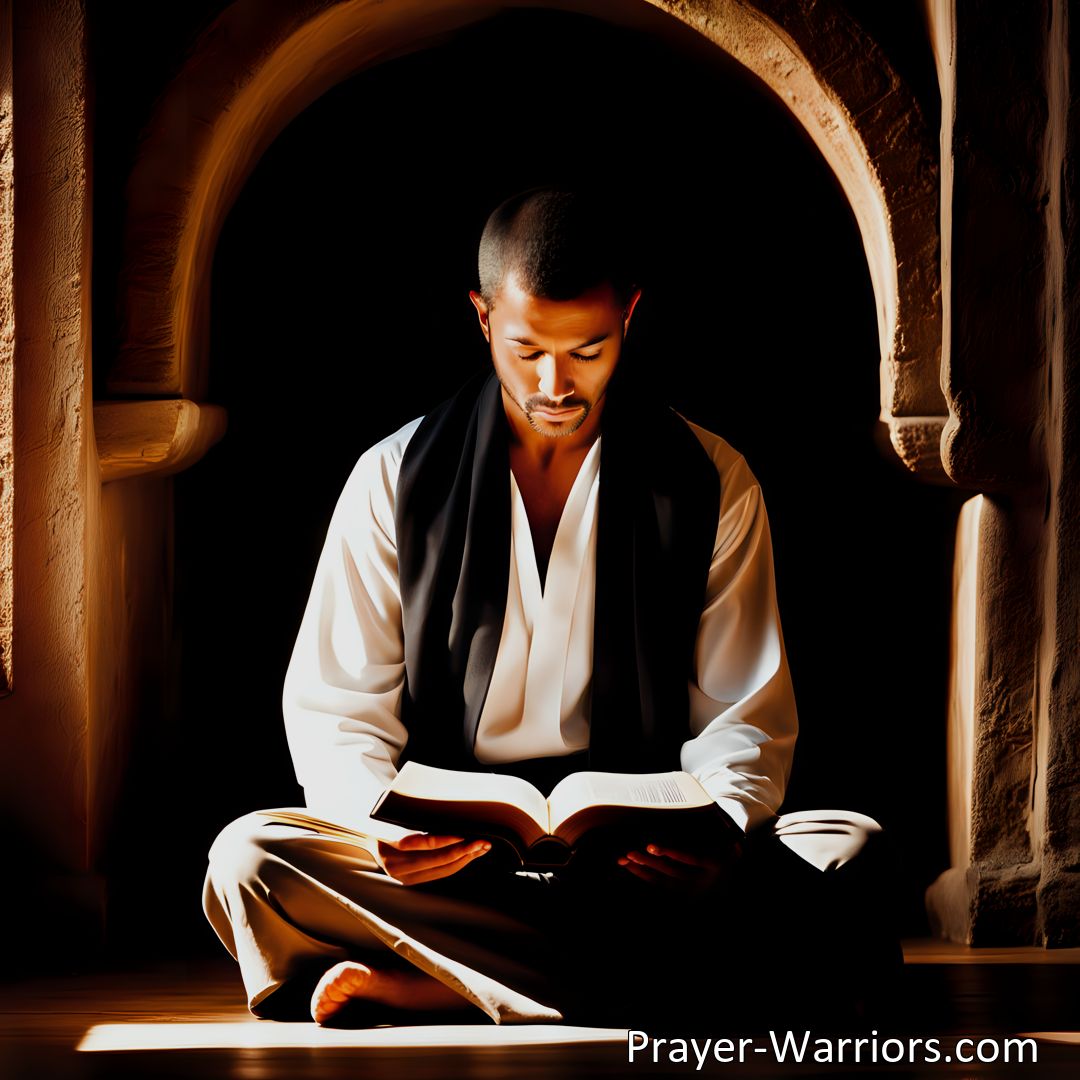 Join the Prayer Warriors Community!
Sign-up for our newsletter and embark on a transformative journey with Prayer. Enter your email below and become a part of our Prayer Warriors family.