Seeing I Am Jesus Lamb – Hymn Lyric
"Seeing I Am Jesus' Lamb: Discovering the Joy of God's Love and Care" This hymn invites us to see ourselves as cherished lambs of Jesus, experiencing His unconditional love and guidance. Through this reflection, we come to understand the profound blessings and joy that come from our relationship with the good Shepherd. As Jesus calls us by name and provides for our every need, we can truly rejoice in the love He has given us and find solace in the promise of our eternal home with Him.
---
---
Seeing I Am Jesus Lamb – Hymn Lyric
Seeing, I am Jesus' lamb,
Ever glad at heart, I am.
O'er my shepherd, kind and good,
Who provides my daily food.
And his lamb, by name, doth call,
For he knows and loves us all.
Guided by his gentle staff,
Where the sunny pastures laugh.
I go in, and out, and feed,
Lacking nothing that I need.
When I thirst, my feet he brings,
To the fresh and living springs.
Must I not rejoice at this?
He is mine, and I am his.
And when these bright days are past,
Safely in his arms, at last.
He will bear me home to heaven;
Ah! what joy hath Jesus given.
Meaning of Seeing I Am Jesus Lamb
Seeing I Am Jesus' Lamb: A Joyful Reflection on God's Love and Care
Have you ever considered yourself as a lamb, cherished and cared for by Jesus, the good shepherd? It may seem like an unusual comparison, but when you dive deeper into the meaning behind this hymn, you'll realize the profound love and guidance that God provides for us, His precious flock.
In this beautiful hymn, we are reminded of the joy that comes from being a lamb of Jesus. As His lambs, we are ever glad at heart because we have a Shepherd who is kind and good. Just like a shepherd cares for and tends to his sheep, Jesus provides us with our daily food — not just physical nourishment but also spiritual sustenance that strengthens and uplifts our souls.
Jesus knows and loves each one of us individually. Just as a shepherd calls his sheep by name, Jesus calls us by our unique identities. He recognizes our strengths, weaknesses, and deepest desires. We are not merely a face in the crowd to Him; we are His beloved lambs, and He cherishes us unconditionally.
Guiding us with His gentle staff, Jesus leads us to sunny pastures where laughter abounds. These pastures symbolize the abundant blessings and joy that He provides for us. We can go in and out freely, knowing that our Shepherd is watching over us and protecting us from harm. We lack nothing that we truly need because Jesus is our provider, constantly showering us with His grace and mercy.
Just as a shepherd leads his sheep to find water, Jesus quenches our spiritual thirst by bringing us to fresh and living springs. His Word, the Bible, is a wellspring of wisdom and truth where we can find nourishment for our souls. With Jesus as our guide, we can drink from the waters of eternal life and be refreshed in His presence.
Reflecting on the love and care of Jesus, can we not rejoice? The hymn asks this rhetorical question, prompting us to ponder the magnificent blessings we have through our Shepherd. He is not a distant figure or an impersonal God; He is ours, and we are His. We can take comfort and find joy in this intimate relationship that we have with Jesus, knowing that we are unconditionally loved and cared for.
As we journey through life, facing various challenges and trials, we can take solace in knowing that our Shepherd will bring us safely home to heaven. The hymn beautifully expresses the anticipation and excitement of being embraced by Jesus in His arms at the end of our earthly pilgrimage. This is the ultimate fulfillment of our faith: eternal communion with our Savior, where all pain, suffering, and sorrow will become a distant memory.
The joy that Jesus has given us is truly unparalleled. His love transcends all understanding and has the power to transform our lives. By recognizing ourselves as Jesus' lambs, we can fully embrace His love and experience the joy that comes from knowing we are always cherished and protected.
In conclusion, this hymn serves as a reminder of the incredible love and care that Jesus, our Shepherd, provides for us. We are His precious lambs, known by name and guided by His gentle staff. In Jesus, we lack nothing that we truly need and find refreshment in His living springs. With hearts filled with rejoicing, we can look forward to the day when our Shepherd will bring us safely to our eternal home in heaven. May we always remember the joy that Jesus has given as His beloved lambs.
I hope this hymn inspired image brings you hope and peace. Share it with someone who needs it today!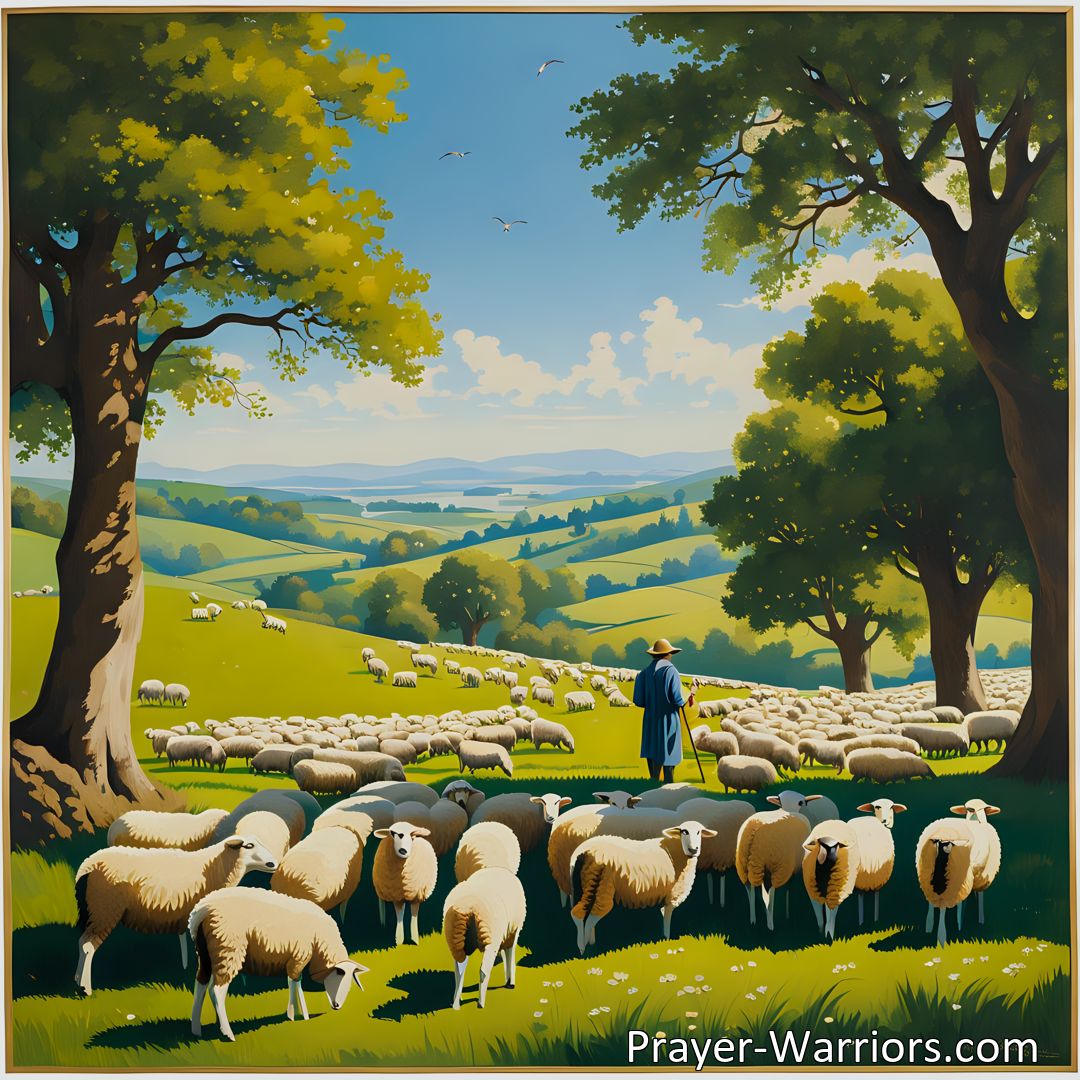 Join the Prayer Warriors Community!
Sign-up for our newsletter and embark on a transformative journey with Prayer. Enter your email below and become a part of our Prayer Warriors family.