Sing To The Lord Of Heaven And Earth – Hymn Lyric
summary.txt
---
---
Sing To The Lord Of Heaven And Earth – Hymn Lyric
Sing to the Lord of heaven and earth,
whom angels serve and saints adore,
the Father, Son, and Spirit blest
to whom be praise for evermore.
Amen.

Meaning of Sing To The Lord Of Heaven And Earth
Sing to the Lord of Heaven and Earth: Celebrating the Divine Majesty
Music has the power to move us, to uplift our spirits, and to connect us with something greater than ourselves. When we sing to the Lord of Heaven and Earth, we are participating in a tradition that spans centuries, bringing us closer to the Divine Majesty. This hymn, with its simple yet powerful chorus, reminds us of the joy and wonder of worshiping together as a community.
When we sing, we give voice to our deepest emotions and expressions of faith. It is through the act of singing that we can fully engage with the messages of the hymn. Singing allows us to connect not only with ourselves but also with others who are joining in the same song of praise. As we lift our voices together, we become part of a larger whole, united in our devotion to the Lord.
The hymn begins by calling us to sing to the Lord, the ruler of both Heaven and Earth. This imagery reminds us of the vastness of God's power and presence. From the heavens above to the earth below, the Lord's authority is boundless. Angels, those celestial beings who serve and adore the Lord, join us in our worship. Their voices are harmonious with ours, as we all strive to offer our praise and adoration.
The lyrics continue by acknowledging the Divine Trinity – the Father, Son, and Spirit blest. This reference to the Holy Trinity highlights the belief in three distinct yet unified aspects of God. In our human understanding, it may be difficult to comprehend the complexity of God's nature, but through singing, we engage with the mystery and wonder of the Divine. We acknowledge and honor each member of the Trinity, recognizing their unique contributions to our spiritual lives.
As we sing this hymn, we are reminded of the eternal nature of God's praise. The lyrics emphasize that praise should be offered to the Lord "forevermore." This eternal quality suggests that worship is not bound by time, but rather a continuous act that spans beyond our earthly existence. Singing to the Lord becomes a practice that transcends the present moment, connecting us with the countless voices of believers who have come before us and those who will come after us.
In addition to hymns being a means of worship, they also have educational and instructional value. Hymns often teach theological concepts and reinforce core beliefs. Through singing, we internalize these teachings in a way that is personal and meaningful. The act of repetition in singing helps to ingrain the lessons into our hearts and minds, making them more accessible and memorable.
This hymn, "Sing to the Lord of Heaven and Earth," serves as a guide to our worship and an expression of our faith. It invites us to lift our voices in praise and reminds us of the grandeur and majesty of the One to whom we sing. Whether we are singing in a church, a school, or within the quiet confines of our own homes, we are called to participate in this act of devotion.
In conclusion, when we sing to the Lord of Heaven and Earth, we engage with a rich tradition of worship and praise. Through this hymn, we connect with the Divine Majesty and unite with others in sharing our faith. Singing allows us to express our deepest emotions and beliefs, to learn and internalize theological concepts, and to participate in a timeless act of devotion. So let us raise our voices and join the song, singing to the Lord with fervor and joy, for now and forevermore. Amen.
I hope this hymn inspired image brings you hope and peace. Share it with someone who needs it today!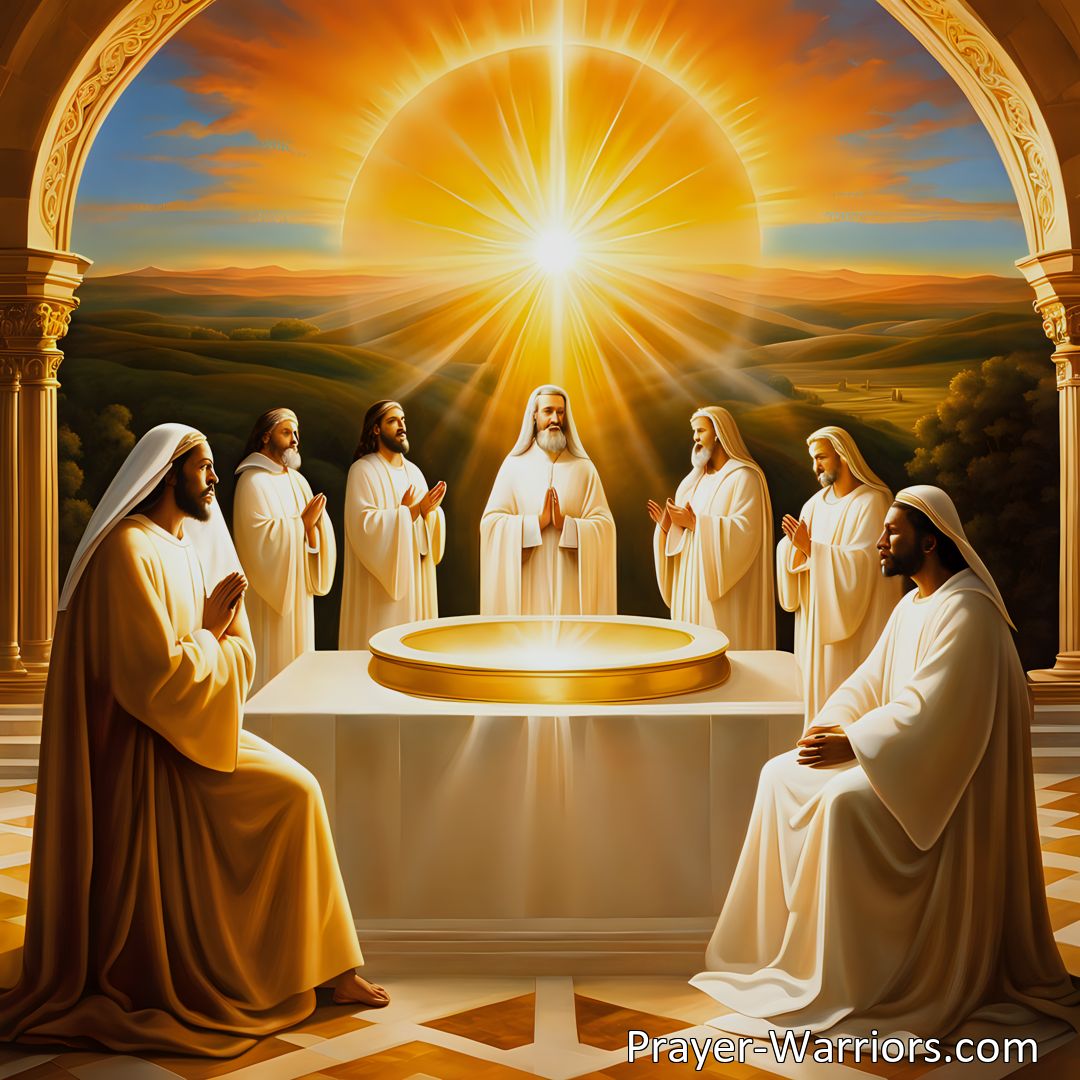 Join the Prayer Warriors Community!
Sign-up for our newsletter and embark on a transformative journey with Prayer. Enter your email below and become a part of our Prayer Warriors family.