Still Throned In Heaven To Men In Unbelief – Hymn Lyric
"Still Throned In Heaven To Men In Unbelief" is a hymn that speaks of Christ's continuous presence in our lives, even in the face of doubt and rejection. The hymn emphasizes the importance of listening to Christ's voice and seeking a deeper understanding of his humanity and divinity. Through perseverance and open hearts, we can find solace and purpose in Christ's loving embrace.
---
---
Still Throned In Heaven To Men In Unbelief – Hymn Lyric
Still throned in heaven,
to men in unbelief
Christ spreads his hands all day;
They scan his claims,
give judgement cold and brief,
And fearless turn away.
Once more, O peerless mystery of grace,
Thy sweet appeal renew;
Light up dark minds,
win souls to thine embrace,
High forts of doubt subdue.
Speak, till the sons of men with hearts unseared,
Led by that voice of thine,
Find thee each day more glorious,
more endeared,
Christ human, Christ divine.
Meaning of Still Throned In Heaven To Men In Unbelief
In this hymn, titled "Still Throned In Heaven To Men In Unbelief," we are reminded of the enduring presence of Christ in our lives, despite the disbelief and rejection he often faces from humanity. The hymn speaks of the constant outreach of Christ, spreading his hands in a gesture of love and acceptance towards all, only to be met with skepticism and indifference.
The opening verse depicts a world where people doubt and question the claims of Christ. It portrays a society that hears his message but fails to fully grasp its significance. The hymn acknowledges that many people coldly dismiss the truth, turning away from Christ without giving his words a fair chance.
However, the hymn also highlights the extraordinary nature of Christ's grace and love. It refers to his appeal as "sweet," suggesting the compassionate and inviting nature of Christ's message. It encourages Christ to continue his efforts to enlighten darkened minds and open closed hearts.
One of the hymn's central themes is the mystery of Christ's grace. It recognizes this as a profound concept that is difficult for human minds to comprehend fully. Nonetheless, it implores Christ to persist in his mission, breaking through the barriers of doubt that hinder acceptance of his message. This imagery suggests that doubt is like a fortress that needs to be conquered for faith to bloom.
The hymn further pleads for Christ's voice to be heard by the sons of men with unseared hearts. This indicates a desire for people to be open-minded and receptive to the teachings of Christ. The hymn emphasizes the importance of actively seeking and engaging with Christ's voice, as it leads to a deeper understanding of his divine nature and the significance of his humanity.
By continuously listening to Christ's voice and seeking a greater connection with him, the hymn suggests that individuals will come to see Christ as both human and divine. This revelation is portrayed as a gradual process, where Christ becomes more glorious and endearing each day. It suggests that through ongoing spiritual growth and reflection, individuals can develop a deeper appreciation for the multifaceted nature of Christ's being.
In exploring these ideas, the hymn captures the essence of perseverance in the face of disbelief. It acknowledges the inherent challenges and skepticism that can exist when it comes to matters of faith and encourages individuals to push past these obstacles. The hymn encourages us to recognize that faith is a personal journey, and that by actively engaging with Christ's teachings, we can overcome doubt and come to a fuller understanding of his divinity.
In conclusion, the hymn "Still Throned In Heaven To Men In Unbelief" serves as a gentle reminder of the unwavering presence of Christ in our lives, despite the doubts and rejections that may occur. It encourages us to listen to his voice, allowing it to penetrate our hearts and transform our lives. By doing so, we can gradually come to a deeper appreciation and understanding of Christ's human and divine nature, ultimately finding solace and purpose in his embrace.
I hope this hymn inspired image brings you hope and peace. Share it with someone who needs it today!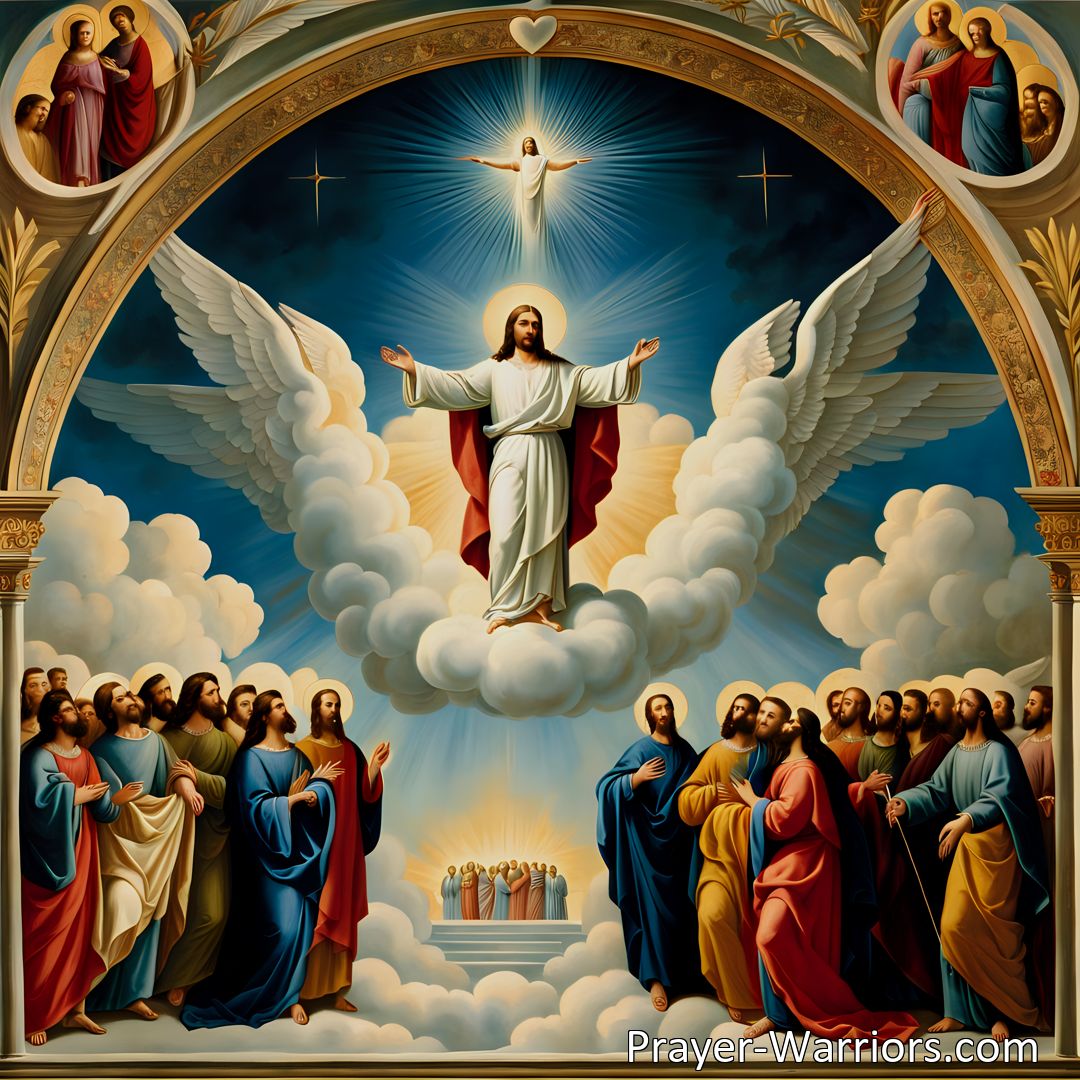 Join the Prayer Warriors Community!
Sign-up for our newsletter and embark on a transformative journey with Prayer. Enter your email below and become a part of our Prayer Warriors family.