Sweet Home Beyond The River – Hymn Lyric
summary.txt
---
---
Sweet Home Beyond The River – Hymn Lyric
Sweet home beyond the river,
Oh, how I long for thee!
Where from this weary toiling
I shall evermore be free.
Toiling where no fruit appeareth,
Only withered leaves to show
That I have been a worker
In the vineyard here below.
Refrain:
Sweet home beyond the river,
I love to think of thee,
And joys that are awaiting
For all who faithful be.
We know if we are striving
Each day to do our best,
Just trusting in the Savior,
We may leave with him the rest.
Well he knoweth all our weakness,
All our sorrows he hath shared;
Our home beyond the river
For us all he hath prepared.
[Refrain]
Sweet home beyond the river,
Whene'er I think of thee,
And glories that awaiteth
All those who worthy be,
We count it joy to labor,
If only we may win
The Master's fond approval,
Thou art worthy, enter in.
[Refrain]
Meaning of Sweet Home Beyond The River
Sweet Home Beyond The River: A Place of Longing and Freedom
In the midst of our busy lives, filled with toil and labor, there is a place that holds a special meaning for many of us. It is a place beyond the river, a place we long for with every fiber of our being. This hymn, titled "Sweet Home Beyond The River," beautifully captures the sentiment of longing and hope for a better future.
The imagery painted in the verses of this hymn evokes a sense of weariness from the endless toiling here on earth. We are reminded of the withered leaves that symbolize our efforts that often bear no fruit. It is easy to feel discouraged when our labors go unnoticed or seem fruitless. But amidst this weariness, there is a glimmer of hope, a yearning for that sweet home beyond the river.
The refrain of the hymn brings us back to this longing, expressing the love we have for the thought of that heavenly home. It is a place where joy awaits those who remain faithful in their endeavors. The promise of this home gives us renewed strength to continue striving each day, knowing that our efforts are not in vain.
Within the verses, we find solace in the fact that our Savior knows our weaknesses and sorrows. He has shared in our burdens and walks beside us on this journey. This knowledge brings comfort and assurance that the home beyond the river has been prepared for us. It is a home where all our pain and suffering will be left behind, replaced by the eternal joys that await.
The hymn encourages us to see our labor here on earth as a joyful act, not a burden. It teaches us that if we strive to do our best every day, trusting in the guidance of our Savior, we can leave the outcome and the worries of tomorrow in His hands. Our focus should be on serving Him faithfully, knowing that He will take care of the rest.
When we reflect on the notion of a sweet home beyond the river, we are filled with a sense of awe and wonder. It is a place that holds the glories we can only dream of in our earthly existence. It is a place where the worthy will find their eternal reward. And so, we embrace the joy of labor, knowing that it brings us one step closer to hearing the Master's fond approval, those beautiful words: "Thou art worthy, enter in."
This hymn, with its profound simplicity, touches on the universal longing for a better future. It reminds us that even in the face of toil and hardship, there is hope for a home beyond the river. It invites us to reflect on the love and grace of our Savior, who walks with us every step of the way. It encourages us to find joy in our labor, knowing that it is through our efforts and unwavering faith that we will be deemed worthy to enter that sweet home.
As we sing this hymn and let its words resonate within our hearts, we are reminded of the beauty of hope and the promise of a better tomorrow. It is a message that speaks to people of all ages and backgrounds, reminding us to keep our eyes on the prize and to remain steadfast in our faith.
So, as we continue our journey through life, let us hold onto the words of "Sweet Home Beyond The River." Let us find comfort in the knowledge that there is a place where all our toil and labor will be transformed into everlasting joy. May this hymn guide our steps and fill our hearts with hope as we strive to be worthy of that sweet home beyond the river.
I hope this hymn inspired image brings you hope and peace. Share it with someone who needs it today!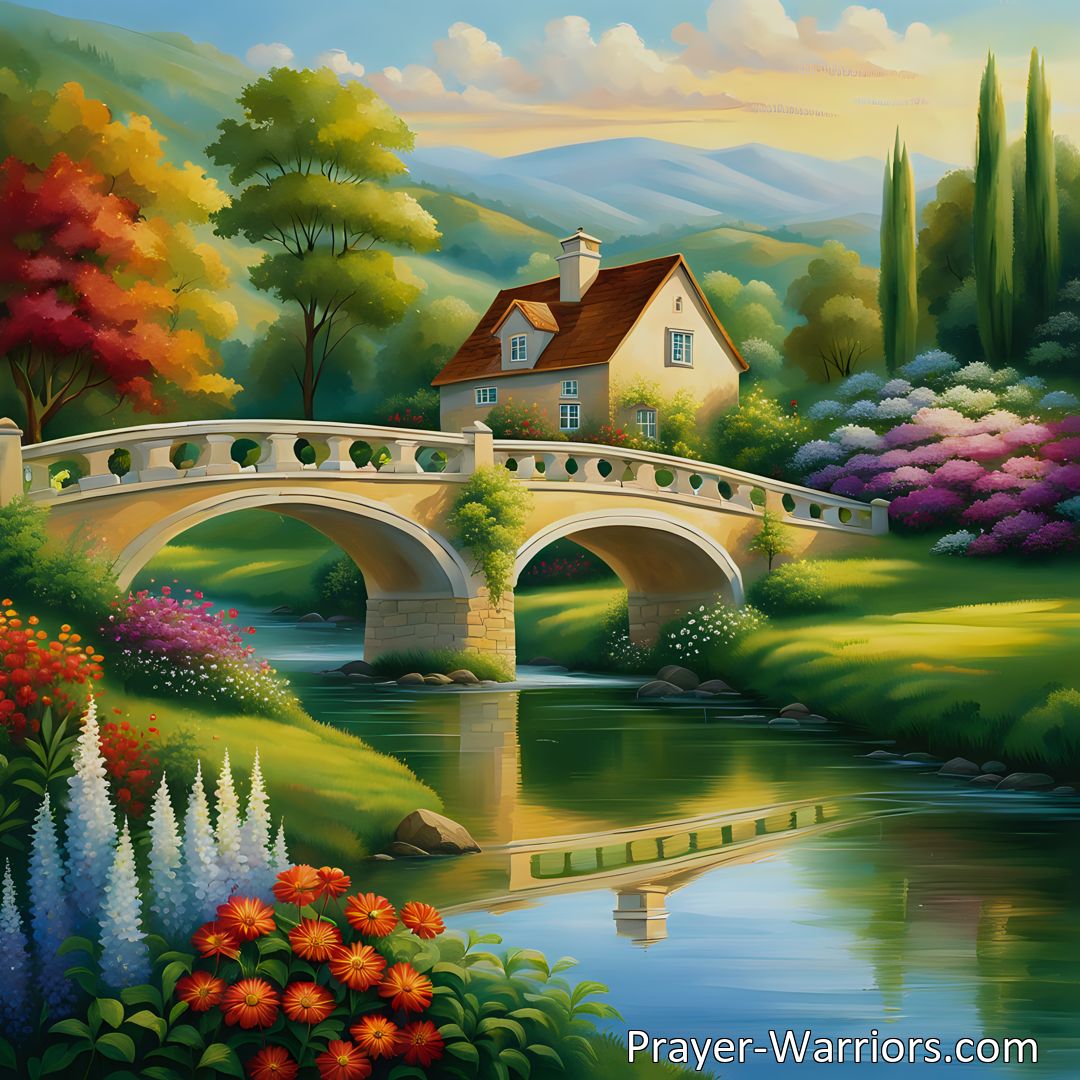 Join the Prayer Warriors Community!
Sign-up for our newsletter and embark on a transformative journey with Prayer. Enter your email below and become a part of our Prayer Warriors family.