Thee Will I Love, My Strength, My Tower – Hymn Lyric
Summary: "Thee Will I Love, My Strength, My Tower" is a heartfelt hymn expressing love and devotion to a divine power. It encourages us to find solace and guidance in this higher power, realizing that its love surpasses all earthly pleasures. Through the speaker's journey of realization and gratitude, we are reminded to seek divine wisdom, find healing and empowerment, and unite our efforts in the glory of this eternal love.
---
---
Thee Will I Love, My Strength, My Tower – Hymn Lyric
Thee will I love, my Strength, my Tower,
Thee will I love, my Joy, my Crown,
Thee will I love with all my power,
In all Thy works, and Thee alone;
Thee will I love, till the pure fire
Fill my whole soul with chaste desire.
Ah, why did I so late Thee know,
Thee, lovelier than the sons of men!
Ah, why did I no sooner go
To Thee, the only ease in pain!
Ashamed, I sigh, and inly mourn,
That I so late to Thee did turn.
In darkness willingly I strayed,
I sought Thee, yet from Thee I roved;
Far wide my wandering thoughts were spread,
Thy creatures more than Thee I loved;
And now if more at length I see,
'Tis through Thy light and comes from Thee.
I thank Thee, uncreated Sun,
That Thy bright beams on me have shined;
I thank Thee, who hast overthrown
My foes, and healed my wounded mind;
I thank Thee, whose enlivening voice
Bids my freed heart in Thee rejoice.
Uphold me in the doubtful race,
Nor suffer me again to stray;
Strengthen my feet with steady pace
Still to press forward in Thy way;
My soul and flesh, O Lord of might,
Fill, satiate, with Thy heavenly light.
Give to mine eyes refreshing tears,
Give to my heart chaste, hallowed fires,
Give to my soul, with filial fears,
The love that all Heaven's host inspires;
That all my powers, with all their might,
In Thy sole glory may unite.
Thee will I love, my joy, my crown,
Thee will I love, my Lord, my God;
Thee will I love, beneath Thy frown,
Or smile, Thy scepter, or Thy rod;
What though my flesh and heart decay?
Thee shall I love in endless day!
Meaning of Thee Will I Love, My Strength, My Tower
In this hymn, titled "Thee Will I Love, My Strength, My Tower," the speaker expresses their unwavering love and devotion to God. The hymn explores the journey of the speaker's faith and the realization that only God can bring true joy and peace.
The hymn opens with the speaker declaring their love for God, acknowledging Him as their strength, their tower of refuge. It is a profound statement of their commitment to love God with all their power and in all His works. The speaker desires for their soul to be filled with a pure fire of chaste desire, demonstrating their longing to be fully devoted to God.
In the next verse, the speaker reflects on their past, expressing regret and sadness for not recognizing God's beauty and love sooner. They admit to seeking solace in worldly things, wandering in darkness, and loving God's creatures more than Him. The speaker realizes that the clarity they have gained, the ability to see more clearly, is thanks to God's light shining upon them.
Gratefulness fills the third verse as the speaker thanks God for His divine presence in their life. They acknowledge God's ability to overcome their adversaries and bring healing to their wounded mind. The acknowledgment of God's enlivening voice and the freedom it brings to the speaker's heart is a testament to the transformative power of God's love.
The fourth verse portrays the speaker's plea for God's guidance and strength to stay on the right path. They ask God to uphold them in the race of life, to prevent them from straying again. The speaker desires their feet to be strengthened with a steady pace, enabling them to continually move forward in God's way. They recognize that it is through God's heavenly light that their soul and flesh can be filled and satisfied.
In the fifth verse, the speaker seeks a deeper connection with God. They long for refreshing tears, tears of repentance and a cleansing of their soul. They also desire chaste and hallowed fires in their heart, representing a purification and passion for God's will. The speaker expresses a yearning for the love that inspires all of Heaven's host, a love that instills filial fears, reverential love for God as a child has for their parent. The speaker hopes that all their powers, with all their might, may unite in bringing glory to God alone.
The hymn concludes with a resolute declaration of the speaker's love for God. They affirm that they will love Him regardless of circumstances – whether under His frown or smile, His scepter or rod. Even in the face of decay and mortality, the speaker declares their eternal devotion to God. The hymn ends with the affirmation that they will love God in endless day, implying an everlasting bond that transcends time.
"Thee Will I Love, My Strength, My Tower" is a heartfelt hymn that portrays a personal journey of faith and devotion. Through its exploration of love, repentance, gratefulness, and commitment, the hymn invites readers to reflect on their own relationship with God. It serves as a reminder that it is in God alone that true strength, joy, and eternal love can be found.
I hope this hymn inspired image brings you hope and peace. Share it with someone who needs it today!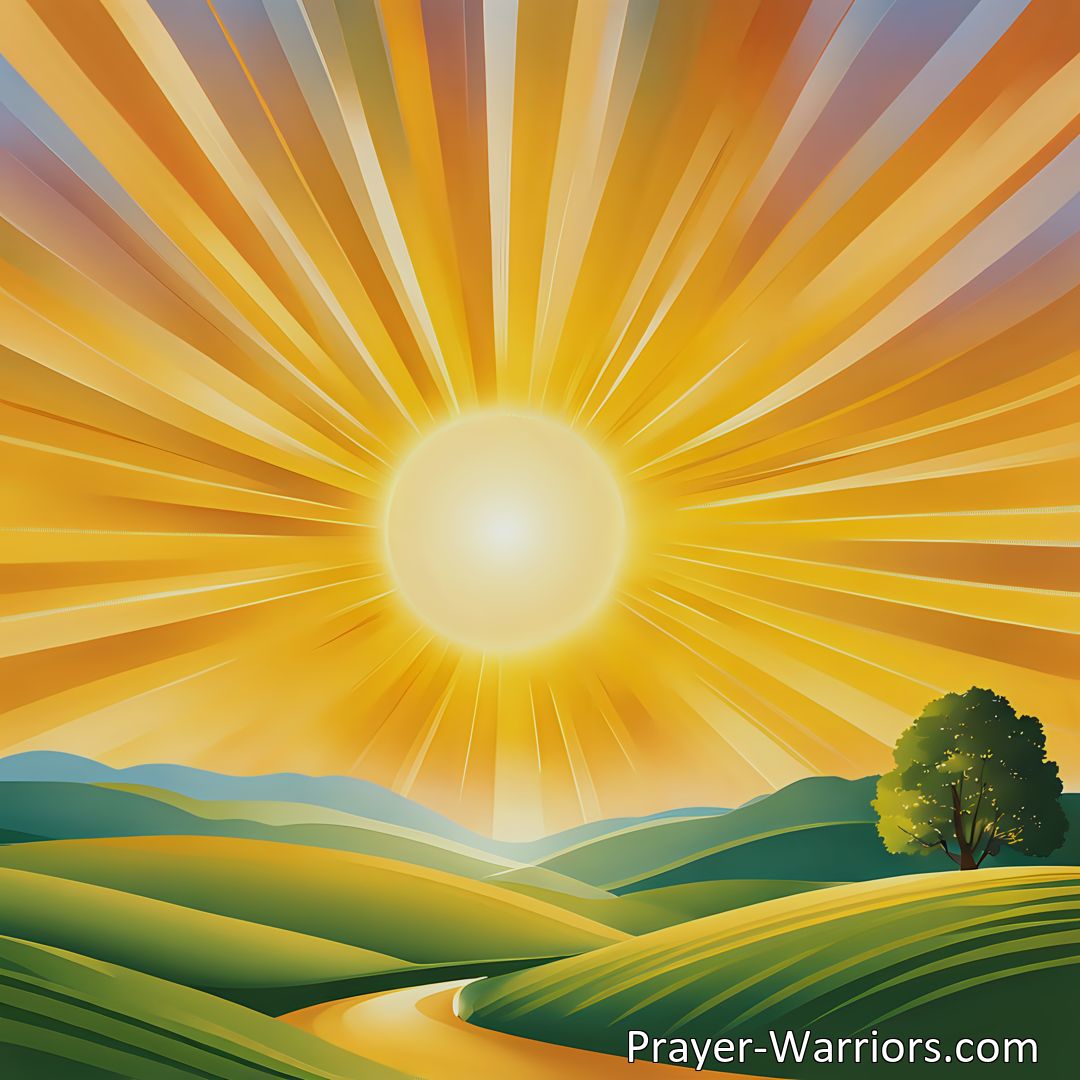 Join the Prayer Warriors Community!
Sign-up for our newsletter and embark on a transformative journey with Prayer. Enter your email below and become a part of our Prayer Warriors family.