There Came A Man To Jesus – Hymn Lyric
"There Came A Man To Jesus: Finding Freedom through Self-Sacrifice" is a hymn that tells the story of a man seeking eternal life from Jesus. The man is told that the one thing he lacks is to take up his cross and follow Jesus. This powerful message of personal responsibility and self-sacrifice resonates with all of us on our journey towards true freedom.
---
---
There Came A Man To Jesus – Hymn Lyric
There came a man to Jesus,
And humbly sought eternal life,
He sought the grace that frees us,
From ev'ry sinful earthly strife,
The Lord in love drew near him,
And gently sought to make him free,
One thing thou lackest, merely,
Take up thy cross and follow me.
Refrain:
One thing thou lackest,
Only one;
One thing thou lackest,
To be free;
One thing thou lackest,
Only one;
Take up thy cross and follow me.
With fallen mien this stranger,
All sad at what he heard that day;
Went forth into the danger,
He thought that Christ would take away,
But Christ looked on in pity,
At that poor soul forever gone,
From God's eternal city,
And left to fight the world alone.
[Refrain]
Are you, the Saviour seeking,
That you may have eternal life?
O list, to you, he's speaking
The words with pow'r and mercy rife,
He knows that you are weary,
Of ev'ry tempting earthly whim,
But list he tells you clearly,
Take up the cross and follow Him.
[Refrain]
Meaning of There Came A Man To Jesus
There Came A Man To Jesus: Finding Freedom through Self-Sacrifice
In the hymn "There Came A Man To Jesus," we are reminded of a story from the Bible where a man approached Jesus seeking eternal life. The man was seeking the grace that would release him from the burdens of sin and the struggles of earthly life. Jesus, in His loving and gentle manner, came closer to the man and offered him a solution – one thing he lacked. This one thing, he was told, would bring him the freedom he desired: taking up his cross and following Jesus.
The refrain of the hymn emphasizes the significance of this one thing that was missing in the man's life. It echoes the simple yet powerful truth that to be truly free, we need only one thing – to take up our cross and follow Jesus. This message resonates with us all, regardless of our age or literacy level. It speaks to the universal human experience of seeking liberation from the chains that hold us back.
As we delve deeper into the story, we encounter a man who approached Jesus with a fallen mien, feeling sorrowful upon hearing the requirement. He believed that Jesus could take away his burdens, but instead, Jesus looked upon him with compassion and let him know that the cross he must bear was his own. In this poignant moment, we recognize the importance of personal responsibility in our journey towards freedom.
In our own lives, we may often seek external solutions to our problems, hoping that someone or something will magically make everything better. Like the man in the hymn, we yearn for Christ's intervention to alleviate our struggles. However, Jesus is not here to take away all our difficulties but to lead us in the right direction. He wants us to recognize our own role in finding freedom, a lesson we can grasp even at a young age.
Imagine yourself as the person seeking the Savior mentioned in the hymn. You may feel tired and burdened, longing for eternal life. Take a moment to acknowledge these feelings, as it's perfectly normal. It's during these moments that Christ speaks to us, offering us the words of power and mercy that the hymn mentions.
The Lord knows that we are weary of the temptations and distractions of the world. He understands our desperate desire for a life free from the entanglements of sin and sorrow. Just as He advised the man seeking eternal life, Jesus advises us, too: take up your cross and follow Him. This may sound daunting at first, but let's break it down into simpler terms.
Taking up our cross means accepting responsibility for our actions and choices. It means acknowledging that we have a part to play in our journey towards freedom. We must be willing to make sacrifices, to let go of the things that may hinder our relationship with Christ and prevent us from experiencing true liberation. Taking up our cross requires us to be faithful in following Jesus' teachings, living out our faith in our daily lives, and loving others as Christ loves us.
Following Jesus doesn't mean blindly obeying a set of rules or mindlessly conforming to societal expectations. It means journeying alongside Him, learning from Him, and allowing Him to transform us from within. We don't have to do it alone; Jesus is always there, walking with us, guiding us, and offering His unwavering support.
It is crucial to remember that this beautiful journey towards freedom is not a one-time event but a continuous process. Life is full of challenges, temptations, and distractions, which test our commitment to taking up our cross and following Christ. However, by staying rooted in our faith, renewing our commitment daily, and seeking support from fellow believers, we can persevere. We can find the strength to overcome any obstacles that may come our way.
In conclusion, the hymn "There Came A Man To Jesus" brings to light a fundamental truth about finding freedom. It establishes the idea that we lack only one thing on our path to liberation – the willingness to take up our cross and follow Jesus. This essential message transcends age and literacy level, speaking directly to our hearts and guiding us on our lifelong journey towards true freedom. So, dear seeker of eternal life, if you are weary and longing for liberation, know that the Savior is speaking directly to you. Take up your cross and follow Him, and you will find the freedom and peace you so desire.
I hope this hymn inspired image brings you hope and peace. Share it with someone who needs it today!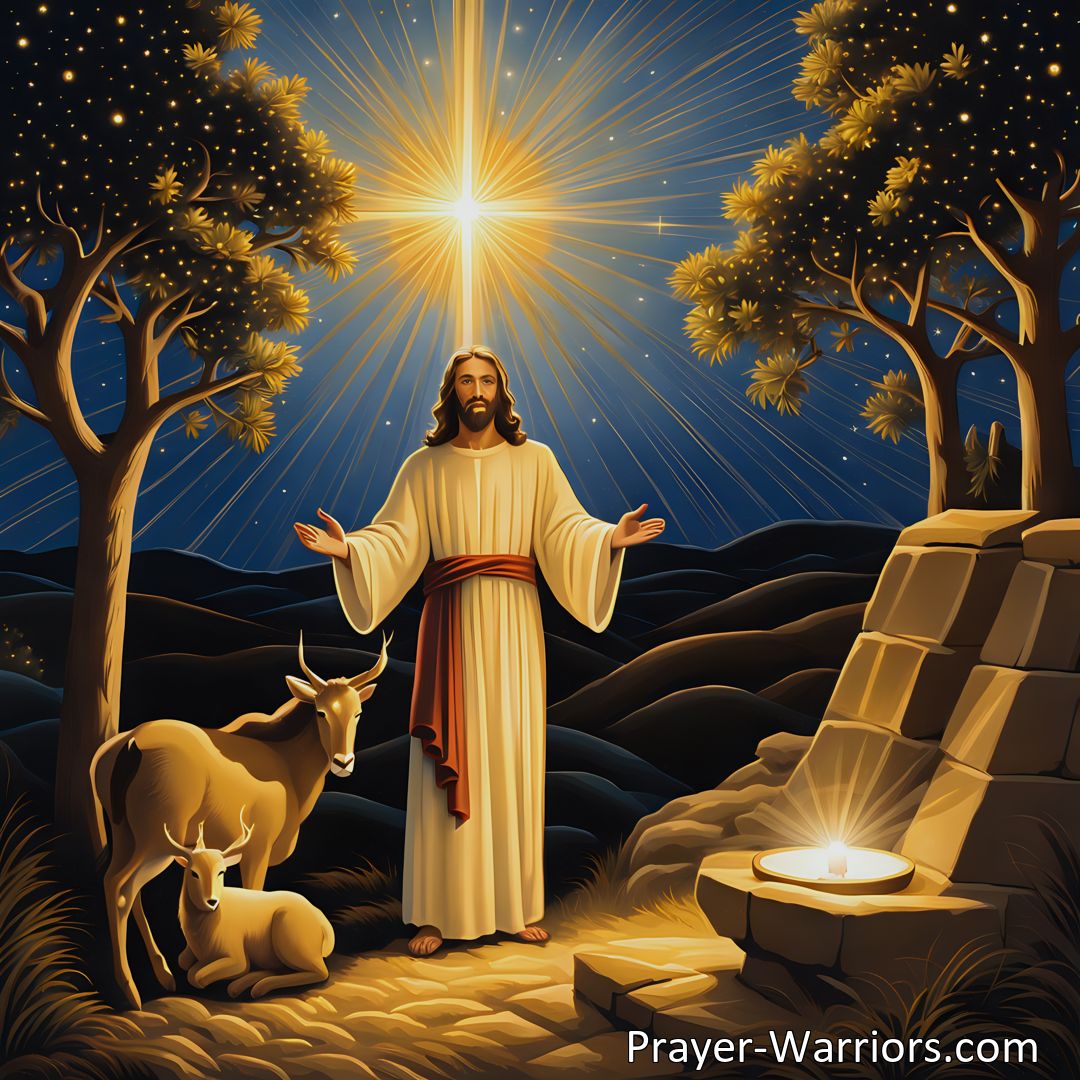 Join the Prayer Warriors Community!
Sign-up for our newsletter and embark on a transformative journey with Prayer. Enter your email below and become a part of our Prayer Warriors family.