There Is A Savior Waiting – Hymn Lyric
"There Is A Savior Waiting: Embrace the Call of Salvation" Come and embrace the call of salvation found in the hymn "There Is A Savior Waiting." It invites us to leave behind worldly pleasures and sins and come to Jesus, who offers forgiveness, eternal life, and peace. This hymn reminds us that Jesus eagerly waits for us with open arms, welcoming all who seek Him, and urges us to embrace His love and grace.
---
---
There Is A Savior Waiting – Hymn Lyric
There is a Savior waiting,
Earnest in His call;
Why be hesitating?
Welcome are one and all!
Long the world you've been trying,
Trying its pleasure and sin;
Blind to the fact that you're dying,
To His rich banquet come in!
Chorus:
Come, come to Him now!
Come, come to Him now!
All welcome to Jesus:
Come, come to Him now!
Pardon He gives, salvation,
Life eternal, peace;
Hear the proclamation,
Giving the slave release!
"Wine and milk without money!"
All that you need "without price!"
Words that are "sweeter than honey,"
Jesus the heart doth suffice.
[Chorus]
Come, and till life is ended,
Earth forever gone,
Serve Him, now ascended!
Living for Him alone.
Here we wait His returning,
Back He has promised to come;
Oh, that our lamps may be burning,
Burning till He call us home!
[Chorus]
Meaning of There Is A Savior Waiting
There Is A Savior Waiting: Embrace the Call of Salvation
In this beautiful hymn, we are reminded of the love and grace that awaits us in the arms of our Savior. It speaks directly to our hearts, urging us to leave behind the fleeting pleasures and sins of this world and come to Jesus. Each verse invites us to open our hearts to His forgiveness, salvation, and the eternal peace that only He can provide.
The hymn begins by acknowledging the Savior's earnest call for us to come to Him. It encourages us not to hesitate in responding to His invitation. Imagine someone who is eagerly waiting for us with open arms, ready to welcome us just as we are. That someone is Jesus. He desires a relationship with every single one of us, without exception.
It is easy to get caught up in the temporary pleasures and distractions of this world. We often search for happiness and fulfillment in all the wrong places, oblivious to the fact that we are slowly withering away. The hymn reminds us that Jesus offers an alternative to this desperate search. He invites us to come to His rich banquet, where we can find true satisfaction and purpose.
The chorus sweetly repeats the call to come to Jesus, emphasizing the inclusivity of His invitation. All are welcome, regardless of our past mistakes or current circumstances. We are encouraged to cast aside our doubts, fears, and shame, and come to Him as we are. Jesus extends His forgiveness and offers us salvation, life eternal, and the peace that surpasses all understanding.
The hymn beautifully describes Jesus' offer as "wine and milk without money." This imagery signifies that His gifts are freely given, without any cost or requirement on our part. We cannot earn His love or salvation; it is a pure gift of grace. With Jesus, we find what our hearts truly long for – all that we need, without any price.
As we delve deeper into the lyrics, we encounter the words that are described as "sweeter than honey." This emphasizes the sweetness and goodness of Jesus' message. His words bring comfort, hope, and healing to our souls. When we turn to Him, our hearts find rest and our burdens are lifted. Jesus is enough to satisfy our deepest longings and provide us with the joy and fulfillment we seek.
Moreover, the hymn calls us to not only come to Jesus but also to serve Him throughout our lives. It reminds us that our time on earth is temporary, and one day, we will leave this world behind. In light of this, the hymn urges us to live our lives in devotion to Him. We are called to love and serve others, just as He has loved and served us. Through our actions, we can reflect His light in this world and bring hope to those in need.
While we wait for His promised return, we are encouraged to keep our lamps burning. This imagery refers to staying spiritually awake and ready for His arrival. It reminds us to remain faithful, continually seeking His presence and following His teachings. We are called to be a light in this world, shining His love and truth to those around us.
In conclusion, "There Is A Savior Waiting" is a hymn that beautifully encapsulates the essence of salvation and the invitation to freely come to Jesus. It speaks to our longing for purpose, peace, and eternal life. By turning to Him, we find true satisfaction, forgiveness, and the love that surpasses all understanding. Let us heed His call, embrace His grace, and allow Him to transform our lives. May our lamps burn brightly until He calls us home.
I hope this hymn inspired image brings you hope and peace. Share it with someone who needs it today!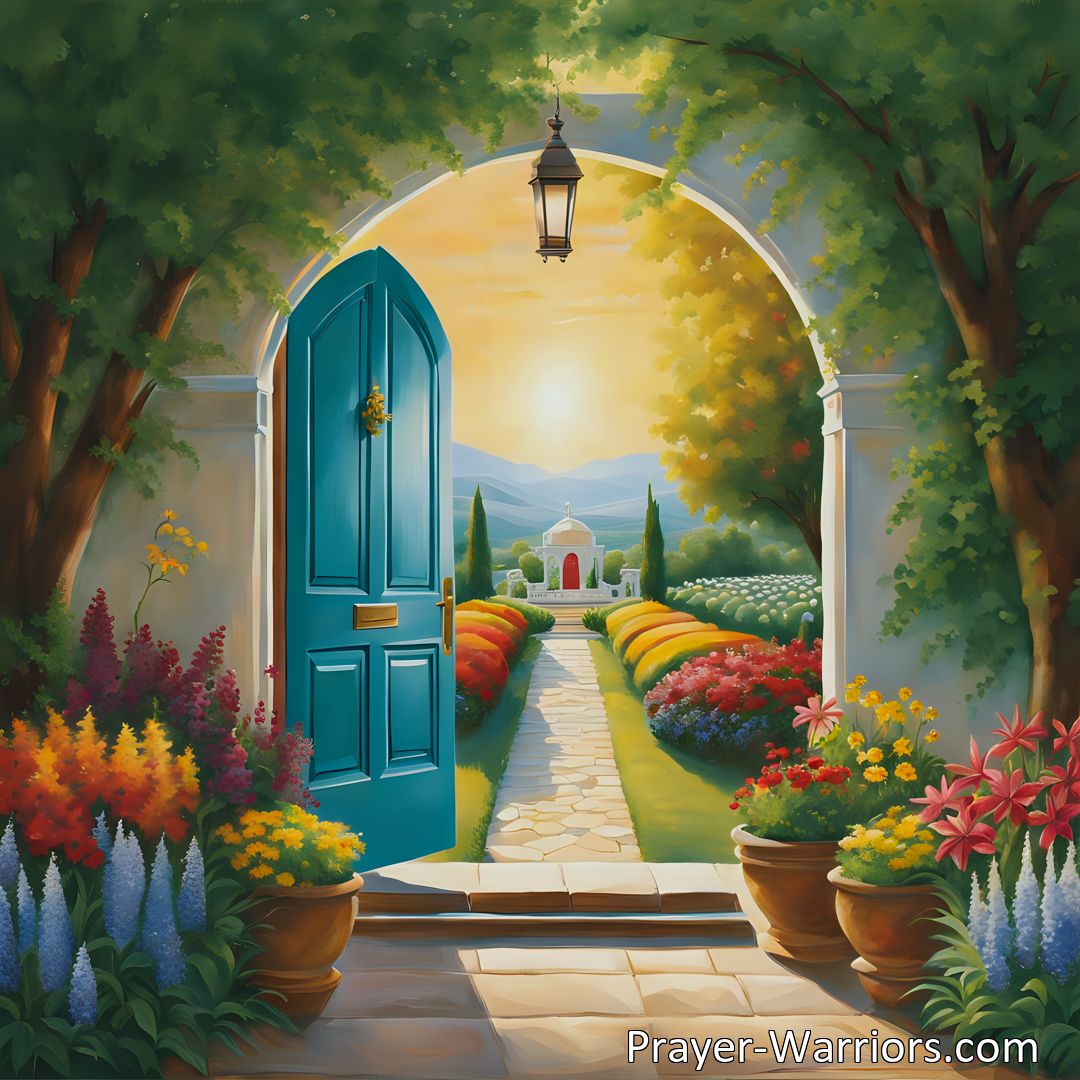 Join the Prayer Warriors Community!
Sign-up for our newsletter and embark on a transformative journey with Prayer. Enter your email below and become a part of our Prayer Warriors family.