Theres A Voice I Now Can Hear – Hymn Lyric
summary.txt
---
---
Theres A Voice I Now Can Hear – Hymn Lyric
There's a voice I now can hear,
And it seems so very near,
'Tis Jesus, 'tis Jesus,
Who is calling sweet and clear;
I hear Him calling, He's calling,
His face I almost see;
I'm sure He's calling,
He's calling, He's calling for me.
I am coming, Lord, to Thee,
For I've heard Thy love for me,
'Tis wondrous, 'tis wondrous,
How a love like Thine could be;
O Elder Brother, O Saviour,
Come in and dwell with me,
For I am coming,
I'm coming, I'm coming to Thee.
At Thy throne I humbly bow,
I can see Thy thorn-pierced brow,
I'm Thine, Lord, I'm Thine, Lord,
I surrender here and now;
Praise God, I'm happy, I'm happy,
My sins are all forgiv'n,
O hallelujah,
I'm happy, I'm happy in Him!
Meaning of Theres A Voice I Now Can Hear
Theres A Voice I Now Can Hear: Embracing the Call of Jesus
In the beautiful hymn, "There's a Voice I Now Can Hear," we are reminded of the joyous and transformative experience of hearing the call of Jesus. The lyrics unveil the powerful connection we can have with our Savior and the profound invitation He extends to each one of us. Let us explore the deeper meaning behind these words and how we can respond to His call in our lives.
The hymn begins by affirming that we can indeed hear the voice of Jesus, and it is not distant or faint but rather very near. This proximity assures us that our Lord is accessible and ever-present, ready to guide and comfort us in our journey. As we listen to His sweet and clear call, we are reminded of the personal nature of our relationship with Him. Jesus, the Son of God, desires to communicate with each one of us individually.
The lyrics resonate with a sense of recognition and certainty that the voice we hear is Jesus. This recognition stems from our growing familiarity and intimacy with Him. As we spend time in prayer, studying His Word, and cultivating a personal relationship, we become more attuned to His voice. Just as a close friend's voice is instantly recognizable to us, so too is the voice of Jesus to our souls.
The repetition of the line "I hear Him calling, He's calling" emphasizes the urgency and persistence of Jesus' call. His loving invitation is not a fleeting moment but a continual beckoning, inviting us to draw near to Him. The hymn also suggests that we can almost see His face. This imagery evokes a sense of anticipation and longing, as if we are on the verge of a divine encounter. It reminds us that Jesus desires an intimate relationship with us, filled with love and companionship.
The following verse captures the deep impact and wonder of God's love for us. It ponders how a love like His could even exist. The lyrics acknowledge that this love is wondrous and beyond comprehension. We are humbled by the depth of His affection, displayed through His sacrifice on the cross. It is an incredible realization that the Creator of the universe loves us personally and intimately.
The hymn addresses Jesus as the Elder Brother and Savior, highlighting His role as both the compassionate companion who walks beside us and the One who delivers us from sin. It invites Him to come and dwell within our hearts, expressing our desire for a deeper connection with Him. This invitation echoes the biblical concept of inviting Jesus into our lives as our Lord and Savior.
The final verse of the hymn humbly bows down before Jesus' throne and acknowledges His suffering on our behalf. The reference to His thorn-pierced brow brings to mind the agonizing sacrifice Jesus made for our redemption. In surrendering ourselves fully to Him, we acknowledge His lordship and gratefully accept His forgiveness. It is in this surrender that we find true happiness and joy, as our sins are forgiven and we are reconciled with our Heavenly Father.
"There's a Voice I Now Can Hear" is a beautiful hymn that encapsulates the experience of hearing and responding to the call of Jesus. It reminds us of the intimate relationship we can have with Him, how His love surpasses all understanding, and the wonderful gift of forgiveness He offers. As we embrace His call and surrender ourselves to His will, we find true happiness and fulfillment in Him.
In conclusion, let us not only sing the lyrics of this hymn but also let them resonate in our hearts. May we tune our ears to the voice of Jesus, embrace His call, and experience the transformative power of His love. Let us remember that Jesus is always near, calling us to come to Him, to surrender our lives, and to find true happiness and peace in His presence.
I hope this hymn inspired image brings you hope and peace. Share it with someone who needs it today!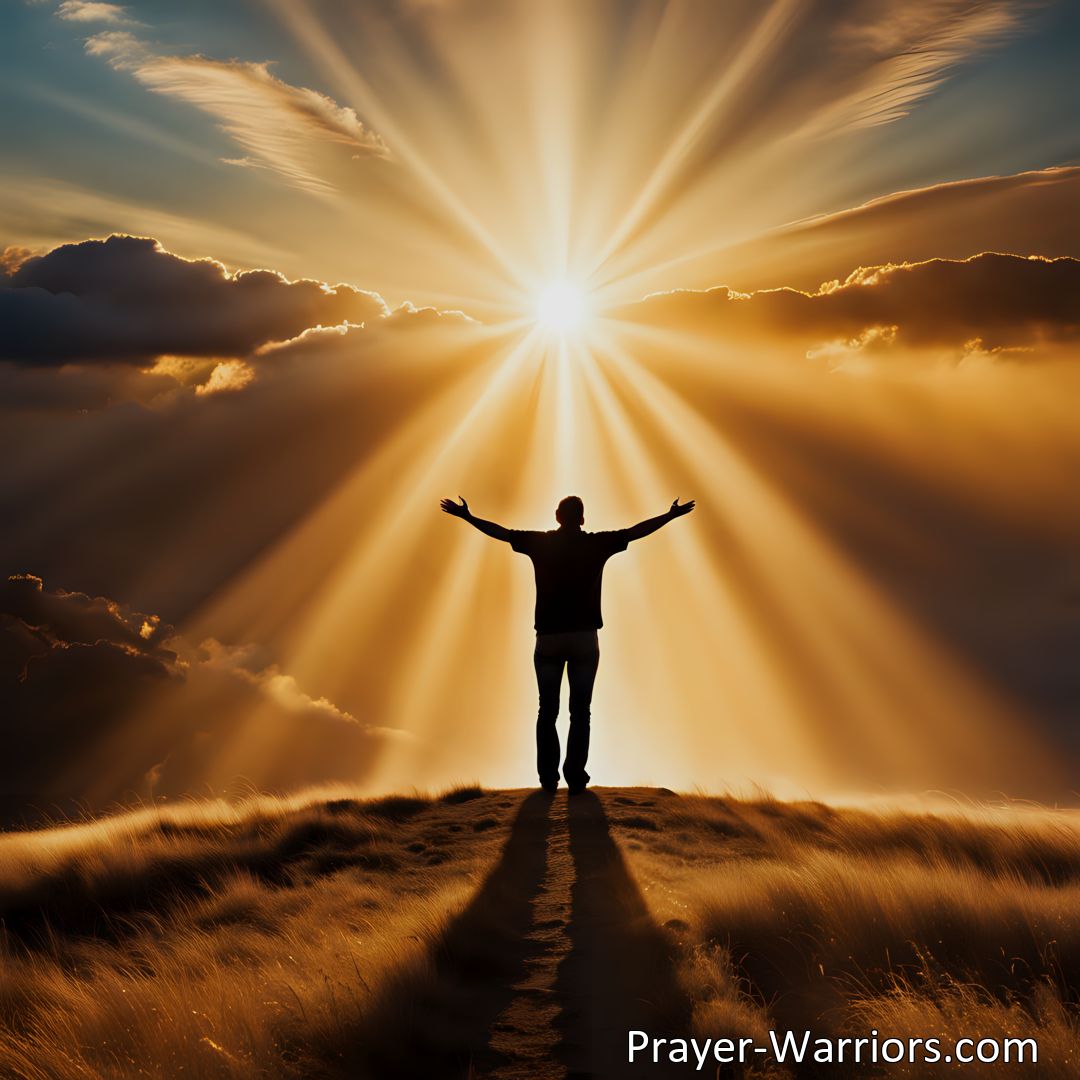 Join the Prayer Warriors Community!
Sign-up for our newsletter and embark on a transformative journey with Prayer. Enter your email below and become a part of our Prayer Warriors family.