They Walked And Talked With Jesus – Hymn Lyric
"They Walked and Talked with Jesus: Experiencing Divine Communion" explores the profound impact of walking and talking with Jesus. This hymn reveals how the disciples were initially unaware of Jesus' true identity, the power of his words and gaze, the revelation of his divinity, and the ongoing presence of Jesus in our lives. It highlights the joy and hope that comes from experiencing divine communion and longing for heaven.
---
---
They Walked And Talked With Jesus – Hymn Lyric
They walked and talked with Jesus,
And knew not it was he
Who gave his life a ransom
To set the captive free.
His words of holy power,
His look of matchless grace,
Seemed more than those of mortal,
And charmed their wondering gaze.
Refrain:
Oh, to thus commune with thee!-
All the journey, living, dying-
Oh, to walk and talk with thee!
'Tis heaven begun below.
And then unveiled before them,
The Savior stood revealed;
The blessed risen Jesus
No longer was concealed,
Oh, wondrous revelation!
The God and man combined!
The great I AM-Almighty-
In human form enshrined!
[Refrain]
And with his dear disciples,
He walks and talks today,
"Lo! I am with you alway,"
We hear him gently say.
Oh, blissful hour when Jesus
Unveils his glorious face,
And shows his saving power,
And his amazing grace.
[Refrain]
Meaning of They Walked And Talked With Jesus
They Walked and Talked with Jesus: Experiencing Divine Communion
Introduction:
In the enchanting verses of the hymn "They Walked and Talked with Jesus," we are transported to a time when Jesus walked the Earth, offering salvation and grace to all who sought him. This hymn beautifully encapsulates the profound impact that communing with Jesus had on his disciples. In this article, we will explore the profound significance of walking and talking with Jesus, the experience of divine communion, and the hope and joy it brings.
1. The Enigmatic Encounter with Jesus:
The hymn begins by recounting the disciples' obliviousness to Jesus' true identity as they walked and conversed with him. They were not aware that the one walking beside them was the Messiah, the one who would willingly give up his life to free humanity from the captivity of sin. This ignorance adds depth to their experiences, as their encounters with Jesus were purely based on his words and the unmatched grace emanating from him.
2. Holy Power in Words and Gaze:
The hymn suggests that Jesus' words possessed a divine power that transcended human understanding. The disciples marveled at the depth and impact of his teachings. His words were not mere mortal musings but held a sacred weight, guiding them toward spiritual enlightenment. Additionally, the hymn mentions the irresistibly charming gaze of Jesus, captivating the disciples and drawing them closer to him. This portrayal emphasizes the divine nature of Jesus' earthly presence.
3. The Unveiling of the Savior:
Continuing, the hymn describes a moment of revelation when Jesus no longer concealed his true identity. It was a wondrous and transformative experience for the disciples when they realized that the person they had been walking and talking with was the risen Jesus, fully unveiled in his divine glory. This divine unveiling demonstrates the immense power of Jesus and the reconciliation of his divine and human natures.
4. Walking and Talking Today:
Although physically absent, the hymn suggests that Jesus still walks and talks with his disciples even today. The hymn echoes Jesus' promise to be with his followers always. It reminds us that we can experience the presence of Christ in our daily lives, through prayer, scripture, and moments of profound spiritual connection. The joy of knowing that Jesus walks with us on our journey brings comfort, guidance, and hope.
5. The Anticipation of Heaven:
The hymn expresses the longing for a future moment when Jesus will once again unveil his glorious face, showcasing his saving power and amazing grace. It portrays this anticipation as a blissful hour, highlighting the overwhelming joy that will accompany the revelation of God's ultimate glory. This longing reflects the eternal hope that Christians hold, the promise of eternal communion with Jesus in heaven.
Conclusion:
In "They Walked and Talked with Jesus," the hymn beautifully portrays the incredible privilege of communing with Jesus. It highlights the transformative power of his words, the divine nature concealed within his mortal form, and the ongoing presence of Christ in the lives of believers. As we reflect on this hymn, we are reminded of the profound joy and hope that comes from walking and talking with Jesus. May we all seek to experience the divine communion offered to us by our Savior, knowing that it brings a taste of heaven to our lives on earth.
I hope this hymn inspired image brings you hope and peace. Share it with someone who needs it today!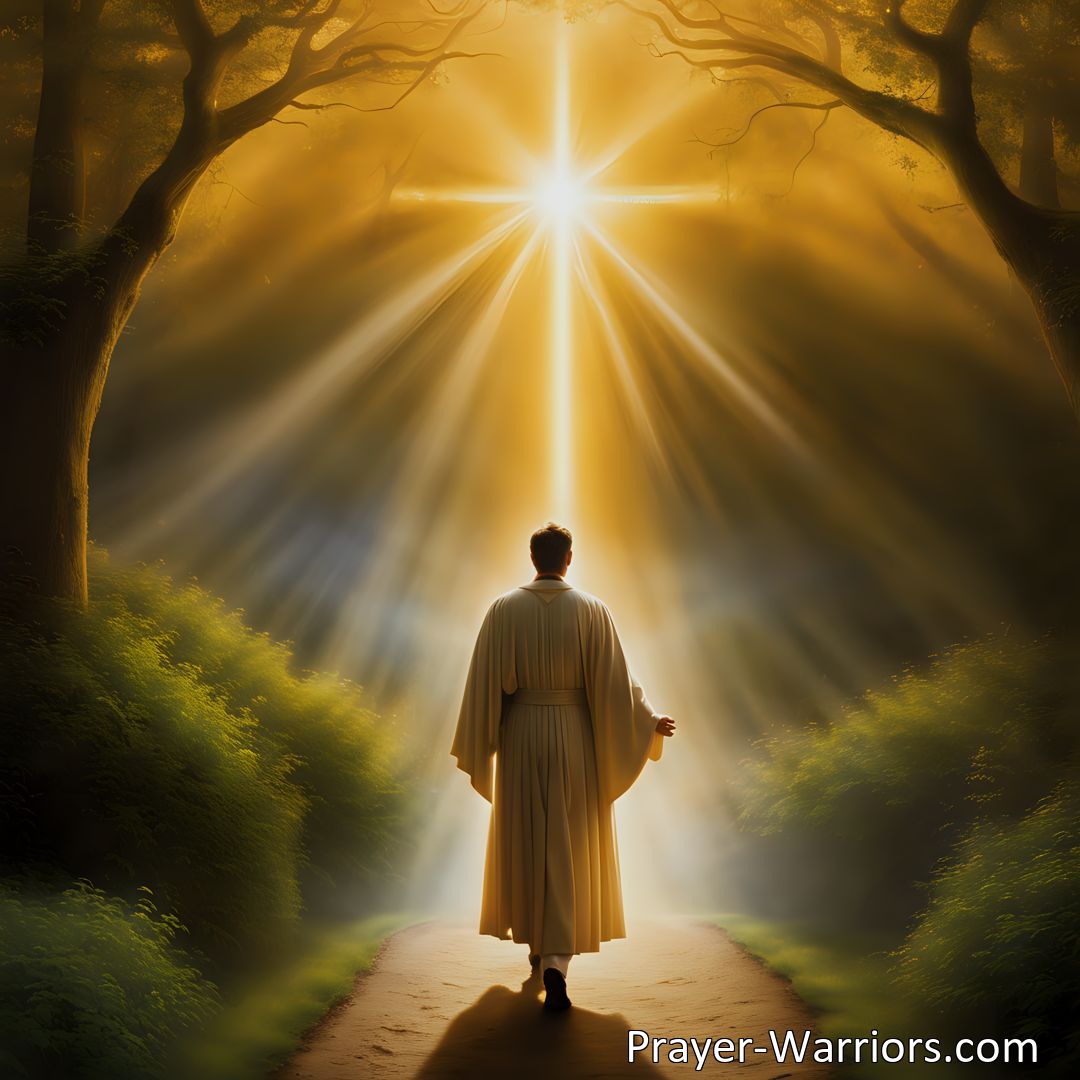 Join the Prayer Warriors Community!
Sign-up for our newsletter and embark on a transformative journey with Prayer. Enter your email below and become a part of our Prayer Warriors family.