To Be Like Jesus – Hymn Lyric
"To Be Like Jesus: Embracing the Journey to Become Like Him" is a hymn that speaks to believers' deep desire to become more like Jesus. It reminds us that this journey is not about perfection, but about living a life centered on love, compassion, and service. By following His teachings and relying on His guidance, we can become vessels of His love and shine His light into the world.
---
---
To Be Like Jesus – Hymn Lyric
To be like Jesus, to be like Jesus!
My desire – to be like Him!
All through life's journey from earth to glory,
My desire – to be like Him.
Meaning of To Be Like Jesus
To Be Like Jesus: Embracing the Journey to Become Like Him
In this hymn, we find a powerful message that resonates with believers of all ages and backgrounds. It speaks to our deepest longing, the desire to emulate and become more like Jesus. This aspiration is the very essence of our faith and the quest that defines our lives as followers of Christ.
From the moment we accept Jesus into our hearts, our journey to be like Him begins. It's not an easy path, but it is one filled with hope, inspiration, and an unwavering faith in His transformative power. We embark on this journey, not because we believe we can attain perfection, but because we know that as we strive to be more like Jesus, we are becoming the best version of ourselves.
To be like Jesus is to embrace His teachings and follow His example. It is about learning to love unconditionally, to forgive wholeheartedly, and to serve selflessly. Jesus taught us to prioritize love and compassion above all else, and to treat others with respect and kindness. As we internalize these lessons, we begin to radiate His light and love to those around us.
The journey to be like Jesus also involves aligning our hearts and minds with His. It means seeking His guidance and relying on His wisdom in every aspect of our lives. We turn to Him in prayer, seeking His strength in times of weakness and His comfort in times of distress. Through prayer, we develop a deeper connection with our Savior and invite Him to transform us from the inside out.
Furthermore, to be like Jesus requires us to cultivate virtues such as humility, patience, and empathy. We must let go of our pride and ego, putting others' needs before our own. Jesus consistently demonstrated these virtues throughout His life, showing us that greatness lies not in power or status, but in selfless service to others.
This journey is not without challenges. We face trials, temptations, and moments of doubt along the way. However, by relying on the power of the Holy Spirit within us and drawing on the strength of our faith, we can overcome these hurdles and continue to walk in Jesus' footsteps.
It is important to remember that being like Jesus does not mean losing our individuality or becoming inauthentic. Rather, it is about discovering and embracing the unique qualities that God has bestowed upon us and using them to glorify Him. Just as every instrument in an orchestra has its own sound, our individual gifts and talents contribute to the beautiful symphony of God's creation. By allowing Jesus to shape and mold us, we become harmonious instruments in His hands.
To truly be like Jesus, we must also extend grace and forgiveness to ourselves. We will stumble and fall, but we must never lose sight of God's mercy and His unwavering love for us. Through repentance and reconciliation, we can find redemption in our imperfections and keep moving forward on this transformative journey.
In conclusion, the hymn "To Be Like Jesus" encapsulates the longing and aspiration that resides in the hearts of believers. It reminds us of the beautiful journey we are on to become more like our Savior in every aspect of our lives. This journey is not about achieving perfection but about striving to live a life centered on love, compassion, and service. As we continue to walk this path, guided by Jesus' teachings and empowered by the Holy Spirit, we become vessels of His love, shining His light into a world in desperate need of His grace. May our desire to be like Jesus fuel our daily actions, and may our lives reflect His transformative power for all to see.
I hope this hymn inspired image brings you hope and peace. Share it with someone who needs it today!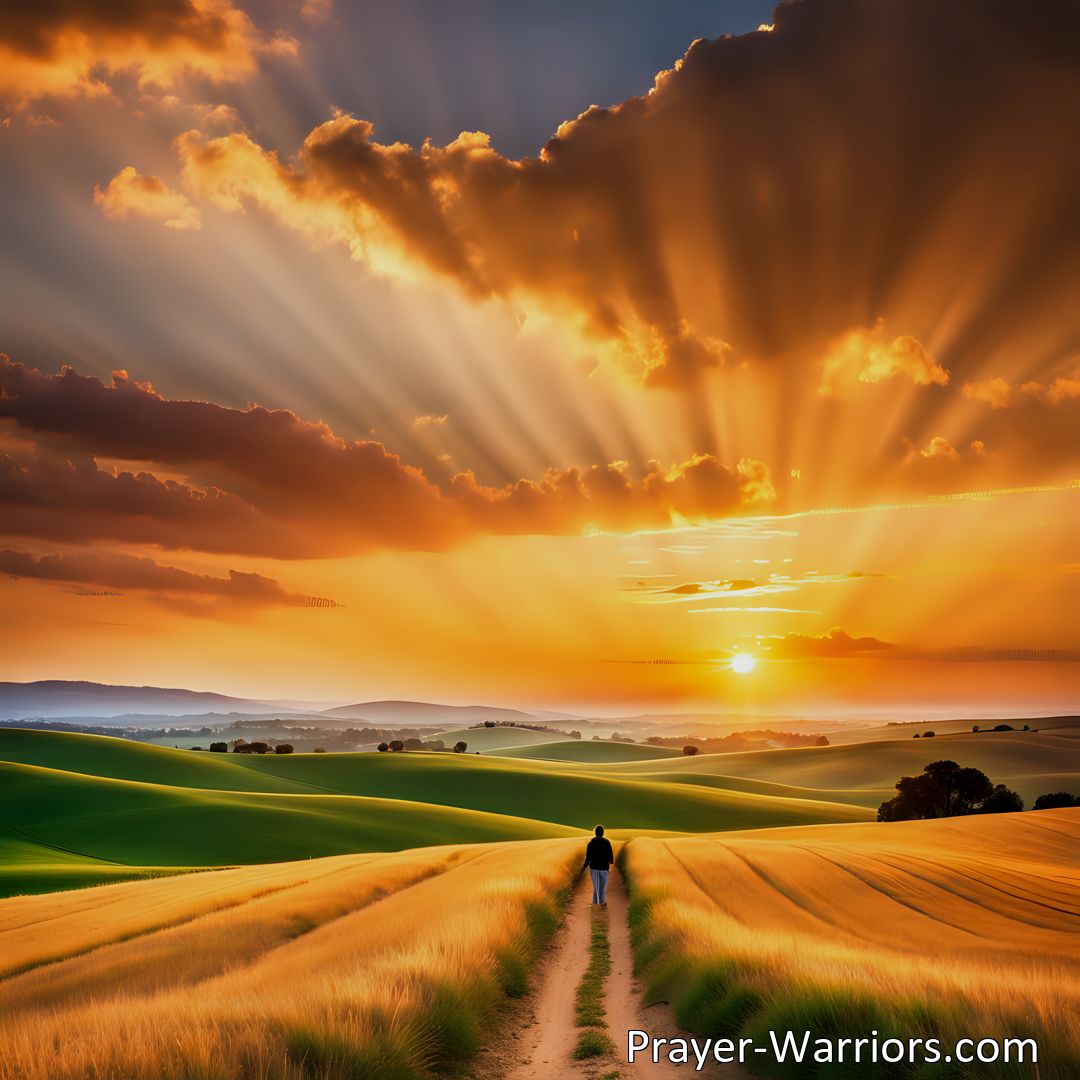 Join the Prayer Warriors Community!
Sign-up for our newsletter and embark on a transformative journey with Prayer. Enter your email below and become a part of our Prayer Warriors family.