We Are The King's Kids – Hymn Lyric
summary.txt
---
---
We Are The King's Kids – Hymn Lyric
We're the King's kids
Just children of the Lord
A special part of His family
We want all the world to know that
We're the King's kids
He knows us by name
Throughout all eternity
We will sing His praise
He's our Shepherd and our Saviour (Hallelujah!)
He's our Master and our Friend (praise God!)
He's our Leader and our Father (and we love Him)
Glory be to the Lamb (Amen!)
Meaning of We Are The King's Kids
We Are The King's Kids: Embracing Our Identity as Children of God
As we sing the joyful hymn "We're the King's kids," let us delve deeper into the beautiful truth it proclaims – that we are the children of the Lord. What a glorious honor it is to be a part of His family! This hymn reminds us that we have a special place in God's heart and that He knows each one of us by name.
Being a child of God means that we have a unique and eternal connection with our Heavenly Father. Just as a shepherd cares for and protects his flock, God lovingly watches over us, guiding us through every step of our lives. He is not a distant ruler, but a faithful shepherd who personally tends to our needs. We can find comfort and peace in knowing that we are cared for by the Good Shepherd.
Furthermore, God is not only our Shepherd but also our Saviour. He willingly gave His life on the cross to save us from our sins. Jesus Christ, the Lamb of God, took upon Himself the punishment we deserve, and through His sacrifice, we can find forgiveness and redemption. This hymn calls us to praise the Lamb, for through His blood, we are made clean and brought into the family of God.
In addition to being our Shepherd and Saviour, God is also our Master and our Friend. He leads us on the path of righteousness, teaching us His ways and instructing us in His truth. Our Heavenly Father desires a close relationship with us, just like a loving friend. He eagerly listens to our prayers, rejoices with us in times of joy, and comforts us in times of sorrow.
As King's kids, we are called to share His love and grace with the world around us. This hymn reminds us that we want all the world to know who we are – children of the King. We have a responsibility to reflect the character of our Heavenly Father and to demonstrate His love to those we encounter. Through our actions and words, we can show others what it means to be part of God's family.
Living as King's kids also means that we have a purpose. God has uniquely created each one of us with gifts and talents to be used for His glory. We are called to serve others and make a positive impact in our communities. Whether it's through acts of kindness, volunteering, or sharing the gospel, we can fulfill our purpose as King's kids by spreading love, hope, and joy.
Lastly, this hymn reminds us of the eternal nature of our relationship with God. Throughout all eternity, we will continue to sing His praise. Our time on earth is just a tiny fraction compared to the everlasting life we have in Him. As King's kids, we have the incredible privilege of spending eternity in the presence of our Heavenly Father, singing praises to Him for all that He has done.
In conclusion, "We Are The King's Kids" is not just a simple hymn but a powerful reminder of our identity and purpose as children of God. Through the verses of this hymn, we are reminded of the deep love our Heavenly Father has for us, the redemption we find in Christ, and the joy of being part of God's eternal family. Let us hold onto these truths, live out our calling as King's kids, and continue to sing His praise for all of eternity.
I hope this hymn inspired image brings you hope and peace. Share it with someone who needs it today!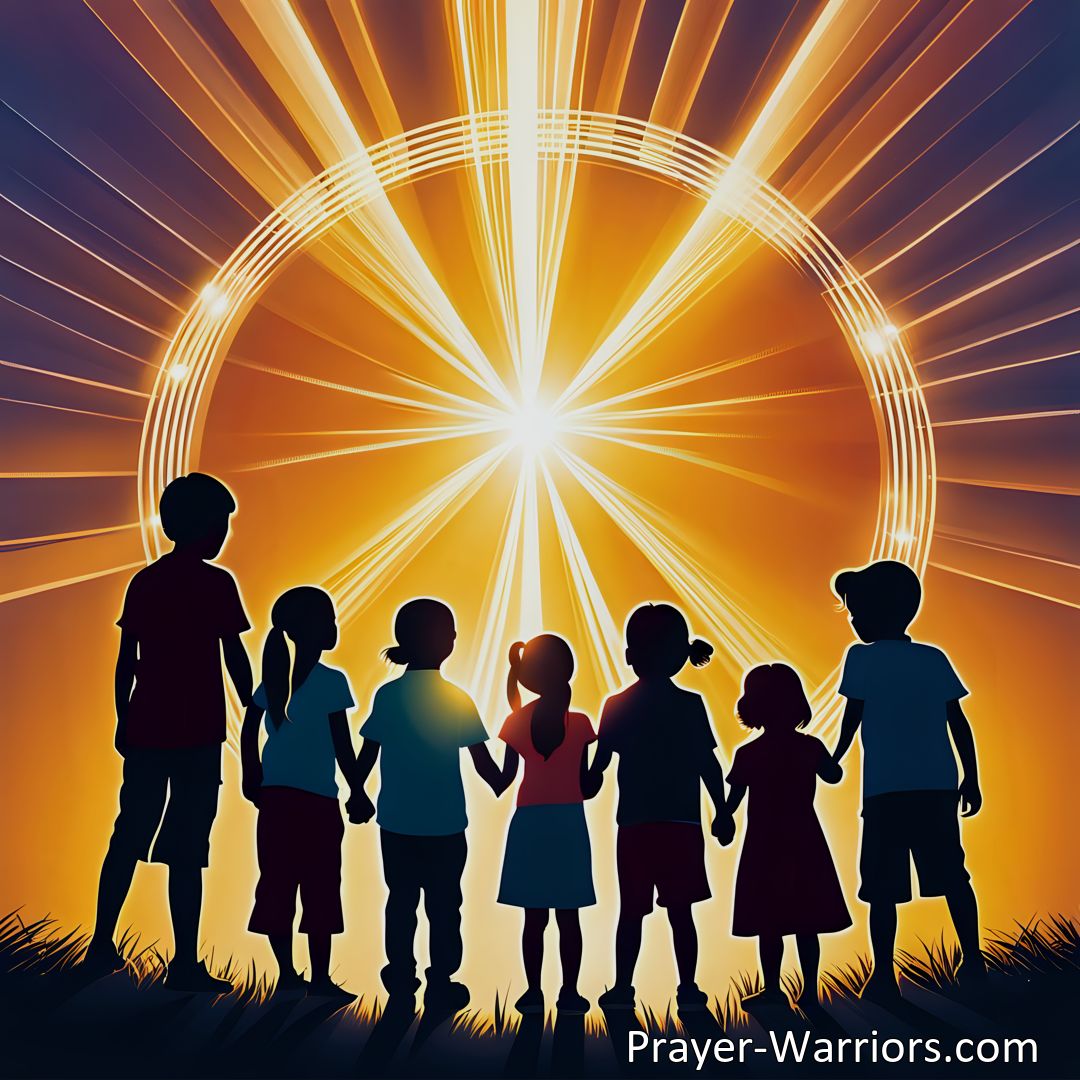 Join the Prayer Warriors Community!
Sign-up for our newsletter and embark on a transformative journey with Prayer. Enter your email below and become a part of our Prayer Warriors family.