We Know Dear Lord Thy Gracious Ear – Hymn Lyric
summary.txt
---
---
We Know Dear Lord Thy Gracious Ear – Hymn Lyric
We know, dear Lord, Thy gracious ear
Will not refuse our call,
For Thou dost hear the raven's cry,
And mark the sparrow's fall.
Refrain:
We come before Thy throne of grace
And ask, while kneeling there,
A stronger faith and deeper love-
O Jesus, answer prayer.
We ask a faith that shines more bright
Than midday's golden sun;
A love that seeketh not its own,
But cries: Thy will be done!
[Refrain]
We ask a faith that will not faint,
Whate'er its toil may be;
A hope secure upon the Rock,
Its anchor firm on Thee.
[Refrain]
We ask a love that envies not,
A love that thinks no ill;
A love that hopes, believes, endures,
And yet is patient still.
[Refrain]
Meaning of We Know Dear Lord Thy Gracious Ear
In the hymn "We Know, Dear Lord, Thy Gracious Ear," we are reminded of the comforting knowledge that God is always there to listen to our prayers. We can approach His throne of grace with confidence, knowing that He cares for even the smallest of creatures, like the raven and the sparrow.
When we come before God, we have specific requests and desires in our hearts. We ask Him for a stronger faith and a deeper love. These are not just empty words but are sincere petitions for a transformation within ourselves. We desire a faith that shines brightly, surpassing the brilliance of the midday sun. We want a faith that is unwavering, unshakeable, and firmly rooted in God's will.
As we seek a deeper love, we recognize that true love is selfless and seeks not its own desires but aligns with God's perfect will. We desire a love that willingly submits to God's plans and purposes, saying, "Thy will be done!" This kind of love emanates from a heart that understands and embraces the sacrificial love of Jesus, who gave up His life for us.
Another important aspect of our prayer is asking for a faith that will not grow weary or faint, regardless of the trials and challenges we face. We long for a faith that remains steadfast and resolute, even in the midst of difficulties. We want to anchor our hope securely on the Rock, who is Jesus Christ. It is through Him and His strength that our faith can endure and overcome.
In our prayers, we also ask for a love that does not envy or harbor ill thoughts towards others. This love is not driven by jealousy or resentment but is pure and free from negative emotions. It is a love that hopes for the best, believes in the goodness of others, and endures through all circumstances. This love is also patient, understanding that God's timing is perfect and that His plans unfold in His time.
In summary, as we sing this hymn, we express our desire for a stronger faith, a deeper love, and steadfast hope. We long for a faith that shines brightly, a love that seeks God's will, and a hope that remains secure in Jesus, the Rock. We strive for a love that is free from envy, ill thoughts, and impatience. In all of our prayers, we trust that Jesus will answer and grant us these requests according to His perfect plan and timing.
Ultimately, this hymn teaches us to approach God with confidence, knowing that He hears our prayers, no matter how big or small they may seem. We can rest assured that our loving Heavenly Father is always listening and ready to answer our prayers according to His wisdom and goodness. So let us come before His throne of grace, pouring out our hearts in prayer, knowing that He will respond with a stronger faith, a deeper love, and an unwavering hope.
I hope this hymn inspired image brings you hope and peace. Share it with someone who needs it today!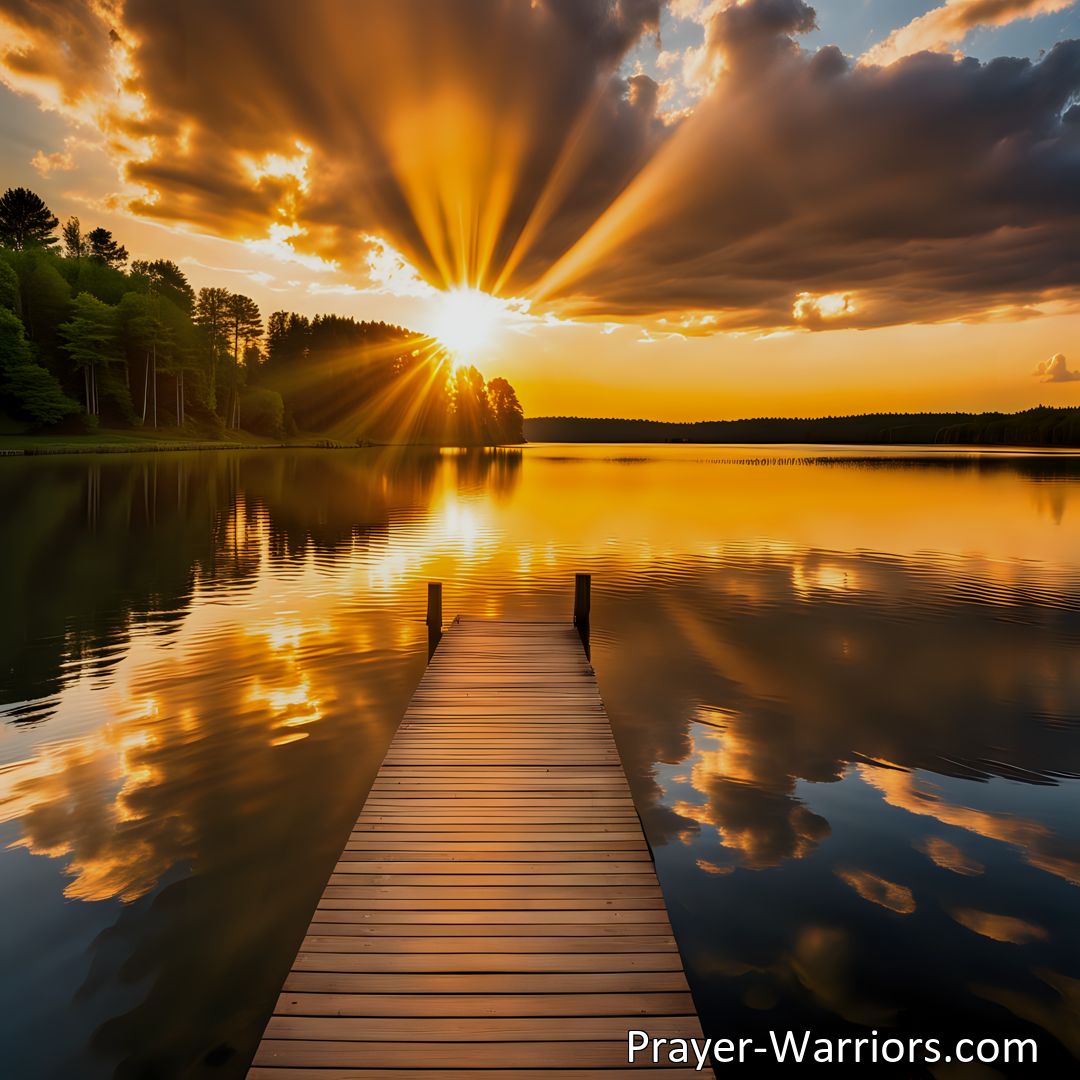 Join the Prayer Warriors Community!
Sign-up for our newsletter and embark on a transformative journey with Prayer. Enter your email below and become a part of our Prayer Warriors family.