When On My Day Of Life – Hymn Lyric
summary.txt
---
---
When On My Day Of Life – Hymn Lyric
When on my day of life the night is falling,
And in the winds, from unsunned spaces blown,
I hear far voices out of darkness calling
My feet to paths unknown.
Thou, Who hast made my home of life so pleasant,
Leave not its tenant when its walls decay;
O Love divine, O Helper ever present,
Be Thou my strength and stay!
Be near me when all else is from me drifting—
Earth, sky, home's pictures, days of shade and shine,
And kindly faces to my own uplifting
The love which answers mine.
I have but Thee, my Father; let Thy Spirit
Be with me then to comfort and uphold;
No gate of pearl, no branch of palm I merit,
Nor street of shining gold.
Suffice it if—my good and ill unreckoned,
And both forgiven through Thy abounding grace—
I find myself by hands familiar beckoned
Unto my fitting place.
Some humble door among Thy many mansions,
Some sheltering shade where sin and striving cease,
And flows forever through heaven's green expansions
The river of Thy peace.
There from the music round about me stealing
I fain would learn the new and holy song,
And find at last, beneath Thy trees of healing,
The life for which I long.
Meaning of When On My Day Of Life
When On My Day Of Life The Night Is Falling: Finding Strength and Peace in Uncertain Times
Life is a journey filled with ups and downs, moments of joy and moments of sorrow. Often, it is during the darkest times that we feel the weight of uncertainty bearing down on us. In those moments, we long for solace and guidance to navigate the unknown paths that lie ahead. The hymn, "When On My Day Of Life The Night Is Falling," beautifully captures this sentiment and reminds us of the unwavering presence and love of a higher power.
The hymn begins by acknowledging the inevitable nature of the nightfall in our lives. Just as the sun sets and darkness envelopes the world, there are periods where we find ourselves in the midst of darkness and uncertainty. It is during these times that we yearn for guidance and reassurance, and the hymn beautifully expresses this longing. The author likens the distant voices echoing in the wind as beckoning words leading him towards unfamiliar paths. It's as if someone or something greater than himself is calling him towards a new direction.
This powerful plea then shifts our attention to the divine source of comfort and strength. The author acknowledges the divine presence that has made his life pleasant and filled with love. He implores this divine force to not abandon him when the walls of his life crumble and decay. This demonstrates the unwavering faith in the power of love to uplift and provide support even in the face of adversity. The hymn reminds us that even in the darkest moments, we are never truly alone. Love is always there, ready to be our strength and stay.
The verses that follow encapsulate the essence of seeking solace and finding refuge in times of uncertainty. The author yearns for the divine presence to be near when everything else is slipping away. As earthly possessions and familiar faces become distant memories, he clings to the love that resonates with his own. In these moments, it is the love that answers our own that gives us a sense of belonging and connection.
The hymn then takes a humble and introspective turn as the author addresses God as their Father. Here, he acknowledges the need for divine guidance and assistance. The author recognizes that he does not deserve the grandeur often associated with heaven – no pearly gates, palm branches, or golden streets. Rather, he humbly seeks a place where his good and bad deeds are forgiven by grace alone. The contrast between his own unworthiness and the boundless love of God is magnified in this plea.
As the hymn draws to a close, the author expresses his desire to find a humble dwelling among the vast mansions of heaven. He seeks a sheltering shade where the struggles of sin and worldly striving cease. The hymn speaks to the human longing for a peaceful existence, where the river of God's peace flows eternally through the expanses of heaven. It is in this tranquil place that the author hopes to find solace, healing, and the life for which he longs – a life free from the burdens and uncertainties of the world.
"When On My Day Of Life The Night Is Falling" is a timeless hymn that resonates with individuals of all ages and backgrounds. It speaks to our innate longing for comfort, strength, and peace in times of uncertainty. The hymn reminds us that in the midst of darkness, we can find solace in the unwavering love and presence of a higher power. As we navigate the unknown paths that lie ahead, may we find the strength and peace we seek, and may we always remember that we are never alone in our journey.
I hope this hymn inspired image brings you hope and peace. Share it with someone who needs it today!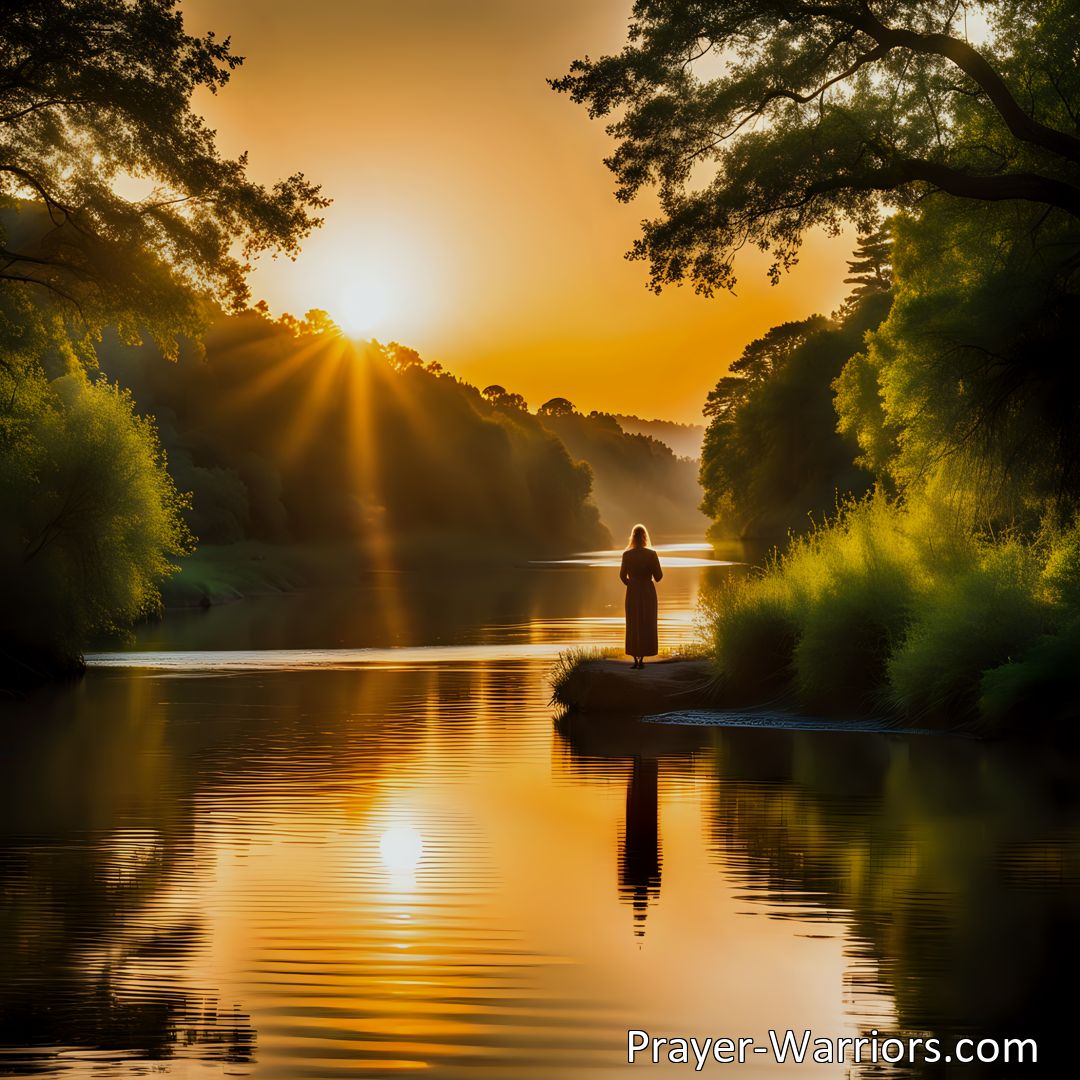 Join the Prayer Warriors Community!
Sign-up for our newsletter and embark on a transformative journey with Prayer. Enter your email below and become a part of our Prayer Warriors family.