A Wonderful Savior Is Jesus My King – Hymn Lyric
"A Wonderful Savior Is Jesus My King" is a hymn that praises the remarkable goodness and love of Jesus, our Savior and King. His grace is boundless, extending to all and offering mercy and forgiveness. Through His sacrifice and unwavering love, He brings salvation and freedom to those who accept Him.
---
---
A Wonderful Savior Is Jesus My King – Hymn Lyric
A wonderful Saviour is Jesus my King,
So gracious and loving is He,
I'll sing of His marvelous goodness and love,
His mercy for you and for me.
Refrain:
O a wonderful Saviour is Jesus,
Yes, a wonderful Saviour is He;
In mercy He came, O, blest be His name,
For a wonderful Saviour is He.
Despised by His people and cursed by His kind,
He suffered and died on the tree,
A stranger, He found me a captive of sin,
He bo't me and let me go free.
[Refrain]
He guarded and led me, He strengthened my soul,
Forgave me when sometimes I fell;
His love never failed me, His patience I know
The tongue of man never can tell.
[Refrain]
O friend of mine, listen, the Christ died for you,
He calls, do not longer delay;
This time is the time of acceptance for you,
The day of salvation today.
[Refrain]
Meaning of A Wonderful Savior Is Jesus My King
A Wonderful Savior Is Jesus My King: Magnifying the Marvelous Goodness and Love of Jesus
In the world we live in, it can sometimes feel like finding genuine love and goodness is a rare occurrence. However, there is one individual who never fails to shower us with abundant love and kindness – Jesus, our wonderful Savior and King. His grace knows no bounds, and through this hymn, we can express our admiration for Him.
As the hymn beautifully states, our Savior is not only wonderful but also incredibly gracious and loving. His love extends beyond anything we can comprehend. It is a love that surpasses all understanding and reaches every corner of our hearts. With gratitude, we sing of His marvelous goodness and love, as it is truly remarkable.
One of the most extraordinary aspects of our Savior's love is His boundless mercy. He came to the world not to condemn, but to save. His mercy embraces everyone, regardless of our flaws and mistakes. Whether we feel unworthy or burdened by sin, His mercy shines brighter than any darkness we may carry. We can find solace in knowing that His mercy is available not only for ourselves but also for others. It is a merciful love that knows no boundaries.
It is essential to recognize that Jesus, our Savior, faced rejection and curses from those who should have embraced Him. Despite the disdain and animosity directed towards Him, He willingly endured suffering and death on the cross. His sacrifice was not for His own benefit, but for the salvation of humanity. Such selflessness and sacrificial love are awe-inspiring.
As the hymn mentions, Jesus found us as captives of sin, unfamiliar strangers to Him. He could have chosen to turn away, yet He chose to redeem us. With open arms, He bought our freedom and let us go free. Our Savior's love is not conditional; it reaches out to us when we least expect it. He rescues us from the clutches of sin and sets us on a path towards freedom and new life.
Once our Savior finds us, He becomes our guardian and guide. He strengthens our souls and provides the support we need throughout our journey. Even when we stumble, He forgives us without hesitation. His love is unwavering and infinitely patient. It is a love that never fails, even when our words fall short in expressing its magnitude.
My dear friend, take a moment to listen and reflect. Jesus willingly died on the cross not only for me but for you as well. He sacrificed Himself to bridge the gap between us and God, offering us the chance of eternal salvation. His call to us is not something we should delay or push aside. It is an urgent invitation to embrace His love and accept His free gift of salvation.
The day of salvation is today – in this very moment. Jesus stands before us, extending His hand, ready to lead us into a life filled with hope, joy, and purpose. Let us not let this opportune time slip away. Instead, let us bask in the glow of His love and open our hearts to receive His grace.
In conclusion, our Savior, Jesus, is undeniably wonderful. His love, mercy, and sacrifice make Him worthy of our eternal gratitude. By singing this hymn and magnifying His marvelous goodness and love, we honor Him and spread the message of His salvation. So, let us raise our voices and proclaim together, "O, a wonderful Savior is Jesus! Yes, a wonderful Savior is He! In mercy, He came, O, blest be His name, for a wonderful Savior is He."
I hope this hymn inspired image brings you hope and peace. Share it with someone who needs it today!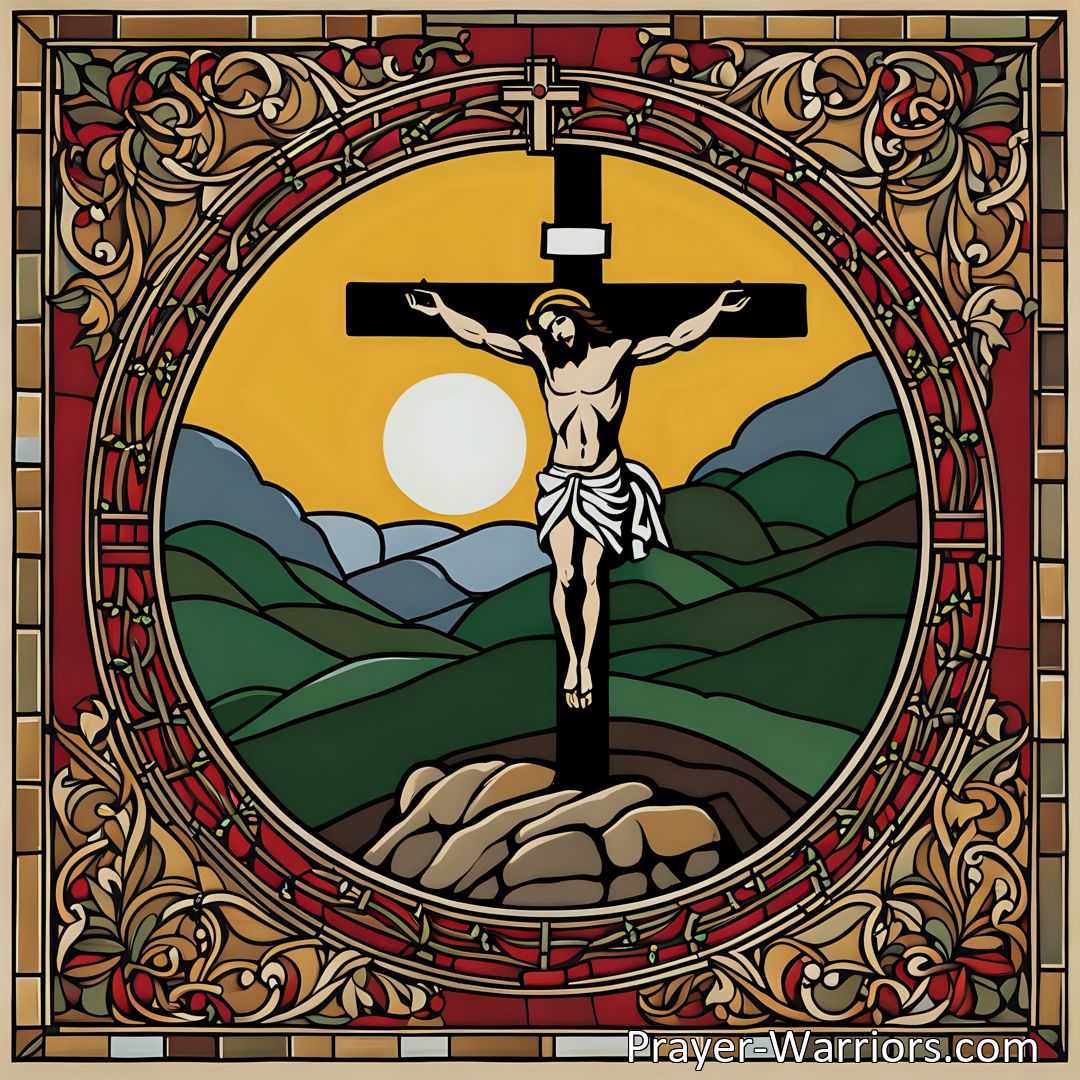 Join the Prayer Warriors Community!
Sign-up for our newsletter and embark on a transformative journey with Prayer. Enter your email below and become a part of our Prayer Warriors family.