God Is Love By Him Upholden – Hymn Lyric
"God Is Love By Him Upholden" is a joyful hymn that reminds us of the incredible power and unwavering nature of God's love. It paints a vivid picture of the celestial bodies and how they speak to us of this great love. The hymn also emphasizes the sacrifice of Jesus Christ and calls us to live lives filled with gratitude and reflection of His love.
---
---
God Is Love By Him Upholden – Hymn Lyric
God is love, by Him upholden,
Hang the glorious orbs of light.
In their language, glad and golden,
Speaking to us day and night.
Their great story,
God is love, and God is light.
Through that precious love He sought us,
Wandering from His holy ways.
With that precious life He bought us,
Then let all our future days.
Tell this story,
Love is life, our lives be praise.
Gladsome is the theme and glorious,
Praise to Christ our gracious Head.
Christ, the risen Christ, victorious,
Earth and hell hath captive led.
Welcome story!
Love lives on, and death is dead.
Up to Him let each affection
Daily rise and round Him move.
Our whole lives one resurrection
To the life of life above.
Their glad story,
God is life, and God is love.
Meaning of God Is Love By Him Upholden
God Is Love By Him Upholden: A Glorious Hymn of Light and Love
In this beautiful hymn, the author reminds us of the awe-inspiring power of God's love and the way it is manifested in the world around us. The hymn begins by painting a vivid picture of the celestial bodies that fill our vast universe. These glorious orbs of light, the sun, the moon, the stars, all speak to us day and night, conveying a great story – that God is love and God is light.
It is a comforting thought to know that these celestial bodies are upheld by the love of God. They serve as a constant reminder that we are surrounded by love and light in this world. Just as God's love sustains the heavenly bodies, it also reaches out to us, seeking us out when we have strayed from His holy ways.
The hymn highlights the incredible sacrifice made by God through His Son, Jesus Christ. It proclaims that with His precious life, He bought our redemption and offered us the gift of salvation. This reminds us that no matter how far we may have wandered, God's love and forgiveness are always within reach. It is a story that deserves to be told and retold – that love is not just an abstract concept, but a powerful force that can transform our lives.
In response to this immeasurable love, the hymn encourages us to live lives that reflect our gratitude. We are called to let our every affection rise up and revolve around Him, for He is the center of our worship and devotion. Our whole lives should be a resurrection, a testimony to the life-giving power of God. This is our story, our purpose – to live in accordance with the truth that God is life and God is love.
As we raise our voices in praise, let us also give thanks for the victory won by Christ. He rose triumphantly from the grave, conquering death itself. Through His resurrection, He has brought hope and eternal life to all who believe in Him. What a welcome story indeed!
The hymn conveys a sense of joy and gladness, as it celebrates the theme of love and the victory found in Christ. It encourages us to find solace and inspiration in the knowledge that God's love is constant and unchanging. It is a foundation upon which we can build our lives, knowing that it will never fade or diminish.
In its simplicity, this hymn imparts profound wisdom and truth. It speaks directly to our hearts, reminding us of the fundamental aspects of our faith. It is a hymn that can be appreciated by believers of all ages, from the youngest child to the oldest adult. Its message is universal and timeless – that God is love, and that this love is the guiding light in our lives.
So, let us embrace this hymn as a reminder of the magnificent power of God's love. Let us remember that it is through His love that the universe was formed, that we have been redeemed, and that we have the hope of eternal life. May our lives be a testament to this great love, as we seek to reflect it in all that we say and do. And as we sing these words, let us be filled with gratitude, joy, and the assurance that love lives on, and death is truly defeated.
In conclusion, "God Is Love By Him Upholden" is a hymn that encapsulates the essence of our faith – that God's love is all-encompassing, sustaining, and victorious. It is a hymn that speaks to our hearts and reinforces the foundational truths of our belief. May we always find inspiration and solace in the beautiful message it conveys – that God is love, and through His love, we find light, life, and eternal hope.
I hope this hymn inspired image brings you hope and peace. Share it with someone who needs it today!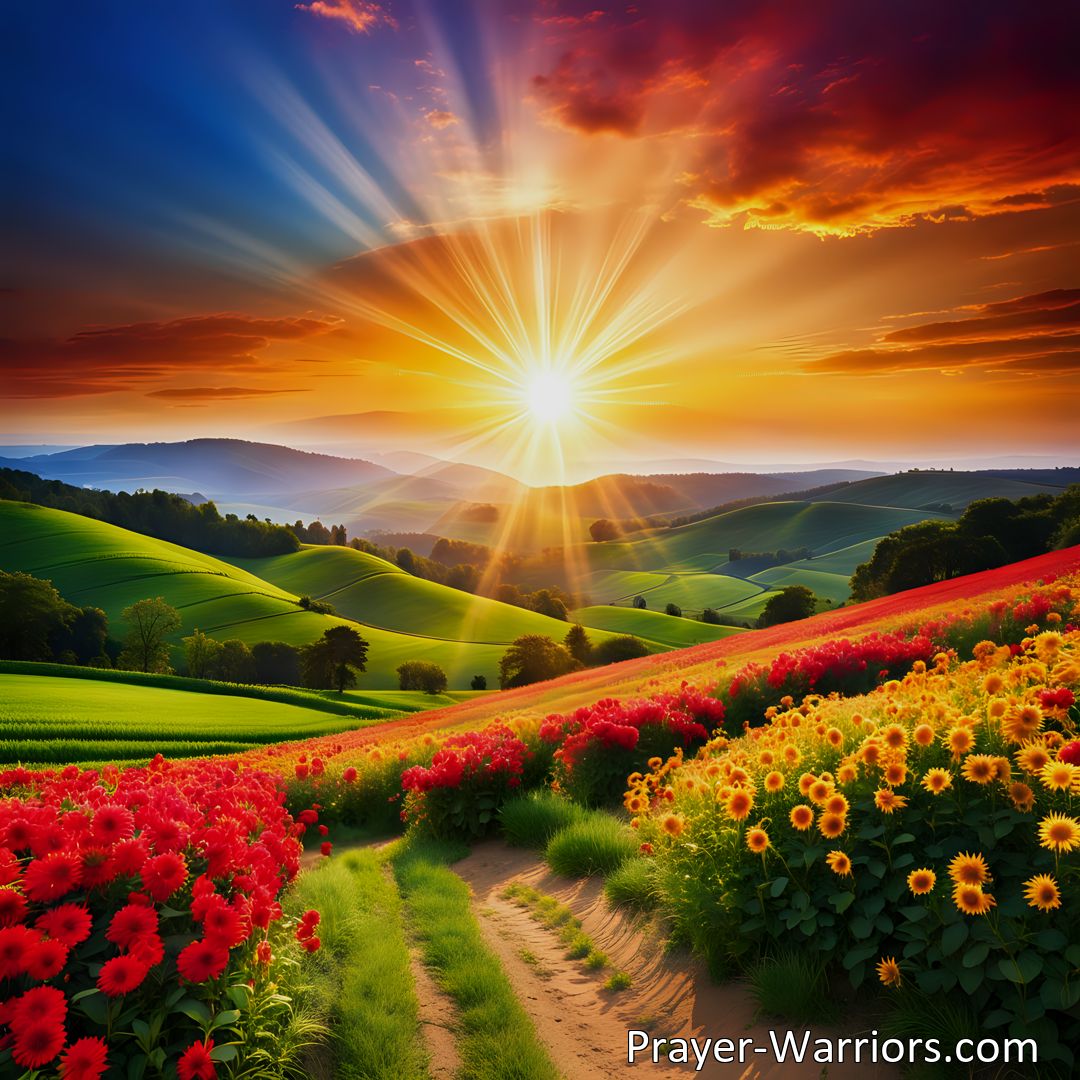 Join the Prayer Warriors Community!
Sign-up for our newsletter and embark on a transformative journey with Prayer. Enter your email below and become a part of our Prayer Warriors family.