All Nature Feels Attractive Power – Hymn Lyric
summary.txt
---
---
All Nature Feels Attractive Power – Hymn Lyric
All nature feels attractive power,
A strong, embracing force;
The drops that sparkle in the shower,
The planets in their course.
In this fine, sympathetic chain
All creatures bear a part;
Their every pleasure, every pain,
Linked to a feeling heart.
More perfect bond, the Christian plan
Attaches soul to soul;
Our neighbor is the suffering man
Thou at the farthest pole.
To earth below, from Heaven above,
The faith in Christ professed
More clear reveals that God is love,
And whom He loves is blest.
Meaning of All Nature Feels Attractive Power
All Nature Feels Attractive Power: A Reflection on the Connection between the Natural World and the Christian Faith
In this hymn, "All Nature Feels Attractive Power," the beautiful and captivating force of nature is celebrated. From the soft drops of rain that glisten in the shower to the majestic planets that follow their destined paths, there is an undeniable allure that draws us in. But this hymn goes beyond simply admiring the wonders of the natural world; it also highlights the interconnectedness of all living beings and emphasizes the importance of empathy and compassion, illustrating how the Christian faith provides a perfect bond that unites us all.
The first verse of the hymn exclaims, "All nature feels attractive power, a strong, embracing force." It speaks to the magnetic pull that nature has on us, its ability to enthrall and captivate our hearts and minds. Whether it's the sight of a blooming flower or the sound of rushing water in a stream, the wonders of nature awaken something deep within us, filling us with a sense of awe and wonder.
But what makes this hymn particularly thought-provoking is its acknowledgment that every living creature on Earth is part of a sympathetic chain, with every pleasure and pain linked to a feeling heart. It emphasizes that we are not separate entities in this world; instead, we are all interconnected, sharing in each other's experiences.
The hymn then goes on to describe the Christian plan, which transcends our earthly connections and attaches soul to soul. It suggests that our faith in Christ is what brings us together, allowing us to recognize that our neighbor, even one who may be suffering at the farthest pole, is deserving of our love and compassion.
The Christian faith, as outlined in the hymn, helps us to understand that our connection to nature is more than just a physical one. It reminds us that God's love is revealed through the faith we profess in Christ, and it is through this love that we are blessed. This idea sheds light on the deeper meaning behind the attractive power of nature and links it to the belief that God's love encompasses all creation.
When we observe the world around us with a Christian lens, we begin to see nature as a reflection of God's love and design. We witness the intricate ecosystems, the cycles of life and death, and the harmony that exists in the natural world. It becomes clear that nature is not just a random assortment of elements but rather a testimony to God's creative power and divine love.
Furthermore, by recognizing our interconnectedness with nature, we feel a greater responsibility to care for the environment and its inhabitants. Our faith compels us to be good stewards of the Earth, to protect and nurture its resources. This awareness resonates with the growing movement of environmental stewardship and conservation, as people are increasingly recognizing the importance of preserving the natural world for future generations.
In conclusion, "All Nature Feels Attractive Power" beautifully captures the enchantment and allure of the natural world while reminding us of the interconnectedness of all living beings. It emphasizes the Christian belief that our faith in Christ unites us and compels us to love and care for our neighbors, no matter how distant they may be. By approaching nature with a Christian lens, we can recognize God's love in every aspect of creation and be inspired to protect and cherish the Earth and its inhabitants. May we always remember that through the faith we profess, we can experience the true beauty and power of God's love in both the natural world and in our relationships with others.
I hope this hymn inspired image brings you hope and peace. Share it with someone who needs it today!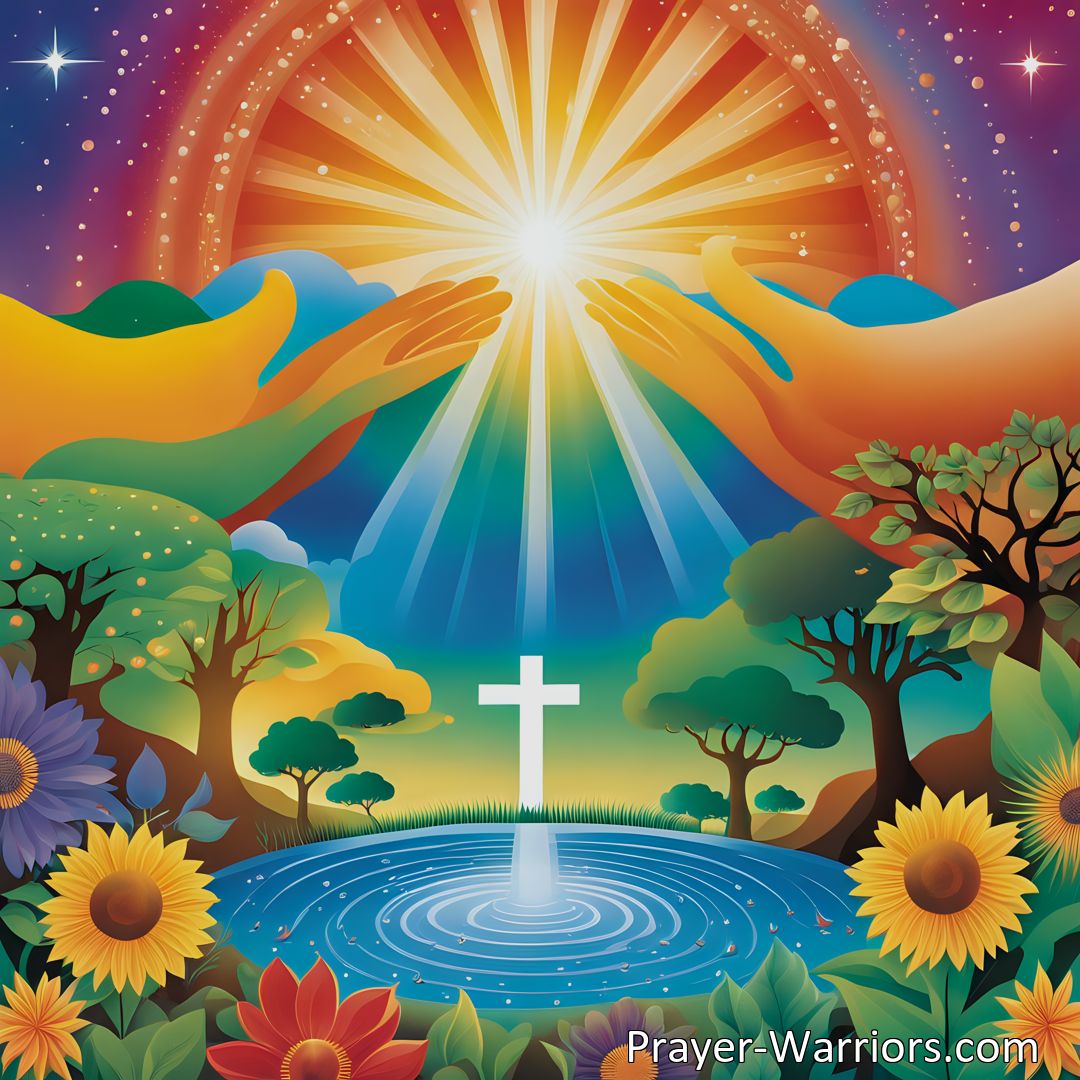 Join the Prayer Warriors Community!
Sign-up for our newsletter and embark on a transformative journey with Prayer. Enter your email below and become a part of our Prayer Warriors family.