Come We Neath The Shrouded Skies – Hymn Lyric
summary.txt
---
---
Come We Neath The Shrouded Skies – Hymn Lyric
Come we 'neath the shrouded skies,
Come 'mid silent gloom,
Seek the garden where He lies,
Seek the sealed tomb.
But hark! But hark!
An angel tells the tidings glad!
Refrain:
Up from the grave He arose!
He arose, He arose!
Conqu'ror He reigns o'er His foes,
And He liveth, liveth evermore!
He hath ended strife,
He hath brought us life,
Lo, He lives for aye,
Hail the triumph day!
He arose, He arose, He arose!
Hallelujah, Christ arose!
Soft the sighing breezes call,
O'er the quiet glade;
Shadows cast their sombre pall,
Where the Lord is laid.
But hark! But hark!
An angel tells the tidings glad! [Refrain]
Hearts grow faint and joy is fled,
Light of hope burns dim;
Lo, the Nazarene lies dead,
Come we seeking Him.
But hark! But hark!
An angel tells the tidings glad!
[Refrain]
Meaning of Come We Neath The Shrouded Skies
"Come We Neath The Shrouded Skies": Finding Hope in the Midst of Darkness
In this hymn, we are taken on a journey to a garden where lies a sealed tomb, enveloped in silent gloom. As we enter this scene, a deep sense of mystery and anticipation fills our hearts. We come, seeking the truth, longing for comfort and hope amidst the shadows cast by the somber pall.
But as we stand there, feeling the weight of despair, something incredible happens. We hear a voice, gentle yet powerful, breaking through the silence. It is the voice of an angel, delivering tidings more glorious than we could have ever imagined. The words echo in our ears: "Up from the grave He arose! He arose, He arose!"
Suddenly, the heavy atmosphere shifts. Our hearts, once burdened with grief, are touched by a ray of light. The resurrection of our Lord is proclaimed in triumphant refrain. We find ourselves caught up in the joy and wonder of this moment, realizing that Christ, our conquering King, reigns over all His foes. He is not confined to the limits of death but lives forevermore!
The darkness that once surrounded the garden becomes a mere backdrop to the vibrant truth unfolding before our eyes. We glimpse the end of strife, the gift of new life bestowed upon us. In the resurrection of Jesus, hope is born, and it will never fade away. This is a triumph day, a day we celebrate with exuberant shouts of "Hallelujah!" For Christ has risen, and nothing can overcome Him.
As we reflect on the significance of this hymn, we also recognize the profound lessons it teaches us. It invites us to explore the beauty found beneath the shrouded skies of our own lives – the moments of doubt, sadness, and uncertainty. Just as we come seeking the Lord in the garden, we are encouraged to seek Him in our darkest moments, knowing that He is there, ready to transform our pain into purpose.
The sighing breezes that we encounter in the hymn remind us of the whispers of doubt and despair that often surround us. Yet, despite these challenges, we are encouraged to press on, to not be deterred by the shadows and gloom. Instead, we are called to listen attentively to the angels' tidings of hope – the whispers of love, grace, and victory that God speaks into our lives.
In a world where hearts grow faint and joy seems to flee, this hymn assures us that our hope is not in vain. Jesus, the Nazarene, though once laid in a tomb, was not defeated by death. His resurrection assures us that we can find Him even in the midst of our seeking. He is the source of everlasting life, the one who brings light to our darkest days.
As we sing the refrain, "He arose, He arose, He arose! Hallelujah, Christ arose!" let us allow these words to seep deep into our souls. Let them serve as a reminder that no matter how daunting our circumstances may seem, there is always hope, always a reason to rejoice. We are not alone in our journeys; Christ walks beside us, bringing new life and triumph over every obstacle.
So, let this hymn be an anthem of faith and resilience. Let it inspire us to rise above the challenges we face, just as Christ conquered death and rose from the grave. Let it be a call to embrace the truth that, through Him, we are more than conquerors too.
When we find ourselves feeling lost or burdened, let us remember the words of this hymn. Let us take a moment to pause, to listen to the whispers of hope that surround us, and to seek the presence of Christ in our lives. For beneath the shrouded skies, in the garden where He lies, we will find not only a sealed tomb but also a promise that He has conquered death and lives forevermore. Hallelujah!
I hope this hymn inspired image brings you hope and peace. Share it with someone who needs it today!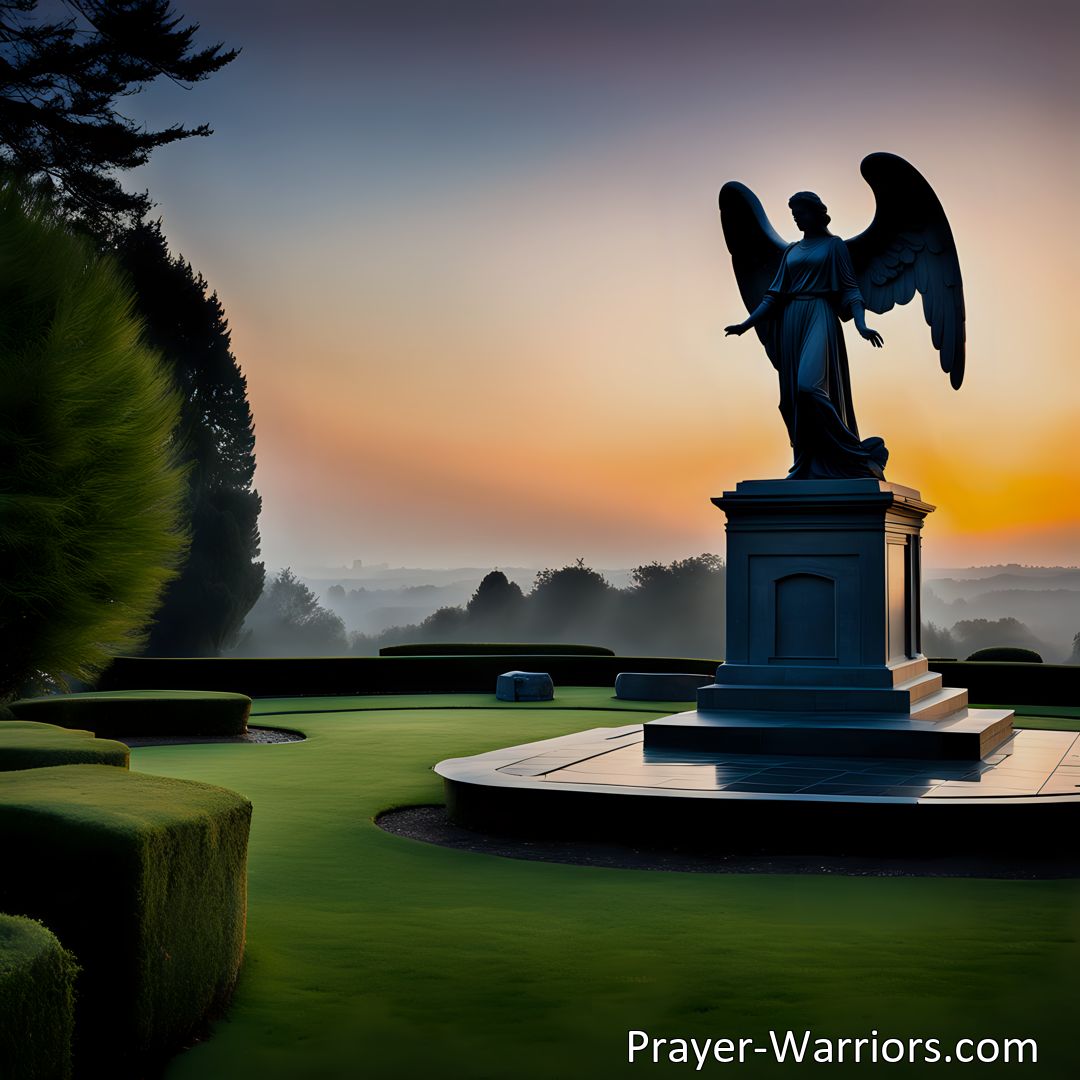 Join the Prayer Warriors Community!
Sign-up for our newsletter and embark on a transformative journey with Prayer. Enter your email below and become a part of our Prayer Warriors family.