Striving Onward Pressing Forward – Hymn Lyric
summary.txt
---
---
Striving Onward Pressing Forward – Hymn Lyric
Striving onward, pressing forward,
Life divine to gain,
We will ever make endeavor
Until we attain;
What detains we'll cast aside,
By that promise to abide:
Who endureth, life secureth,
And the prize shall gain.
While contending, and withstanding
For the truth and right;
Draw us nearer, show us clearer,
Lord, Thy Spirit's might;
Let Thy word its strength impart
To each sad and yearning heart;
Praise abounding shall be sounding,
At Thy throne of light.
In the sorrow which the morrow
May around us roll,
Hold us ever, leave us never,
Save, O save the soul!
Through temptation's daily strife,
Through the vanities of life,
Lead us onward, forward, upward,
To our glorious goal.
Meaning of Striving Onward Pressing Forward
In our journey through life, we all strive to grow and achieve something greater. It is in our nature to press forward, to reach for the divine and the extraordinary. This hymn reminds us of the importance of perseverance and determination as we pursue our goals and dreams.
Life is a constant push and pull, a series of ups and downs. But no matter the detours or obstacles we may face, we must cast them aside and hold onto the promise of a better future. By enduring through hardships, we can secure a fulfilling and meaningful life. It is through our resilience that we can attain the ultimate prize – a life of joy and purpose.
As we journey through life, we are often met with challenges. We must contend with the conflicts that arise, standing up for truth and right. It is in these moments that we call upon the Lord's Spirit to draw us closer to Him and show us His mighty power. We seek guidance and strength from His word, relying on its wisdom to guide us through the struggles and uncertainties we face.
In times of sorrow and uncertainty, the hymn reminds us to hold onto our faith and trust in the Lord's everlasting presence. He will never leave us, and in His love, He will save our souls. When tomorrow's troubles roll around us, we can find solace and comfort knowing that the Lord is with us, guiding us through the storms of life.
Each day brings its own set of temptations and distractions. The vanity of life can often lead us astray, but we must strive to stay focused on our purpose and the goals we have set for ourselves. It is through God's grace and strength that we can resist the temptations and navigate through the world's fleeting distractions. We ask the Lord to lead us forward, upward, and onward towards our glorious goal.
In a world filled with uncertainty and adversity, it is through our unwavering faith that we find hope and light. As we strive onward and press forward, our praises to the Lord shall abound. We will sing songs of gratitude and thanksgiving at His magnificent throne of light.
Overall, the hymn "Striving Onward, Pressing Forward" serves as a reminder of the importance of perseverance, faith, and the pursuit of a greater purpose in our lives. It encourages us to cast aside obstacles, stand up for truth and right, and rely on the Lord's strength to guide us through life's challenges. With the Lord's presence, we can press forward with hope and determination, ultimately reaching our glorious goal.
I hope this hymn inspired image brings you hope and peace. Share it with someone who needs it today!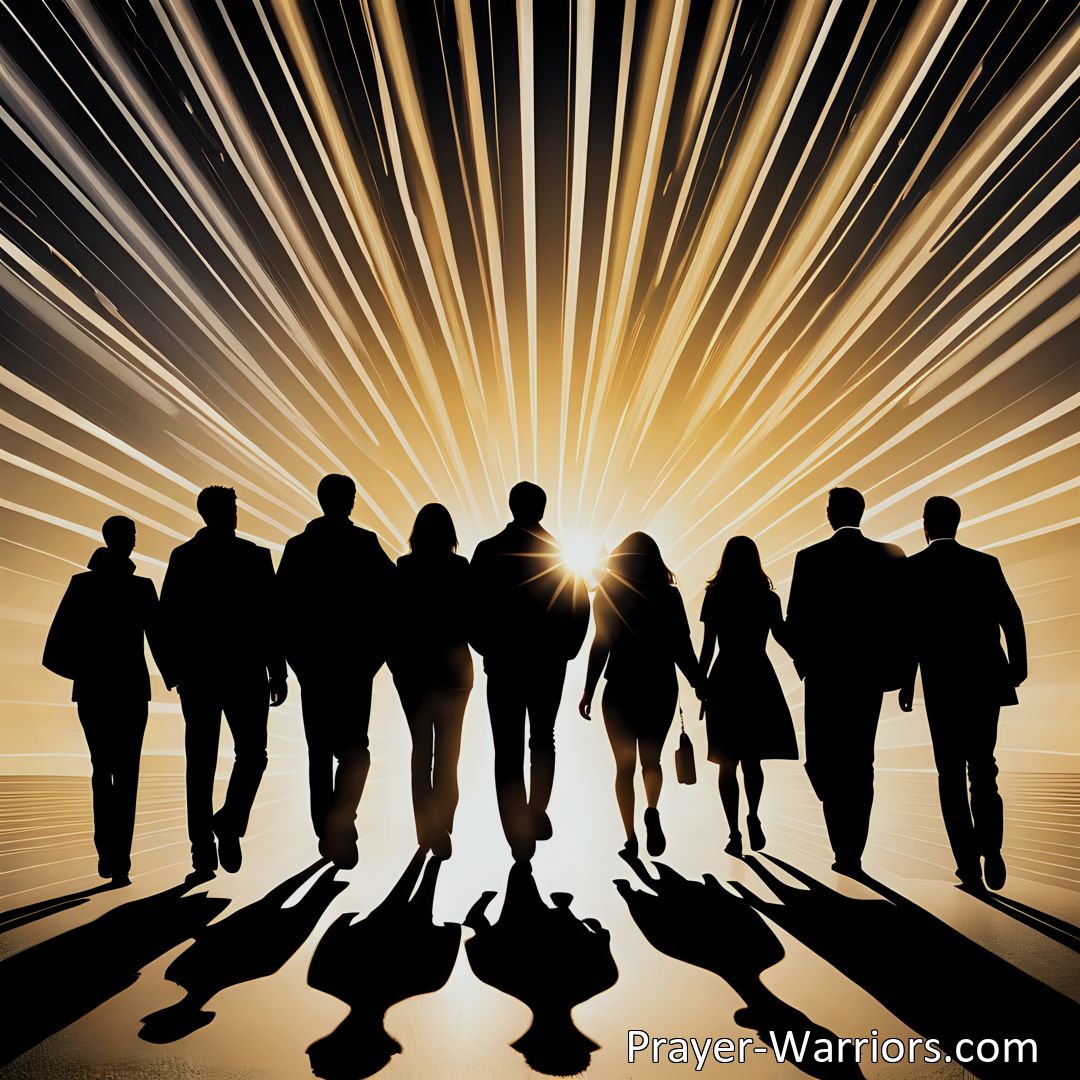 Join the Prayer Warriors Community!
Sign-up for our newsletter and embark on a transformative journey with Prayer. Enter your email below and become a part of our Prayer Warriors family.