In "Drawing Closer to God Through the Disciplines of Prayer and Meditation," discover how incorporating prayer and meditation into your daily life can help you cultivate a deeper relationship with God and experience a sense of peace. By establishing a consistent prayer practice and embracing the silence and stillness of meditation, you can draw closer to God and find spiritual fulfillment. Start your journey now and embrace the transformative power of prayer and meditation to bring you closer to God.
---
---
Drawing Closer to God Through the Disciplines of Prayer and Meditation
Drawing Closer to God Through the Disciplines of Prayer and Meditation
In our busy and fast-paced world, finding a sense of peace and spiritual connection can often feel like a daunting task. However, by incorporating the disciplines of prayer and meditation into our daily lives, we can cultivate a deeper relationship with God and experience a profound sense of closeness to the divine.
Prayer is a powerful tool that allows us to communicate with God, to express our gratitude, seek guidance, and offer our concerns. It is a way to open our hearts and minds to the presence of the divine and invite God into every aspect of our lives. Through prayer, we can find solace in times of trouble and strength in times of need.
One of the first steps in drawing closer to God through prayer is to establish a consistent practice. Find a quiet and comfortable space where you can be alone with your thoughts and focus on your connection with God. Set aside a specific time each day devoted to prayer, whether it's in the morning, before bed, or during a quiet moment in the afternoon. By making prayer a daily habit, we create a space for reflection and spiritual growth.
Another important aspect of prayer is gratitude. Take a moment each day to express your appreciation for the blessings in your life, both big and small. Thank God for the gift of life, for loved ones, for the beauty of nature, and for the opportunities that come your way. Cultivating a grateful heart allows us to shift our focus from what is lacking to what is already present, fostering a sense of abundance and contentment.
In addition to prayer, meditation is another discipline that can help us deepen our connection with God. Unlike prayer, which involves actively communicating with God, meditation is a practice of stillness and silence, allowing us to quiet the mind and listen to the divine within. Through meditation, we can create space for God's voice to be heard and receive spiritual insights and guidance.
To begin a meditation practice, find a comfortable and quiet place where you can sit in a relaxed position. Close your eyes and take a few deep breaths, allowing your body and mind to relax. Focus your attention on your breath, gently observing the inhales and exhales. As thoughts arise, acknowledge them without judgment and gently bring your attention back to your breath. Over time, with consistent practice, you will find it easier to enter a state of inner stillness and connection with God.
Combining prayer and meditation can be a powerful way to deepen our spiritual connection. Begin your practice with a few moments of prayer, expressing your intentions and inviting God's presence. Then, gradually transition into a period of meditation, allowing yourself to become fully present and receptive to God's guidance. After your meditation, conclude with a few moments of gratitude and reflection, expressing thanks for the experience.
The disciplines of prayer and meditation not only offer us a pathway to draw closer to God, but they also provide numerous benefits for our overall well-being. Studies have shown that regular meditation practice can reduce stress, increase focus and concentration, and improve emotional well-being. When combined with prayer, these disciplines can help us cultivate a sense of inner peace, resilience, and spiritual fulfillment.
As you embark on your journey to deepen your relationship with God through the disciplines of prayer and meditation, it's important to remember that progress takes time and patience. There may be days when it feels challenging or when your mind wanders during meditation. Don't be discouraged; simply acknowledge those moments with kindness and gently bring yourself back to your practice. Remember, it is the intention and effort that matters most.
In conclusion, finding a sense of closeness to God is possible through the disciplines of prayer and meditation. By dedicating time each day to connect with the divine, expressing gratitude, and exploring the depths of stillness within, we can cultivate a profound and meaningful relationship with God. So, take a deep breath, find a quiet space, and open your heart to the transformative power of prayer and meditation. May your journey towards drawing closer to God be filled with an abundance of love, peace, and divine wisdom.
I hope this prayer inspired image brings you hope and peace. Share it with someone who needs it today!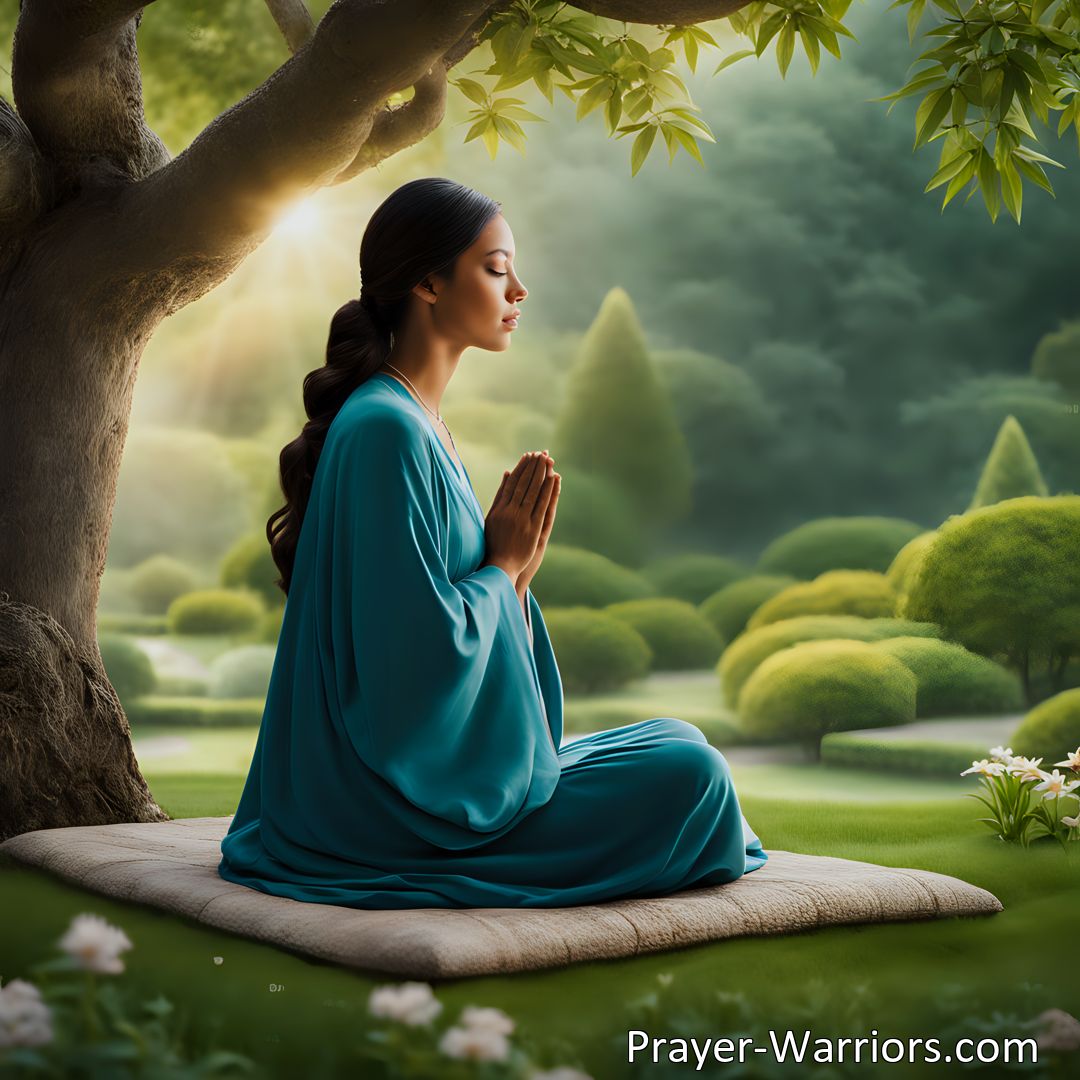 Join the Prayer Warriors Community!
Sign-up for our newsletter and embark on a transformative journey with Prayer. Enter your email below and become a part of our Prayer Warriors family.