Discover the power of gratitude in your daily life through prayer. By taking a moment to acknowledge the blessings that often go unnoticed, you can shift your perspective and find fulfillment in what you already have. Learn how to make gratitude a habit and enhance your overall well-being while spreading positivity to others.
---
---
Prayer for Cultivating Gratitude in Daily Life: Counting Blessings
Prayer for Cultivating Gratitude in Daily Life: Counting Blessings
Have you ever taken a moment to appreciate the simple joys and blessings in your life? In our fast-paced world, it is easy to get caught up in the hustle and bustle, forgetting to pause and be grateful for what we have. However, by taking the time to cultivate gratitude through prayer, we can bring a sense of fulfillment and happiness into our daily lives. In this article, we will explore the importance of cultivating gratitude and how incorporating a daily prayer practice can help us achieve this.
Gratitude, simply put, is the act of recognizing and appreciating the positive aspects of our lives. It goes beyond a simple "thank you" and requires a deeper acknowledgement of the blessings we often take for granted. When we cultivate gratitude, we shift our focus from what is lacking to what we already have, fostering a sense of contentment and fulfillment.
One powerful way to cultivate gratitude is through prayer. Prayer allows us to connect with a higher power, whether it be God, the universe, or simply our own inner selves. It is a time for reflection, introspection, and expressing our deepest thoughts and desires. By incorporating gratitude into our prayers, we can actively train our minds to appreciate and be thankful for the blessings in our lives.
Begin by finding a quiet and comfortable space where you can pray without distractions. Close your eyes, take a deep breath, and let go of any worries or stress that may be weighing you down. As you settle into this moment of stillness, begin to focus on the blessings you want to acknowledge.
In your prayer, express gratitude for the little things that often go unnoticed. Consider the roof over your head, the food on your table, and the supportive people in your life. These may seem like mundane aspects, but they are fundamental to our well-being and deserve appreciation.
Furthermore, take the time to acknowledge the positive experiences and opportunities that have come your way. Maybe you received a compliment at school, achieved a personal goal, or had a heartwarming conversation with a friend. These moments of joy and connection can easily pass us by if we don't actively recognize their significance.
As you continue to cultivate gratitude through prayer, you may find that your perspective begins to shift. You start noticing the beauty in everyday moments, the kindness in strangers, and the abundance that surrounds you. A simple prayer can serve as a reminder to be present and appreciate the present.
It is essential to remember that gratitude doesn't dismiss the difficulties or challenges we face. Rather, it allows us to find strength and resilience in the face of adversity. Through prayer, we can express gratitude for the lessons learned from difficult experiences and recognize the growth that comes from them.
When incorporating gratitude into your daily prayer practice, try to make it a ritual. Set aside a specific time each day to connect with your thoughts and express gratitude. Whether it is in the morning, before bed, or during a quiet moment during the day, consistency is key. By making gratitude a habit, you can train your mind to focus on the positive aspects of life more readily.
In addition to prayer, there are other practices you can include in your daily life to enhance your gratitude journey. Keeping a gratitude journal, for instance, allows you to record and reflect on the blessings you encounter each day. Simply jotting down three things you are grateful for before going to bed can have a profound impact on your overall well-being.
Moreover, make an effort to share your gratitude with others. Express your appreciation to those who have made a positive impact on your life. By spreading gratitude, you not only lift the spirits of others but also reinforce your own sense of gratitude.
In conclusion, cultivating gratitude through prayer brings immense benefits to our daily lives. It allows us to shift our focus from what is lacking to what we already have, providing a sense of fulfillment and contentment. Incorporating prayer into your daily routine can help you cultivate gratitude, acknowledge your blessings, and foster a positive outlook on life. So, take a moment, close your eyes, and say a prayer of gratitude – you never know the incredible effect it may have on your daily life.
I hope this prayer inspired image brings you hope and peace. Share it with someone who needs it today!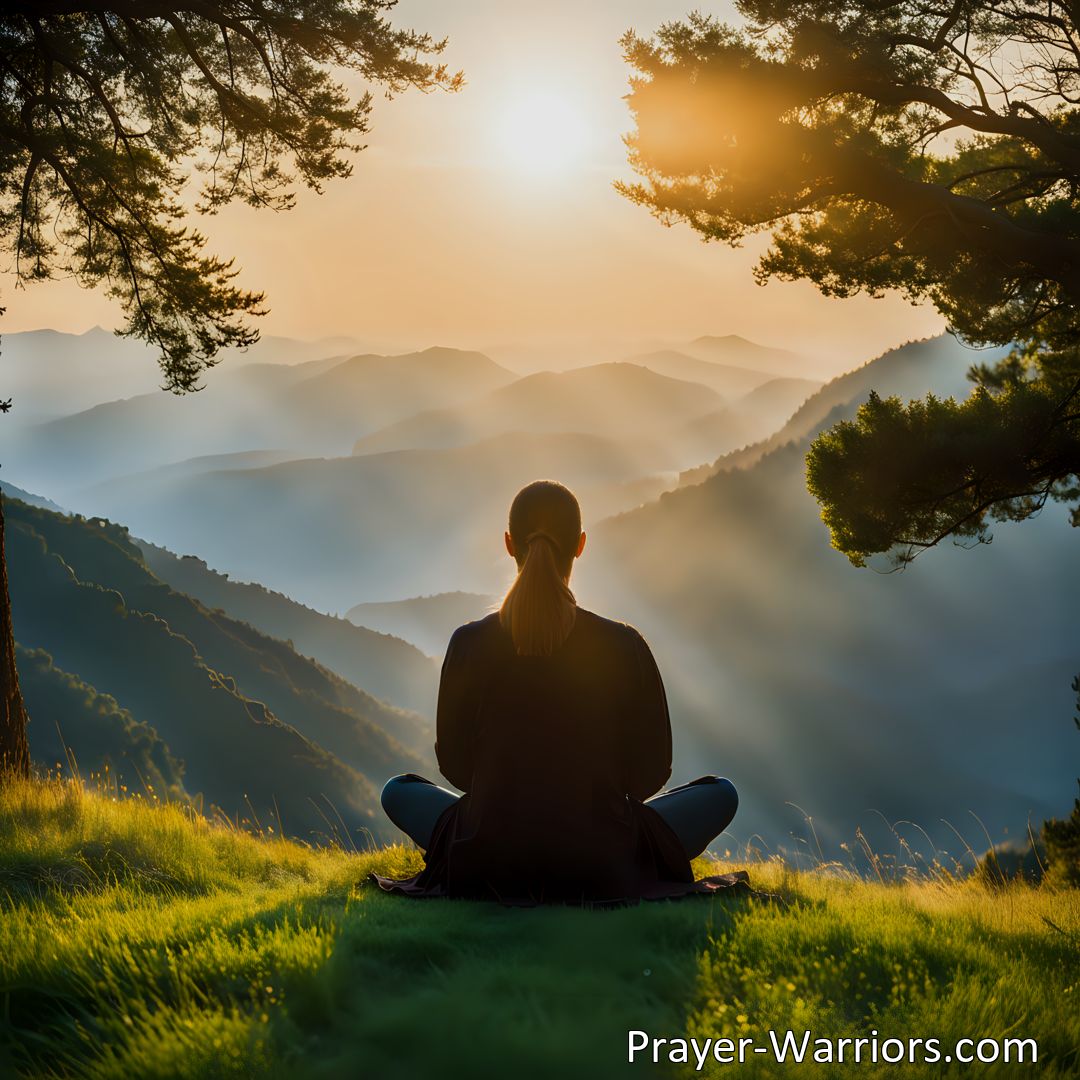 Join the Prayer Warriors Community!
Sign-up for our newsletter and embark on a transformative journey with Prayer. Enter your email below and become a part of our Prayer Warriors family.