Have I Done My Task For The Lord – Hymn Lyric
summary.txt
---
---
Have I Done My Task For The Lord – Hymn Lyric
Have I done my task for the Lord today?
Have I sowed a seed of grace?
Have I any fruits of my toil to lay
At the throne before his face?
Refrain:
If I have, then I've taken another step
In my heav'nly, homeward way;
But if not, I have wasted the precious hours,
I have lost a golden day.
Have I done my work for the Lord today?
Any single act or word?
Have I used for good, as it came my way,
What I may have seen or heard?
[Refrain]
Have I done my best for the Lord today?
Is my heart or mind at rest?
Can I say to him as I kneel to pray,
"I have done my very best?"
[Refrain]
Meaning of Have I Done My Task For The Lord
Have I Done My Task For The Lord: Reflections on Doing Good Deeds
In our journey through life, it is important to reflect on our actions and consider whether we have accomplished our tasks for the Lord. Each day presents us with opportunities to sow seeds of grace and make a positive impact in the world. As we strive to live a life of purpose and meaning, it is essential to pause and ask ourselves: Have I done my task for the Lord today?
To truly understand the significance of this question, let us delve into the hymn's verses. In the first verse, we are prompted to reflect on whether we have sowed seeds of grace. Just as a farmer plants seeds in the hope of a bountiful harvest, we too should strive to spread kindness, compassion, and love wherever we go. These seeds of grace may come in the form of a smile, a helping hand, or a comforting word.
The refrain reminds us that each step we take in our heavenly, homeward way should be accompanied by the knowledge that we have made a difference. Every act of kindness, no matter how small, contributes to our spiritual growth and brings us closer to our ultimate destination. On the other hand, if we do not seize these opportunities, we risk wasting precious hours and overlooking the chance to have a golden day.
Moving on to the second verse, we are urged to evaluate whether we have fulfilled our duty of doing good. Often, we encounter situations where a simple act or word can make a meaningful impact in someone's life. It might be offering a helping hand to a friend in need, sharing words of encouragement, or standing up against injustice. These moments may seem insignificant at first, but they hold immense potential to uplift others and spread positivity.
Moreover, the verse reinforces the idea of utilizing what we see or hear for the greater good. Sometimes, we come across information or experiences that provide valuable insights or lessons. It is crucial to reflect on how we can use this knowledge to make a positive difference. By sharing wisdom, challenging misconceptions, or advocating for justice, we can effectively utilize the resources that come our way.
Lastly, the third verse directs our attention towards doing our best for the Lord. It is essential to have a heart and mind at rest, knowing that we have put forth our utmost effort in accomplishing our tasks. When we kneel to pray, we should be able to confidently say, "I have done my very best." This inner affirmation reassures us that we are fulfilling our purpose and serving the Lord with unwavering dedication.
As we contemplate these verses, it becomes evident that doing our task for the Lord is not about grand gestures or monumental achievements. It is about the everyday choices and actions we make. Each day presents us with countless opportunities to do good, and it is our responsibility to seize them. Even the smallest acts of kindness and compassion have the power to create ripples of positivity that extend far beyond what we can imagine.
So, how can we ensure that we are indeed doing our task for the Lord each day? It starts with a conscious effort to be present and mindful of the opportunities that come our way. We can begin by developing a daily reflection practice, where we take a few moments to review our actions, words, and thoughts. This reflection allows us to identify areas for improvement and acknowledge the areas where we have made a positive impact.
Another way to ensure we are living a purposeful life is by setting small, achievable goals each day. These goals can be as simple as brightening someone's day with a heartfelt compliment or performing a random act of kindness. By breaking down our aspirations into manageable tasks, we not only make them more attainable but also increase our chances of accomplishing them consistently.
Furthermore, let us remember the importance of gratitude. Each day, we should express gratitude for the opportunities to do good and for the blessings we have received. Gratitude keeps us grounded, reminding us of the abundance in our lives and motivating us to share that abundance with others.
In conclusion, the hymn "Have I Done My Task For The Lord" serves as a beautiful reminder to reflect on our daily actions. By considering whether we have sowed seeds of grace, utilized opportunities for good, and done our best, we can ensure that each day is not wasted but instead becomes a golden day. Let us embrace the small opportunities to make a positive impact and strive to do our tasks for the Lord with love, compassion, and dedication.
I hope this hymn inspired image brings you hope and peace. Share it with someone who needs it today!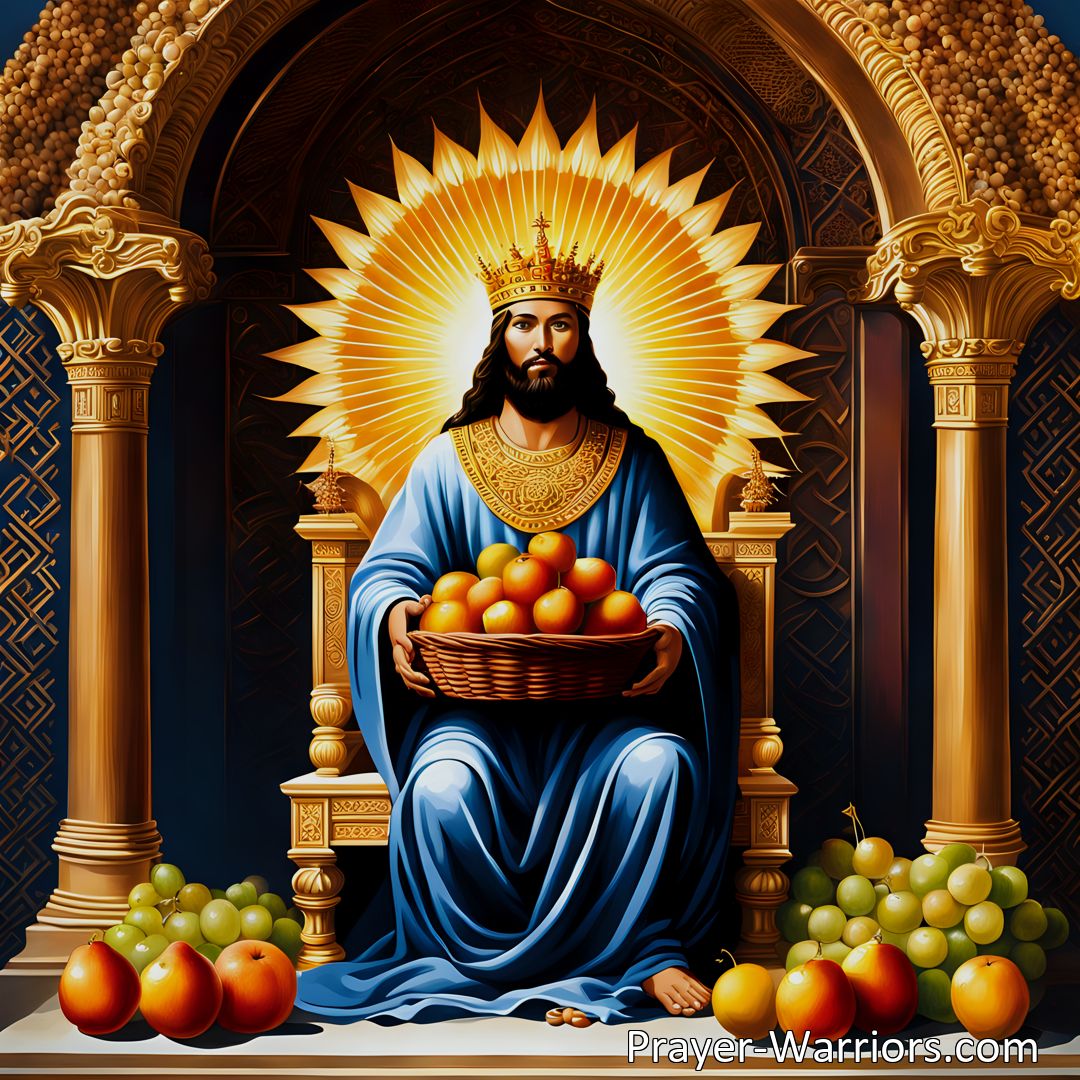 Join the Prayer Warriors Community!
Sign-up for our newsletter and embark on a transformative journey with Prayer. Enter your email below and become a part of our Prayer Warriors family.