Jesus Has Died That I Might Live – Hymn Lyric
summary.txt
---
---
Jesus Has Died That I Might Live – Hymn Lyric
Jesus has died that I might live,
Might live to God alone.
In him, eternal life receive,
And be in spirit one.
Saviour, I thank thee for the grace,
The gift unspeakable!
I wait with arms of faith to embrace,
And all thy love to feel.
My soul breaks out in strong desire,
The perfect bliss to prove.
My longing heart is all on fire
To be dissolved in love.
Give me thyself – from every boast,
From every wish, set free.
Let all I am in thee be lost;
But give thyself to me.
Thy gifts, alone, cannot suffice
Unless thyself be given.
Thy presence makes my paradise,
And where thou art is heaven.
Meaning of Jesus Has Died That I Might Live
Jesus Has Died That I Might Live: Embracing Grace and Longing for Love
In the hymn "Jesus Has Died That I Might Live," we are reminded of the immense sacrifice Jesus made for us on the cross. Through his death, we have the opportunity to receive eternal life and be united with God in spirit. This incredible gift of grace is something we should be eternally grateful for.
As we sing this hymn, it serves as a beautiful reminder to thank Jesus for his grace. The word "unspeakable" is used to describe this gift, emphasizing that it is beyond words and comprehension. We cannot fully grasp the magnitude of what Jesus has done for us, but we can express our gratitude with sincere hearts.
Not only do we thank Jesus for his grace, but we also wait in anticipation to fully embrace and experience his love. With arms of faith, we eagerly seek to feel the overwhelming love and mercy that flows from him. It is a longing that burns within our souls, a desire to intimately know and be known by our Savior.
This longing for love is not about worldly desires or selfish ambitions. It is a deep yearning to be dissolved in love, to be completely consumed by the love of Jesus. We recognize that true fulfillment and joy can only be found in him. It is a surrendering of ourselves, letting go of our own boasts and wishes, and allowing Jesus to be at the center of our lives.
This hymn reminds us that the gifts and blessings we receive from Jesus are not enough on their own. While they are significant and should be appreciated, they cannot compare to the immeasurable value of Jesus himself. It is his presence that transforms our lives and turns our existence into a paradise. Wherever Jesus is, whether in our hearts or in our midst, that is where heaven resides.
In our longing for Jesus, we must remember that he is always present and waiting to be embraced. He is eager to shower us with his love and grace if we open ourselves to receiving him. The hymn beautifully expresses the desire to be lost in Jesus, to let go of our own desires, and allow him to fully consume us. This is a surrender that leads to true freedom and fulfillment.
As we reflect on this powerful hymn, let us remember the depth of Jesus' sacrifice and the incredible gift of grace that he has given us. May our hearts be filled with gratitude and may we eagerly embrace his love. Let us seek to be dissolved in his love, to allow him to be the center of our lives, and to experience the joy of heaven wherever he is present. Jesus has died that we might live, and it is through his love and grace that we find abundant life and eternal salvation.
I hope this hymn inspired image brings you hope and peace. Share it with someone who needs it today!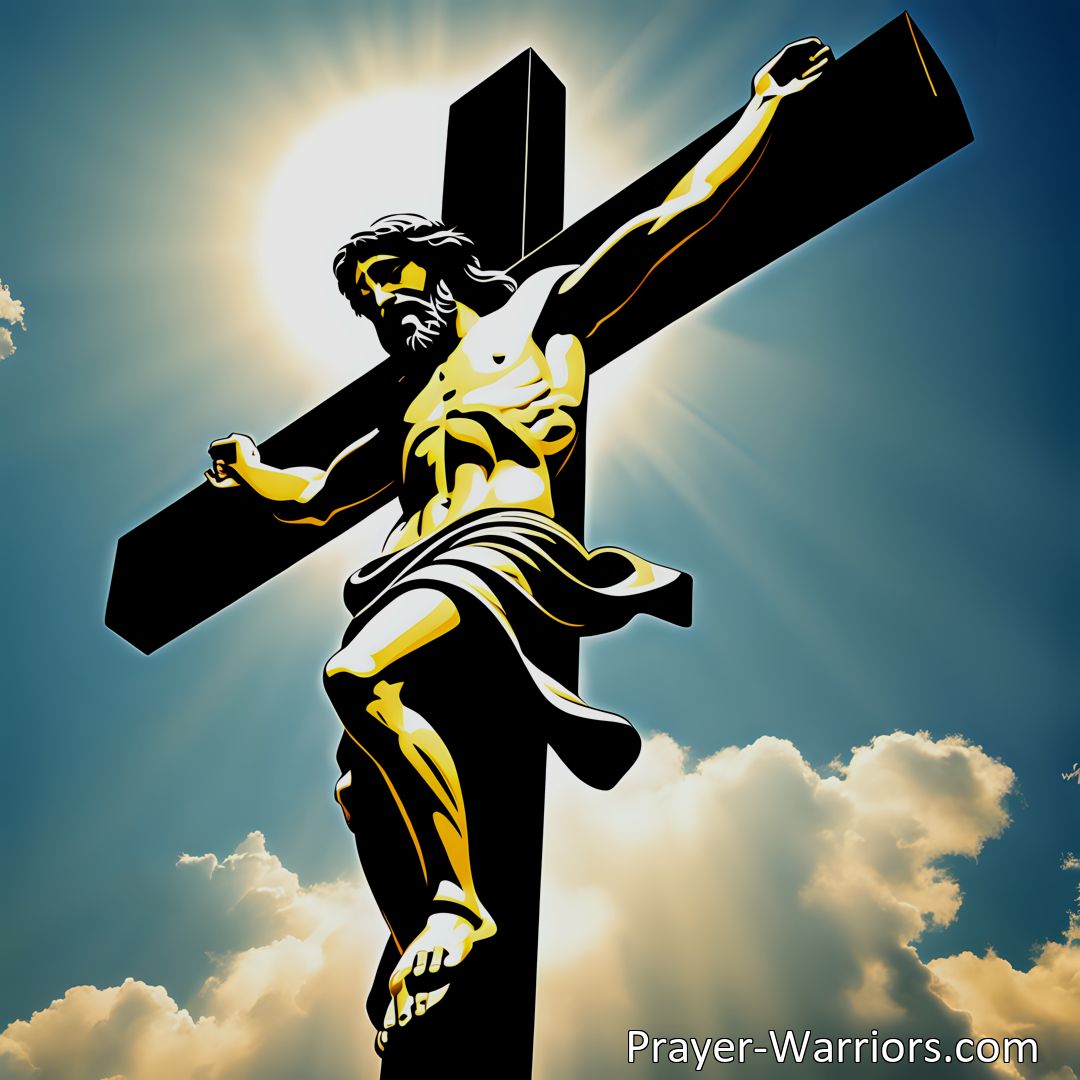 Join the Prayer Warriors Community!
Sign-up for our newsletter and embark on a transformative journey with Prayer. Enter your email below and become a part of our Prayer Warriors family.