Oppressed With Unbelief And Sin – Hymn Lyric
summary.txt
---
---
Oppressed With Unbelief And Sin – Hymn Lyric
Oppressed with unbelief and sin,
Fightings without, and fears within;
While earth and hell, with force combined,
Disturbed and terrified my mind:
Thus sorely pressed, I sought the Lord,
To give me some sweet cheering word;
Again I sought, and yet again,
I waited long, but not in vain.
Oh! 'twas a cheering word indeed
Exactly suited to my need;
"Sufficient for thee is my grace,
Thy weakness my great power displays."
Now I despond and mourn no more,
I welcome all I feared before;
Though weak, I'm strong; tho' troubled blest;
For Christ's own power shall on me rest.
Meaning of Oppressed With Unbelief And Sin
Oppressed With Unbelief And Sin: Finding Hope in the Midst of Struggles
Life can sometimes feel like an endless battle. We are faced with doubts and fears that lurk in every corner of our minds. The weight of our own sins may seem unbearable, dragging us down into despair. It is during these moments of darkness, when it feels like the whole world is against us, that we must turn to a higher power for guidance and strength.
In the hymn "Oppressed With Unbelief And Sin," the author expresses the turmoil they faced. They were surrounded by external conflicts and haunted by internal doubts. Earthly troubles and the forces of evil teamed up to disturb and terrify their very soul. With nowhere else to turn, they sought solace in the Lord.
When faced with overwhelming burdens, it is in our nature to seek comfort and reassurance. We long for a word of encouragement, a ray of hope to pierce through the darkness. The author of the hymn shares that they twice sought the Lord, patiently waiting for a response. And their faith in God was not in vain.
Imagine their joy when they received a most comforting word, perfectly suited to their needs. The Lord's response to their plea was, "Sufficient for thee is my grace, Thy weakness my great power displays." In this divine message, they found the strength to carry on. It was a reminder that, despite their sins and doubts, God's grace was more than enough to overcome their weaknesses.
With these words of solace in their heart, the author no longer despaired or mourned. They learned to welcome the very things they had once feared. In their weakness, they found strength; in their troubles, they found blessings. For they knew that it was through Christ's power that they would be sustained.
This hymn teaches us an important lesson – that in the face of adversity, we can find hope and courage in the embrace of our faith. It reassures us that even when we feel oppressed by our own unbelief and sin, we are not alone. God's grace is always sufficient to carry us through the darkest of times.
When we are burdened by unbelief, it is vital to remember that God's love and forgiveness are boundless. We are all flawed and imperfect, but it is through our weaknesses that God's power shines the brightest. In our struggles, we must lean on Him, trust in His grace, and allow it to transform us.
This hymn resonates with people of all ages and backgrounds because it addresses a universal human experience. We all face moments of uncertainty and questioning. We all wrestle with doubts and battle against our sinful nature. But through it all, we have the opportunity to seek solace in faith and find redemption in God's unfailing love.
So, how do we apply the profound message of this hymn to our own lives, especially as seventh-grade readers searching for understanding and guidance? We start by acknowledging our own doubts and fears. We must recognize that it is normal to feel oppressed by unbelief and sin at times. However, we must not let these struggles define us. Instead, we turn to God and trust in His grace to carry us through.
It is during these crucial years of our lives that we begin to discover who we are and what we believe. We may find ourselves questioning our faith, facing doubts that seem insurmountable. But we must remember that these doubts are not dead-ends but rather stepping stones to a deeper, more mature faith.
Just as the author of the hymn sought the Lord twice, we too must persist in seeking answers. We may not receive immediate clarity, but we can have the assurance that our seeking will not be in vain. God sees our struggles and whispers words of comfort and encouragement when we need them most.
In conclusion, "Oppressed With Unbelief And Sin" is a hymn that speaks to the very essence of the human experience. It reminds us that, despite our doubts and sins, God's grace is always there to uplift and guide us. In our moments of darkness, we can find solace and strength in the embrace of our faith. Let this hymn be a source of hope and inspiration as we navigate through life's challenges, knowing that God's power is made perfect in our weaknesses.
I hope this hymn inspired image brings you hope and peace. Share it with someone who needs it today!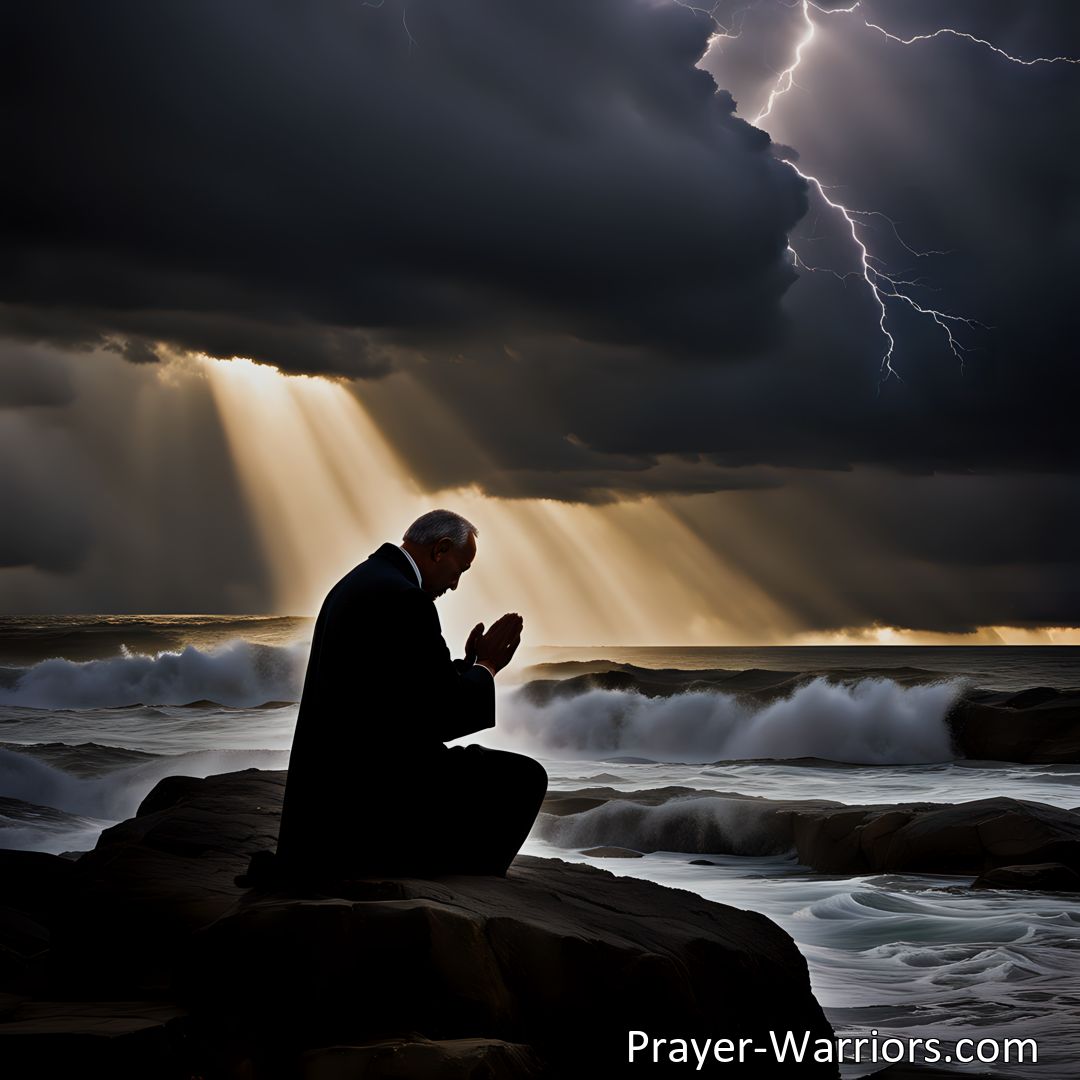 Join the Prayer Warriors Community!
Sign-up for our newsletter and embark on a transformative journey with Prayer. Enter your email below and become a part of our Prayer Warriors family.