I'm A Pilgrim And Will Walk With Jesus – Hymn Lyric
Title: I'm A Pilgrim And Will Walk With Jesus: Finding Peace and Guidance in Life's Journey Joining the pilgrimage with Jesus brings comfort, peace, and guidance to our lives. Through the highs and lows, doubts and fears, Jesus walks beside us, providing strength and leading us on the right path. By surrendering ourselves to His care, we find hope and assurance that one day, we will be welcomed into the Father's house with open arms.
---
---
I'm A Pilgrim And Will Walk With Jesus – Hymn Lyric
I'm a pilgrim who walks in stride with Jesus,
In Him alone shall our life know true blessing.
All the way, He frees us from every doubt, every fear,
Only He can keep both heart and mind at rest.
Firmly abiding, across seas, over lands, through vales, over mountains,
Held tightly by His hand, with joy, I traverse all.
But without my Savior's loving guidance,
The promised land, I could never reach at all.
In slumber, His guard keeps vigilant watch around me.
Awake, His strength stays constant as the day.
Whilst ensuring nothing may confound or confute me,
He leads me right when the way is unclear to say.
In Him, I find constant abiding,
In Him, meat and drink and peace are ever grave,
In His gracious arms, I find my ultimate hiding;
His love always intends to save both soul and body.
I follow Him until my days' end on this Earth,
Till He Himself calls me to final rest.
In the Father's house, a welcome of heavenly worth,
Will be extended to me, a truly blessed guest.
Meaning of I'm A Pilgrim And Will Walk With Jesus
I'm A Pilgrim And Will Walk With Jesus: Finding Peace and Guidance in Life's Journey
Life is like a journey, full of twists and turns, highs and lows, and moments of uncertainty. In such times, it is comforting to know that we have a guiding light, someone who will walk with us every step of the way. That guiding light is Jesus, and in Him, we can find true peace and rest for our weary hearts and minds.
As the hymn beautifully expresses, being a pilgrim means walking with Jesus, surrendering ourselves to His loving care. It is in Him alone that our lives can be truly blessed. In a world filled with doubts and fears, Jesus frees us from these burdens and brings peace to our hearts. He is the anchor that holds us firm, no matter what storms may come our way. Just like a traveler traversing across seas, lands, vales, and mountains, we can be joyful knowing that Jesus is holding our hand, guiding us through the ups and downs of life.
Without Jesus as our guide, reaching our "promised land" would be impossible. He is the one who leads us on the right path, even when the way ahead seems uncertain. When we are lost and confused, Jesus is there to bring clarity and direction. His gentle voice whispers to our souls, reassuring us that we are not alone. In Him, we find the strength to keep going and the assurance that we will reach our destination.
One of the most comforting aspects of walking with Jesus is the knowledge that He is always watching over us. When we close our eyes at night, He keeps guard around us, protecting us from harm. And when we wake up in the morning, He is our strength, the source of our courage to face the challenges of a new day. In every moment of our lives, Jesus takes care of us, ensuring that nothing will confound us. His love surrounds us like a shield, shielding us from the trials and tribulations that may come our way.
To abide in Him is to find true nourishment for our souls. Jesus offers us more than just physical sustenance; He provides us with the spiritual food and drink that our hearts desire. In His gracious arms, we find a place of hiding, a refuge from the storms of life. In this place of safety, our souls and bodies are preserved and saved by His unfailing love. Jesus is our sustainer, our provider, and our ultimate source of peace.
Throughout our lives, we have the privilege of following Jesus. He is not just a temporary companion; He is our constant guide until our days are ended. We walk with Him, knowing that He will never leave us nor forsake us. His love is never-ending, and His presence in our lives brings immeasurable comfort and reassurance. We can trust in Him completely, knowing that He will lead us to our eternal rest.
And what a glorious rest it will be! In the Father's house, there awaits a joyous welcome for all who have walked with Jesus on this earthly journey. We will enter into the embrace of our heavenly Father, surrounded by the love and warmth of fellow pilgrims who have also found their rest in Him. It is a homecoming that we eagerly anticipate, a celebration of our faithfulness to the one who has guided us every step of the way.
In conclusion, being a pilgrim and walking with Jesus is not just a song we sing; it is a reality that brings hope, peace, and guidance to our lives. In Him, we find the strength to overcome doubts and fears. He leads us on the right path, ensuring that we reach our ultimate destination. And in the journey, He watches over us, provides for us, and gives us the sustenance our souls crave. So let us continue to walk with Jesus, knowing that one day, we will experience the joyous welcome of a heavenly guest in the Father's house.
I hope this hymn inspired image brings you hope and peace. Share it with someone who needs it today!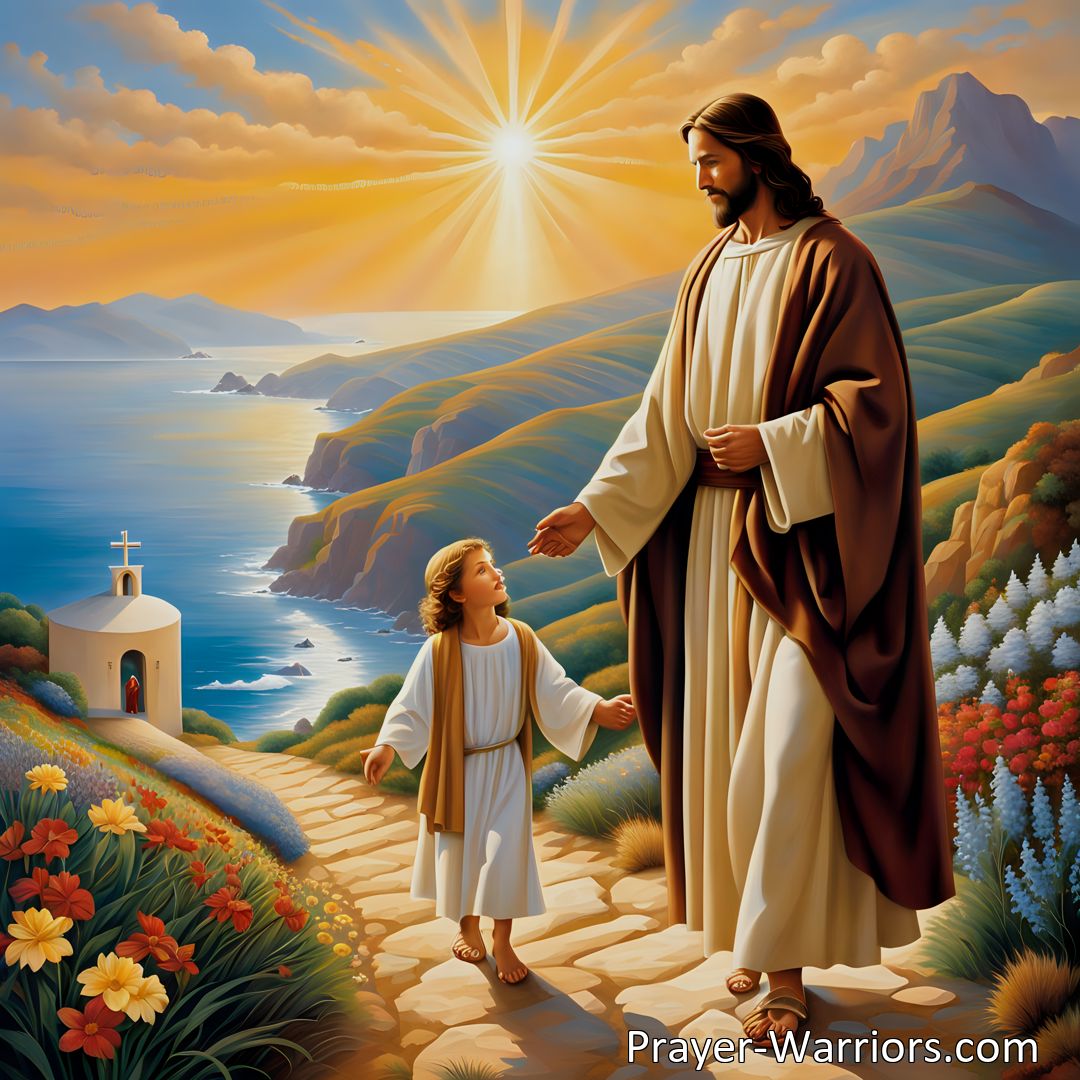 Join the Prayer Warriors Community!
Sign-up for our newsletter and embark on a transformative journey with Prayer. Enter your email below and become a part of our Prayer Warriors family.