The Importance of Praying for Others: How it Can Make a Difference Praying for others is an act of selflessness that offers support and positive energy, benefiting both the person being prayed for and the one offering the prayers. It brings communities together, strengthens bonds, and fosters compassion. Through prayer, we find comfort and hope, making a significant difference in the lives of others and in our own hearts.
---
---
The Importance of Praying for Others: How it Can Make a Difference
The Importance of Praying for Others: How it Can Make a Difference
In our daily lives, we often find ourselves caught up in our own concerns and struggles, forgetting that we are all interconnected. However, taking a moment to pray for others can make a significant difference, not only in their lives but also in our own. Prayer has the power to bring comfort, strength, and healing, fostering a sense of togetherness and compassion within our communities.
Praying for others is an act of selflessness that demonstrates our care and concern for those around us. It allows us to step outside of our own needs and turn our attention to the well-being of others. When we take the time to intentionally pray for someone else, we are acknowledging their struggles and offering our support through positive energy and thoughts.
By praying for others, we tap into a greater source of strength and hope. It allows us to recognize that we are not alone in our challenges, and that there is a divine presence that can provide comfort and guidance. Prayers have the power to bring forth miracles and blessings, even in the most difficult of circumstances. When we offer our prayers to others, we are inviting this higher power to intervene and bring healing and resolution.
Moreover, praying for others brings us closer together as a community. It reminds us that we are all connected and that the well-being of one individual affects the well-being of the whole. By coming together in prayer, we create an environment of love, support, and unity. We strengthen our bonds and develop a sense of shared responsibility for one another's welfare.
Prayer not only benefits those being prayed for, but also the one offering the prayers. When we pray for others, we become more compassionate and empathetic individuals. We learn to see beyond our own needs and develop a greater sense of gratitude for our own blessings. Through prayer, our hearts become more open and receptive to the needs of those around us, and we are more likely to offer our help and support in tangible ways.
Furthermore, prayer has a profound impact on our mental and emotional well-being. It provides a sense of peace and tranquility, as we trust in a higher power to guide and protect us. Research has shown that prayer can reduce stress, anxiety, and depression, leading to improved mental health. By extending our prayers to others, we not only contribute to their well-being but also experience the positive effects of prayer in our own lives.
In a world filled with uncertainty and turmoil, prayer acts as a beacon of hope and light. It reminds us that there is something greater than ourselves, something divine and all-encompassing. When we pray for others, we are participating in a collective effort to bring about positive change and transformation. We are aligning ourselves with forces beyond our control, trusting that our prayers will make a difference, no matter how small.
Prayer has the power to transcend boundaries and reach individuals in all corners of the world. With the advancement of technology, we can connect with others and offer our prayers even from a distance. Through social media platforms and online prayer groups, we can reach out to those in need and let them know that they are not alone. Prayer unites us in a common purpose, allowing us to support and uplift one another, regardless of our physical proximity.
In conclusion, the importance of praying for others cannot be overstated. It is a selfless act that connects us with a higher power, strengthens our communities, and nurtures our own well-being. By offering our prayers, we extend our love and support to those in need, bringing comfort, healing, and hope. Let us make a conscious effort to incorporate prayer into our lives, recognizing its power to make a difference in the world and in our own hearts.
I hope this prayer inspired image brings you hope and peace. Share it with someone who needs it today!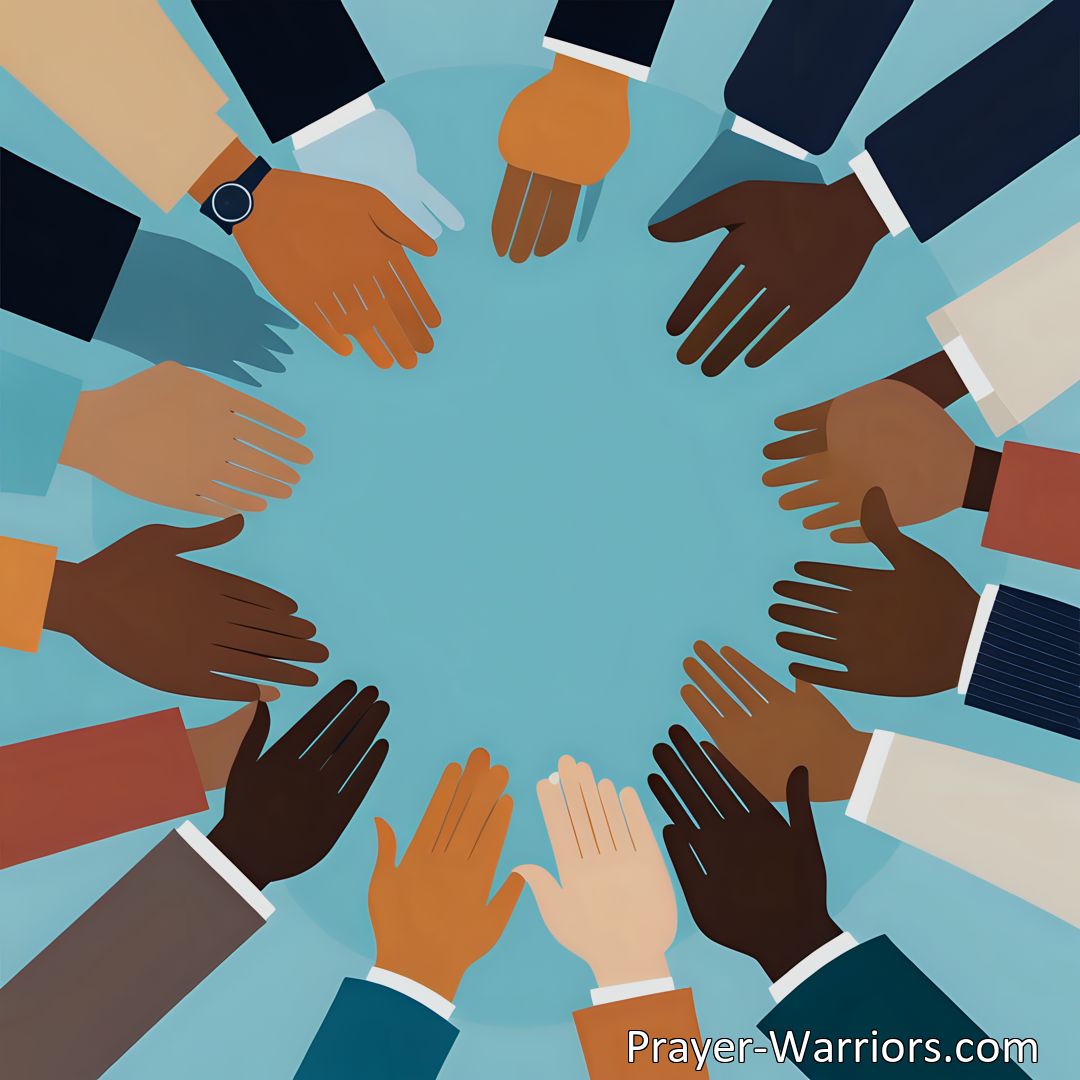 Join the Prayer Warriors Community!
Sign-up for our newsletter and embark on a transformative journey with Prayer. Enter your email below and become a part of our Prayer Warriors family.