Learn how to pray for your neighbors with love and compassion in order to uplift and support them. Prayer is a powerful tool that allows us to connect with a higher power and send positive vibrations to those around us. By expressing gratitude, acknowledging challenges, and extending blessings, you can make a meaningful impact in your neighbors' lives and create a community rooted in love and compassion.
---
---
How to Pray for Your Neighbors: Lifting Them Up with Love and Compassion
How to Pray for Your Neighbors: Lifting Them Up with Love and Compassion
In our daily lives, we often come across the people who live next to us, our neighbors. Whether we know them well or not, it is important to remember that they are a part of our community, and it is our duty to care for and support them. One powerful way to show love and compassion towards our neighbors is through prayer. Praying for your neighbors can bring immense blessings and positive energy to their lives. In this article, we will explore the significance of praying for our neighbors and provide some guidance on how to lift them up with love and compassion.
Firstly, it is essential to understand the importance of prayer in our lives. Prayer is a way of connecting with a higher power, be it God or any other source of divine energy. It is a time when we can express our thoughts, concerns, hopes, and gratitude. Prayer allows us to seek guidance, find solace, and generate positive intentions. When we direct our prayers towards our neighbors, we are offering them a precious gift – our positive thoughts and intentions.
Now, let's delve into the act of praying for our neighbors. The first step is to recognize the power of love and compassion in our prayers. Love is a fundamental force that can heal, transform, and elevate lives. When we pray for our neighbors with genuine love and compassion, we are sending positive vibrations into their lives. Our prayers become like a warm hug, comforting and uplifting their spirits.
To start praying for your neighbors, create a quiet and peaceful space for yourself. It can be anywhere – your room, a garden, or a cozy corner of your home. Find a comfortable position and take a few deep breaths to relax your mind and body. In this calm state, visualize your neighbors and imagine them surrounded by a radiant light of love and compassion.
As you begin your prayer, express gratitude for the presence of your neighbors in your life. Reflect on the positive aspects they bring to the community and the ways in which they contribute to its well-being. Acknowledge their unique qualities and the impact they have on those around them. By focusing on their strengths and positive attributes, you create a foundation of love and compassion upon which your prayers are built.
Next, think about the challenges or difficulties your neighbors may be facing. Is there someone who recently lost their job or is going through a tough time? Perhaps a family is experiencing health issues or has a loved one in the hospital. Identify their specific needs and concerns, and ask for divine guidance and intervention.
Prayer is also a time to extend blessings and good wishes to your neighbors. Imagine an abundance of love, health, happiness, and success flowing into their lives. Send them your heartfelt wishes for peace, stability, and fulfillment. Visualize their lives transformed with joy and inner contentment.
In addition to praying for their specific needs, it is important to pray for the overall well-being of your neighbors. You can include general intentions such as their safety, good relationships, and personal growth. Pray that they find support and kindness from those around them and that they themselves become beacons of love and compassion within their community.
As you conclude your prayer, express your gratitude to the higher power for listening and guiding your intentions. Thank the universe for the opportunity to uplift your neighbors with love and compassion. Close the prayer with a sense of serenity and trust, knowing that your intentions have been heard and will manifest in divine timing.
Remember that prayer is an ongoing process. It is essential to set aside time regularly, even for a few minutes each day, to continue praying for your neighbors. As you dedicate yourself to this practice, you will observe positive changes in your own life as well as in the lives of those you pray for. Prayer has the power to create a ripple effect of love and compassion, spreading positivity throughout your community.
In conclusion, praying for your neighbors is a beautiful way to show love and compassion. By lifting them up in your prayers, you are offering them the gift of positive intentions and divine energy. Remember to approach prayer with a genuine and open heart, expressing gratitude, acknowledging challenges, and extending blessings. Through this sacred act, you can make a significant difference in the lives of your neighbors, creating a community rooted in love and compassion.
I hope this prayer inspired image brings you hope and peace. Share it with someone who needs it today!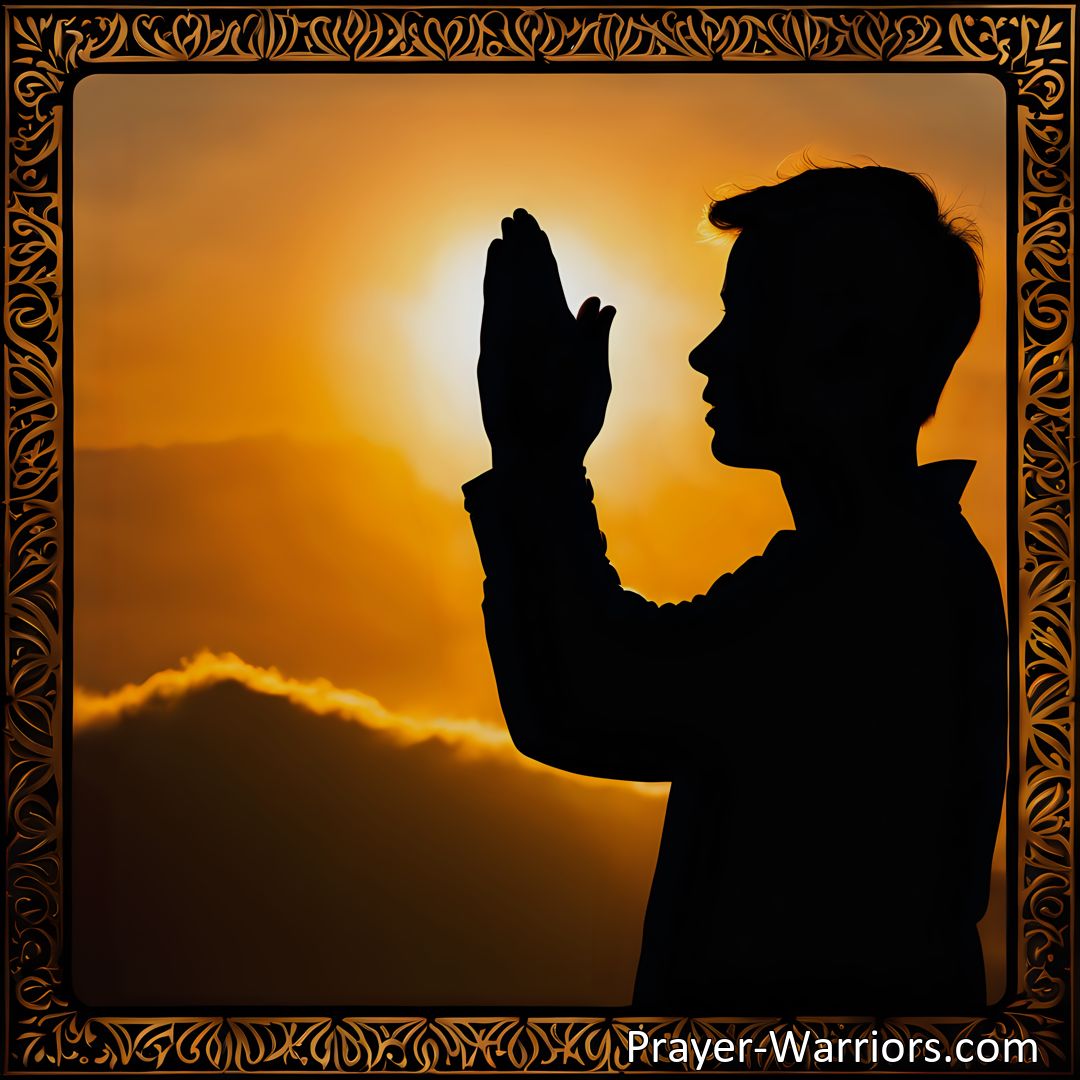 Join the Prayer Warriors Community!
Sign-up for our newsletter and embark on a transformative journey with Prayer. Enter your email below and become a part of our Prayer Warriors family.