Jesus Is Your Only Refuge – Hymn Lyric
"Jesus Is Your Only Refuge: Finding Shelter in His Unfailing Love" is a hymn that highlights the comfort and forgiveness found in Jesus during times of trouble. With His unwavering love, He serves as a sturdy foundation upon which we can build our lives. The hymn reminds us to seek solace in His embrace, as He is the only refuge that can offer true peace and salvation.
---
---
Jesus Is Your Only Refuge – Hymn Lyric
Jesus is your only refuge,
Quickly fly to Him,
He will keep you from all evil,
Cleanse you from all sin.
He's the Rock of your salvation,
Build on Him today,
Earthly pleasures fast are fading,
And will pass away.
Have you friends on earth who love you?
Christ excels them all;
He will hear you when in trouble
If on Him you call.
Not a sparrow ever falleth
That He doth not see,
How much more thou art to Jesus,
For He died for thee.
Come then, to this only refuge,
Haste, O haste away;
By His Spirit, Jesus calls you,
Come, O come today.
Though your sins around you gather,
High as mountains be,
He will pardon and forgive you,
He will set you free.
Meaning of Jesus Is Your Only Refuge
Jesus Is Your Only Refuge: Finding Shelter in His Unfailing Love
In times of trouble and distress, there is no greater solace than finding refuge in the arms of Jesus. As our heavenly protector, He offers a sanctuary that shields us from the storms of life and guides us towards a path of righteousness. The hymn "Jesus Is Your Only Refuge" beautifully encapsulates the unending love and grace that flows from our Savior, inviting us to find comfort and forgiveness in His embrace.
The hymn begins with the heartfelt plea to "Quickly fly to Him" as Jesus stands ready to receive all who seek His shelter. Life is full of challenges and temptations, but with Jesus as our refuge, we are assured that He will protect us from all evil and cleanse us from our sins. Just as a rock provides a stable foundation, Jesus is the solid rock of our salvation upon which we can securely build our lives. Earthly pleasures may dazzle for a moment, but they are fleeting and can leave us empty. It is the eternal promise of Jesus' love and salvation that truly sustains us during times of trial and tribulation.
The hymn reminds us that while earthly relationships are important, the love and care of Christ surpasses them all. Human love may falter or disappoint, but Jesus' love is never-ending. He hears our cries when we are troubled, and His compassionate heart is always open for us to pour out our worries and fears. Not one sparrow falls from the sky without His notice, and if He is mindful of the smallest creatures, how much more will He care for us, His precious children? The hymn emphasizes this truth by stating that Jesus died for each and every one of us, highlighting the depth of His love and sacrifice.
In the midst of life's struggles, the hymn beckons us to come to Jesus without delay. His call is not to be taken lightly, as He is the only refuge that can truly bring us peace and salvation. His Spirit speaks to our hearts, inviting us to find solace in His presence. No matter how steep the mountains of sin may seem, Jesus' arms are wide open, ready to pardon and forgive us. It is through His grace that we can find freedom from the guilt and shame that weigh us down, letting go of our past mistakes and embracing a new beginning in Christ.
The title of the hymn, "Jesus Is Your Only Refuge," serves as a powerful reminder that there is no other source of comfort and safety like that found in Jesus. By using this title as a keyword in search engine optimization (SEO), it can help individuals searching for refuge, solace, or forgiveness to discover the timeless message embedded within this hymn. These individuals may be facing personal struggles, seeking guidance during tumultuous times, or simply desiring a deeper understanding of God's love and grace.
In conclusion, the hymn "Jesus Is Your Only Refuge" carries a message of hope, encouragement, and salvation. It encourages us to turn to Jesus, our faithful Savior, in times of trouble and doubt. His unwavering love and forgiveness are the ultimate shelter for our weary souls. No matter our past mistakes, our present circumstances, or our future uncertainties, Jesus offers us a refuge where we can find rest, healing, and eternal peace. Let us heed the call of this hymn and, with open hearts, find our solace in the arms of Jesus, our only refuge.
I hope this hymn inspired image brings you hope and peace. Share it with someone who needs it today!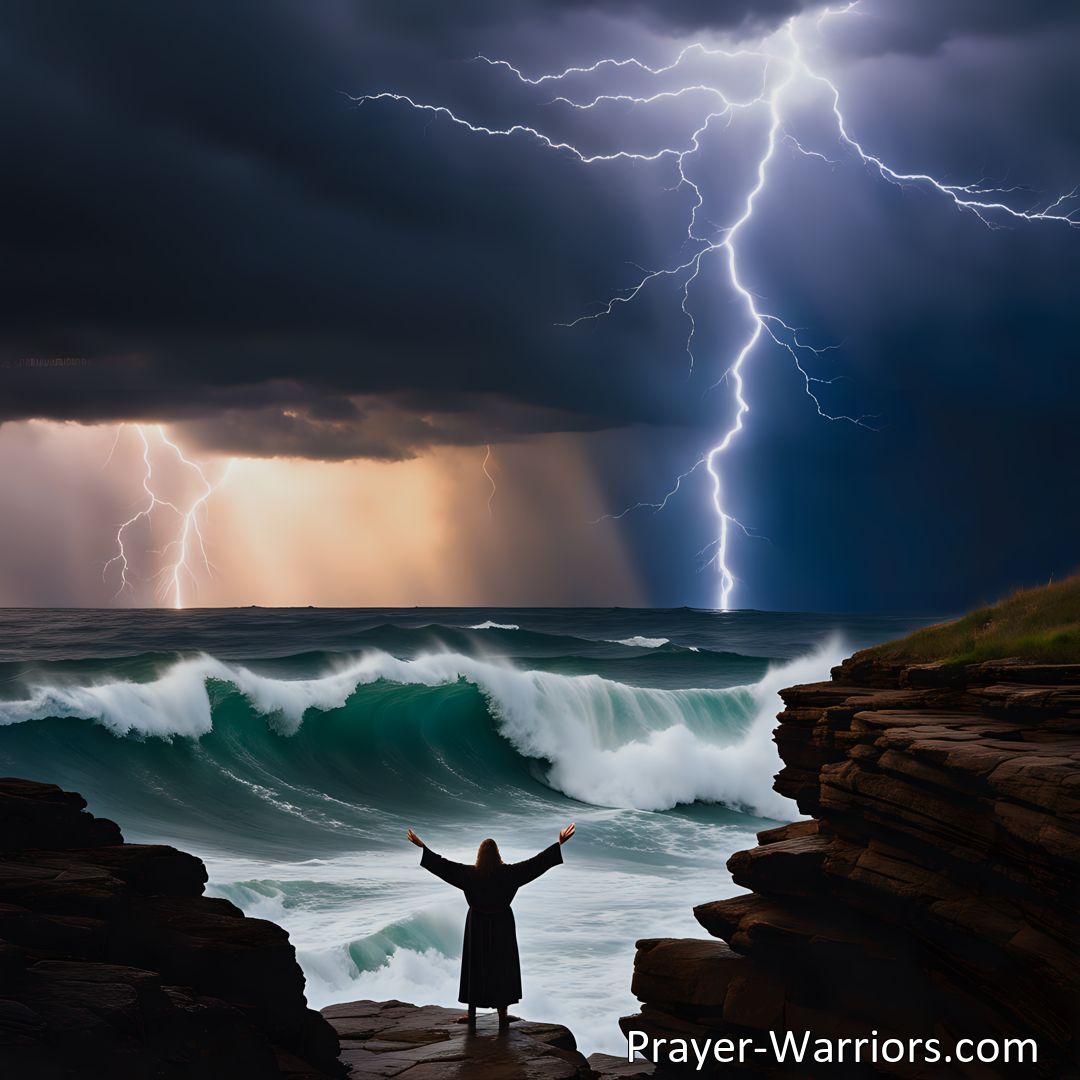 Join the Prayer Warriors Community!
Sign-up for our newsletter and embark on a transformative journey with Prayer. Enter your email below and become a part of our Prayer Warriors family.