Jesus My Lord Attend – Hymn Lyric
"Jesus My Lord Attend" beautifully captures the power and compassion of Jesus, emphasizing the need for His forgiveness and guidance. The hymn speaks of finding redemption and peace through His love and righteousness, painting a picture of a compassionate friend who attends to our cries and sets us on a path towards salvation. Through faith in Jesus, we can find solace and comfort, knowing that He is always there to attend to our needs.
---
---
Jesus My Lord Attend – Hymn Lyric
Jesus, my Lord, attend
Thy fallen creature's cry;
And show Thyself the sinner's Friend,
And set me up on high:
From hell's oppressive power,
From earth and sin release;
And to Thy Father's grace restore,
And to Thy perfect peace.
Thy Blood and Righteousness
I make my only plea;
My present and eternal peace
Are both derive from Thee:
Rivers of life divine
From Thee, their fountain, flow;
And all who know that love of Thine,
The joy of angels know.
O then, impute, impart
To me Thy righteousness,
And let me taste how good Thou art,
How full of truth and grace:
That Thou canst here forgive
Grant me to testify,
And justified by faith to live,
And in that faith to die.
Meaning of Jesus My Lord Attend
Jesus My Lord Attend: Finding Peace and Redemption through Christ's Love
In times of distress and despair, it is natural to seek solace and guidance. We often find ourselves turning to a higher power, desperately asking for help and forgiveness. The hymn "Jesus My Lord Attend" beautifully encapsulates these sentiments, calling upon Jesus to attend to our pleas, to show Himself as a friend to sinners, and to set us on a path towards redemption and peace.
As we delve into the verses of this hymn, we are reminded of the immense power and compassion of Jesus. He is described as attending to the cries of His fallen creatures, acknowledging our weaknesses and imperfections. In this gentle plea, we witness the humility and honesty that comes when we recognize our sinful nature.
The hymn further explores the concept of release, advocating for freedom from the oppressive powers of hell, as well as the burdensome grip that earthly temptations and sins hold over us. It asks Jesus to restore us to the grace of His Father, the love and mercy that we so desperately crave.
The heart of this hymn lies in the recognition of the pivotal role that Jesus' Blood and Righteousness play in our lives. The lyrics proclaim that our only plea for peace, both present and eternal, stems from the sacrifice of Christ. Through His shed blood and perfect righteousness, we find forgiveness and salvation. This recognition is of utmost importance, as it is through Christ alone that we are able to experience the rivers of divine life flowing within us.
The rivers of life divine, sourced from Jesus, are so powerful that they bring not only joy, but also a profound understanding shared by angels. Those who are fortunate enough to know and accept the love of Christ can experience a joy that transcends all earthly pleasures. It is a joy that connects us to the heavenly realm, evoking a deep sense of peace and fulfillment.
As we continue to sing this hymn, we implore Jesus to impute and impart His righteousness to us. We long to taste the goodness that radiates from Him, to witness firsthand His truth and grace. It is through this righteousness that we are able to testify to His forgiving nature, telling others of the love and redemption that we have found in Jesus.
Living a life justified by faith is a central theme in this hymn. It emphasizes the importance of believing in Jesus and the power of His sacrifice. Through faith, we not only experience life but also prepare for our eventual departure from this earthly realm. The hymn reminds us that even in death, we can find solace and comfort, knowing that our faith in Christ will sustain us until the very end.
In conclusion, the hymn "Jesus My Lord Attend" serves as a reminder of the unwavering love and forgiveness that Jesus offers to all who seek Him. It paints a picture of a compassionate friend who attends to our cries, releases us from the chains of sin, and sets us on a path towards redemption. By acknowledging our fallen nature and accepting His Blood and Righteousness, we can experience a peace that surpasses all understanding. Let us hold on to these powerful words and find comfort in the fact that Jesus is always there to attend to our needs, whenever we call upon Him.
I hope this hymn inspired image brings you hope and peace. Share it with someone who needs it today!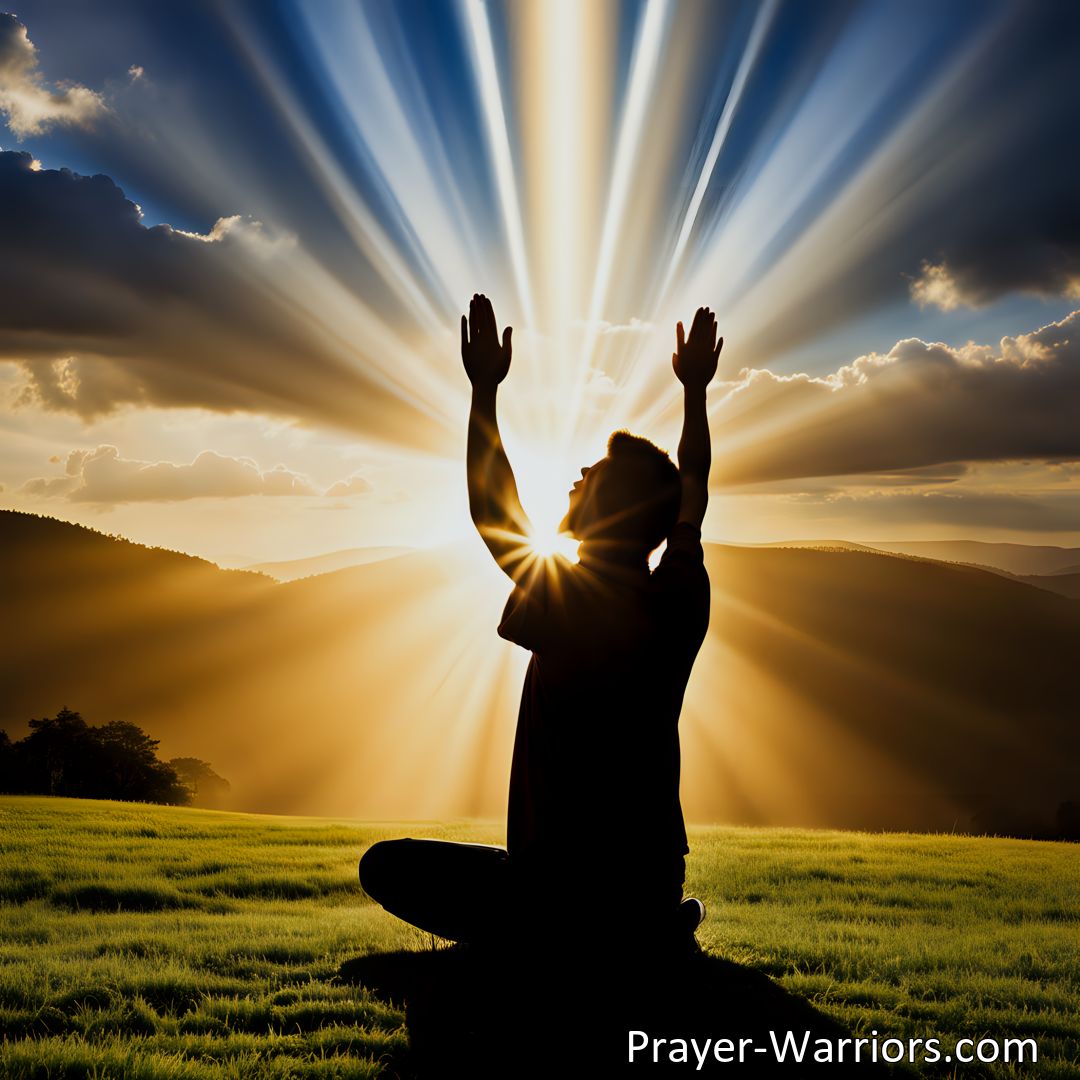 Join the Prayer Warriors Community!
Sign-up for our newsletter and embark on a transformative journey with Prayer. Enter your email below and become a part of our Prayer Warriors family.