Lift The Royal Banner Higher – Hymn Lyric
summary.txt
---
---
Lift The Royal Banner Higher – Hymn Lyric
Lift the Royal banner higher,
Banner of the free;
Let its folds of mercy waving
Now encircle me.
Refrain:
Ring aloud the glorious anthem,
Anthem of the free!
Wave the banner, love its motto-
"Jesus died for me."
Floating out amid the gloaming,
Wave it, lift it high,
Till the myriad lost ones see it.
Weary ones draw nigh.
[Refrain]
As the serpent once uplifted
On the burning plain,
So our Jesus, now uplifted,
Bids us look again.
[Refrain]
Jesus waits to bid you welcome,
Hear his loving voice;
Come, my brother, heed his calling,
Evermore rejoice. [Refrain]
"Come and taste my love unending,"
Jesus says to thee;
Pleasures rich, and joy unceasing,
Thine shall ever be.
[Refrain]
When the waves of sin are rolling,
Like a mighty sea,
Trust in Jesus, he will help thee,
Jesus died for thee. [Refrain]
Courage, brother, do not falter,
Press with vigor on,
Jesus ever beckons onward,
On to glory, on!
[Refrain]
Meaning of Lift The Royal Banner Higher
In this beloved hymn, "Lift the Royal Banner Higher," we are reminded of the power and love of Jesus Christ. The hymn encourages us to raise his banner, the symbol of freedom, mercy, and salvation. With a joyful refrain and inspiring verses, this hymn serves as a reminder of Jesus' sacrifice and the eternal love he offers to all.
As the verse begins, we are invited to lift the Royal banner higher, the banner of the free. In this context, the banner represents the message of Jesus' salvation and redemption. It is a symbol of hope, forgiveness, and everlasting life. By raising his banner, we proclaim our faith and invite others to join us in experiencing the grace and mercy of Jesus.
The refrain encourages us to ring aloud the glorious anthem, declaring the message of freedom. By waving the banner and embracing its motto, "Jesus died for me," we proclaim our personal connection to Jesus and the transformative power of his sacrifice. It is a joyful reminder that Jesus willingly gave his life for us, demonstrating the extent of his love and the depths of his grace.
The hymn takes us through different scenarios where the banner of Jesus' love should be raised high. "Floating out amid the gloaming," the hymn suggests that we should raise the banner in times of darkness and uncertainty. As the banner waves, it serves as a beacon of light, guiding lost souls toward Jesus. It is a call for the weary and burdened to draw near and find comfort in his embrace.
The next verse draws a parallel between Jesus' uplifting on the cross and the serpent lifted by Moses in the desert. Just as the Israelites had to look upon the lifted serpent to be healed, so too must we look upon Jesus who was lifted for our salvation. By beholding his sacrifice, we find healing for our brokenness and redemption for our sins.
Jesus is depicted as a loving and welcoming savior in the following verse. His voice calls out to us, inviting us to come and find rest in his arms. We are reminded that Jesus is not distant or aloof, but rather he longs for a personal relationship with each of us. His invitation is a testament to his unconditional love and desire for our eternal joy.
In the hymn's next verse, we hear Jesus' words beckoning us with the promise of eternal love and unending joy. He invites us to taste his love, which brings ultimate fulfillment and satisfaction. This invitation reminds us that the pleasures of this world are fleeting and temporary. Only in Jesus can we find lasting joy and true contentment.
When faced with the overwhelming waves of sin, the hymn assures us that we can trust in Jesus' help. Just as he calmed the stormy seas, Jesus has the power to calm the storms of our lives. When we feel helpless or burdened, we can turn to him in faith and find the strength to overcome any challenge. Jesus' death on the cross is a testament to his willingness to help and save us from the destructive forces of sin.
The hymn continues with a message of courage and perseverance. It encourages us to press on with vigor, knowing that Jesus is always there, beckoning us onward. Despite the trials and temptations we may face, we are reminded of the greater glory that awaits us. Jesus' love and guidance will lead us to a victorious life, both in this world and in eternity.
In conclusion, "Lift the Royal Banner Higher" is a hymn that celebrates the love and sacrifice of Jesus Christ. It encourages us to raise his banner in all areas of our lives, proclaiming his message of freedom and salvation. With a joyful refrain and inspiring verses, this hymn reminds us of Jesus' unending love, his desire for a personal relationship with us, and his power to overcome any obstacle. May we always lift his banner higher and share the good news of his love with others.
I hope this hymn inspired image brings you hope and peace. Share it with someone who needs it today!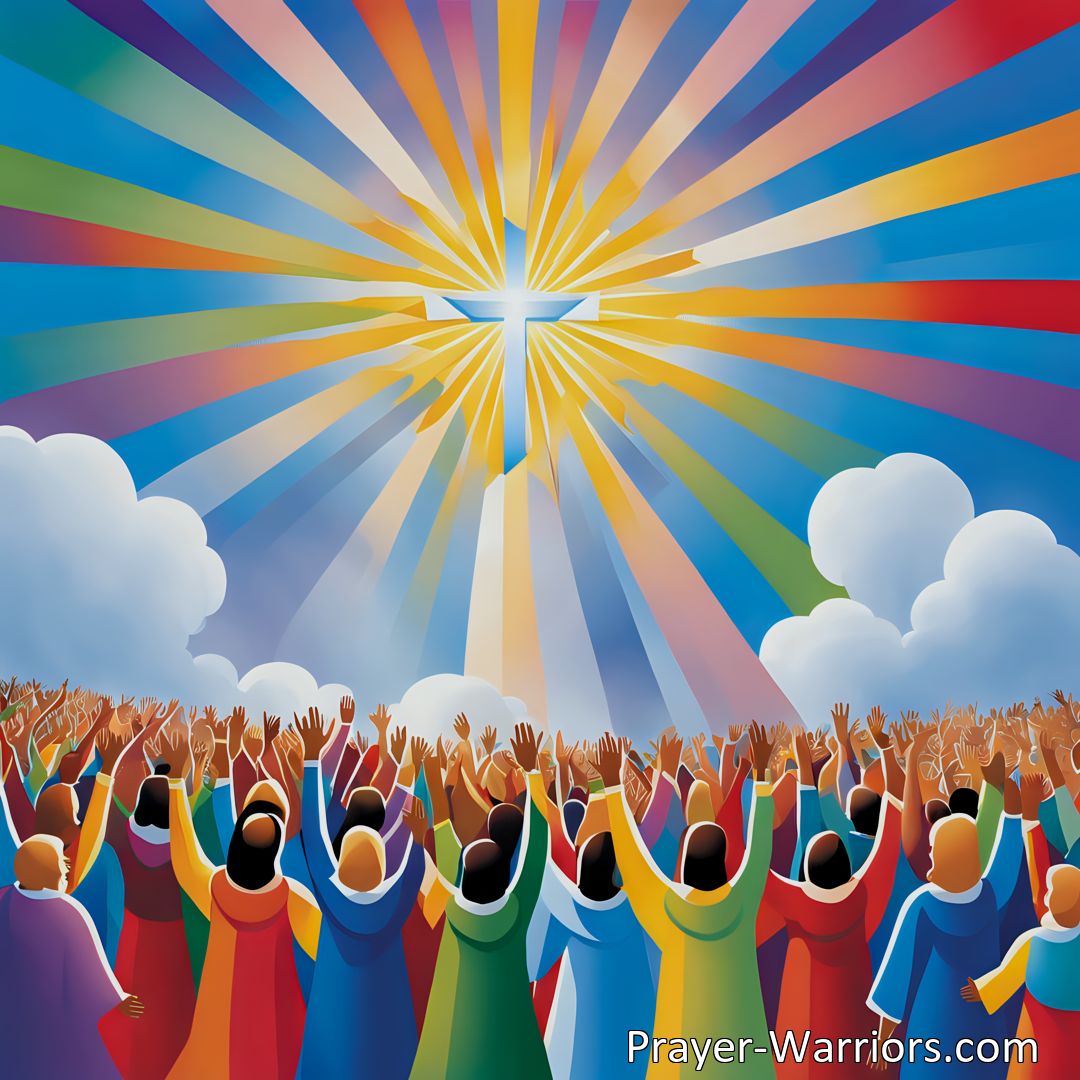 Join the Prayer Warriors Community!
Sign-up for our newsletter and embark on a transformative journey with Prayer. Enter your email below and become a part of our Prayer Warriors family.