Lord Jesus, Christ, Be Present Now – Hymn Lyric
"Lord Jesus, Christ, Be Present Now" is a hymn that reminds us of the importance of turning our hearts towards Jesus Christ in the midst of our busy lives. Through true devotion and seeking His presence, we can strengthen our faith, understand His truth, and experience peace and joy. This hymn points us towards the ultimate goal of beholding Him face to face and worshiping the blessed Trinity for all eternity.
---
---
Lord Jesus, Christ, Be Present Now – Hymn Lyric
Lord Jesus, Christ, be present now,
Our hearts in true devotion bow,
Thy Spirit send with grace divine,
And let Thy truth within us shine.
Unseal our lips to sing Thy praise,
Our souls to Thee in worship raise,
Make strong our faith, increase our light
That we may know Thy Name aright.
Until we join the hosts that cry,
"Holy art Thou, O Lord, most high!"
And in the light of that blest place
Forever behold Thee face to face.
Glory to God the Father, Son,
And Holy Spirit, Three in One!
To Thee, O blessed Trinity,
Be praise throughout eternity!
Meaning of Lord Jesus, Christ, Be Present Now
Lord Jesus, Christ, Be Present Now: Embracing True Devotion
In our busy and chaotic lives, it can be easy to lose sight of what truly matters. We get caught up in the hustle and bustle of everyday tasks and responsibilities, often neglecting our relationship with the divine. But in the midst of the chaos, there is solace to be found in turning our hearts towards the Lord Jesus Christ. As the hymn "Lord Jesus, Christ, Be Present Now" reminds us, it is in His presence that we find true devotion and fulfillment.
The first verse of the hymn invites us to bow our hearts in true devotion, recognizing that it is only through the grace of God that we can experience His presence. The hymn calls upon the Spirit of God to be present within us, illuminating our minds and hearts with His truth. In a world filled with lies, confusion, and doubt, we need the light of God's truth to guide us on the right path.
As we sing His praises and raise our souls in worship, our faith is strengthened and our understanding of who God is deepens. The hymn acknowledges the importance of not only singing praise to the Lord but also making a conscious effort to understand and know His name aright. It is through this knowledge that our relationship with God grows, allowing us to join the heavenly hosts who continuously proclaim His holiness.
The hymn goes on to express a desire to behold the Lord face to face, yearning for the day when we will join Him in a place of eternal light and joy. It is a reminder that our earthly existence is but a fleeting moment compared to the eternity that awaits us. In this perspective, our daily struggles and worries start to lose their grip on us as we focus on the ultimate goal of being with the Lord for eternity.
In the grand finale of the hymn, the Father, Son, and Holy Spirit are praised as the Holy Trinity – three in one. This recognition of the divine nature of God, perfectly united yet distinct, reminds us of the depth and complexity of our Creator. It is a humble acknowledgement that our finite minds can never fully comprehend the infinite greatness of God. But despite our limitations, we are called to praise and worship Him throughout all eternity.
For those seeking to understand and embrace the message of this hymn, it is important to delve deeper into the meaning behind its lyrics. True devotion involves not only singing the words but also living them out in our daily lives. It is about continually seeking the presence of Jesus Christ and striving to align our thoughts, words, and actions with His teachings.
Practically speaking, this can be achieved through prayer, regular Bible reading, attending worship services, and actively participating in a faith community. It is also important to cultivate an attitude of gratitude, recognizing the blessings and grace that God has bestowed upon us. By acknowledging His presence in our lives, we can experience a profound sense of peace and joy that surpasses all understanding.
In conclusion, the hymn "Lord Jesus, Christ, Be Present Now" serves as a beautiful reminder of the importance of true devotion and seeking the presence of God in our lives. It encourages us to unseal our lips and sing His praises, to raise our souls in worship, and to strengthen our faith and increase our knowledge of His truth. Ultimately, it points us towards the glorious hope of beholding Him face to face and joining the heavenly hosts in proclaiming His holiness. May we continue to embrace this message in our lives, giving praise and glory to the blessed Trinity throughout all eternity.
I hope this hymn inspired image brings you hope and peace. Share it with someone who needs it today!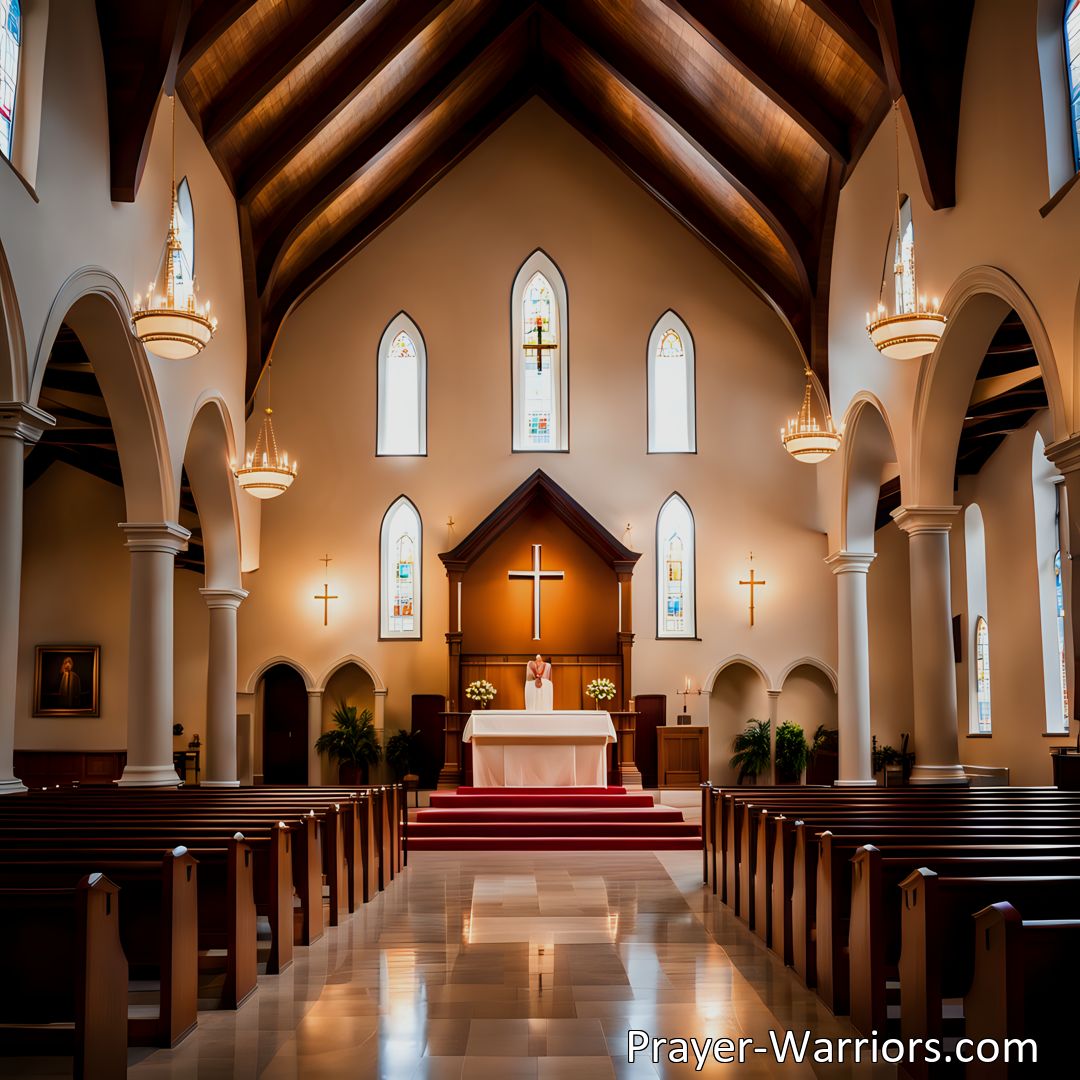 Join the Prayer Warriors Community!
Sign-up for our newsletter and embark on a transformative journey with Prayer. Enter your email below and become a part of our Prayer Warriors family.