My Soul Doth Wait On God – Hymn Lyric
"My Soul Doth Wait On God" is a hymn that encourages us to rely on God's unfailing mercy and grace in times of difficulty. It reminds us that God never hides His face from us in distress and provides us with the strength to overcome our challenges. Through His abundant gifts and constant presence, we can find solace and strength in our journey.
---
---
My Soul Doth Wait On God – Hymn Lyric
My soul doth wait on God,
From Him my help proceeds;
His mercy is exceeding broad,
To overtake my needs.
He gives His pardoning grace,
When I my sin confess;
Nor ever hides from me His face
In my distressfulness.
The Spirit of all power,
Most freely He bestows;
And I am strong in evil hour,
When pressed by direst foes.
Oh, He has gifts in store,
More rich than wealth commands;
And when His pity I implore,
He fills my empty hands.
God, Thou art good and kind,
And full of tender grace;
Have me for ever in Thy mind,
Nor hide from me Thy face.
Meaning of My Soul Doth Wait On God
My Soul Doth Wait On God: Finding Strength and Grace in Times of Need
In times of difficulty and trials, it is natural to feel overwhelmed and alone. Our souls long for comfort and support, seeking solace in the presence of a higher power. The hymn "My Soul Doth Wait On God" beautifully captures this sentiment, reminding us to rely on God's endless mercy and grace.
The soul, a core part of our being, yearns for God's help and guidance. It recognizes that our help comes from no other source but Him. It understands that God's mercy extends far beyond what we can imagine, graciously meeting our every need. As we confess our sins and seek His forgiveness, God grants us His pardoning grace, cleansing our hearts and restoring our relationship with Him.
What truly sets God apart is His unfailing presence. He never hides His face from us in times of distress. Even when we feel lost or abandoned, He is there, offering comfort and reassurance. His unconditional love shines through, reminding us that we are never alone. In the darkest times, God's light continues to shine, guiding our path and leading us through the storm.
Furthermore, God provides us with the Spirit of all power. This divine gift empowers us to face the challenges that come our way. It strengthens us in the face of our most dire foes, giving us the courage and resilience needed to overcome obstacles. With God by our side, we can take on any battle, knowing that His power is greater than anything we may encounter.
As we turn to God in prayer, we discover that His gifts surpass worldly wealth. His blessings are abundant, filling our empty hands with more than we could ever ask for. These gifts may not always be material possessions, but rather the intangible qualities that enrich our lives – love, joy, peace, and hope. When we implore His pity, God generously pours out His blessings, meeting our needs and bringing us abundance beyond measure.
Reflecting on the goodness and kindness of God, we are filled with gratitude. He is full of tender grace, showing us unwavering love and compassion. Like a loving parent, He holds us in His thoughts always, never forgetting or forsaking us. Our hearts are comforted, knowing that God cherishes us and will never hide His face from us. In every season of life, through every high and low, we can trust in His constant presence.
In conclusion, "My Soul Doth Wait On God" encapsulates the essence of finding strength and grace in times of need. It reminds us to rely on God's infinite mercy, confess our sins, and seek His forgiveness. It reassures us that God never hides His face from us in times of distress, but rather offers comfort and support. He empowers us with His Spirit, enabling us to face our greatest foes with courage and resilience. God's gifts are far greater than worldly wealth, filling our hands with blessings beyond measure. With gratitude in our hearts, we recognize God's goodness and kindness, always keeping us in His thoughts. May we always turn to Him, finding solace and strength through every step of our journey.
I hope this hymn inspired image brings you hope and peace. Share it with someone who needs it today!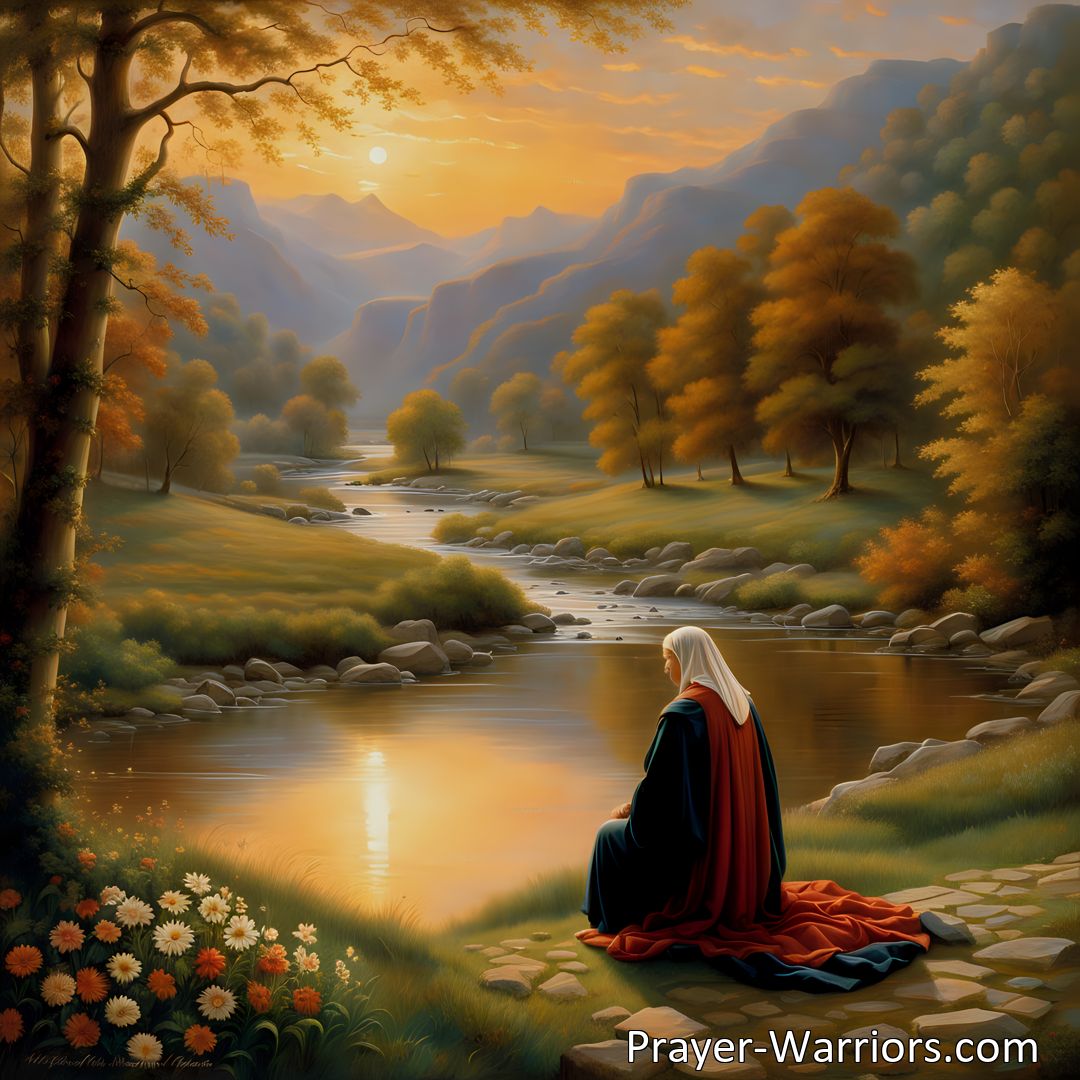 Join the Prayer Warriors Community!
Sign-up for our newsletter and embark on a transformative journey with Prayer. Enter your email below and become a part of our Prayer Warriors family.