Now Lord Thy Blessing Add – Hymn Lyric
summary.txt
---
---
Now Lord Thy Blessing Add – Hymn Lyric
Now, Lord, thy blessing add,
To what our ears have heard:
Pardon what thou hast seen amiss,
The truth let be rever'd.
May ev'ry soul improve,
Thy messages of grace,
Before our time shall cease to be,
And we shall end our race.
Keep us from ev'ry harm,
Especially from sinn;
Direct us in the way of peace,
And safe to glory bring.
Meaning of Now Lord Thy Blessing Add
Now Lord, Thy Blessing Add: Embracing the Power of Grace and Striving for a Life of Peace
In this beautiful hymn, we are reminded of the importance of seeking the Lord's blessing in our lives. As we reflect on the words of this hymn, we are called to acknowledge our imperfections and ask for forgiveness for our shortcomings. However, the hymn also encourages us to focus on the truth and messages of grace that we have heard and to strive to improve ourselves before our time on Earth comes to an end.
The idea of seeking the Lord's blessing is not just a mere request for material wealth or success; rather, it is a plea for spiritual guidance and support. We understand that we have made mistakes and sinned, and we humbly ask for the Lord's pardoning. We acknowledge that we are not perfect, but with the Lord's blessing, we can strive to be better.
The hymn reminds us of the significance of the truth. In a world filled with deception and falsehoods, it is essential to revere and embrace the truth. The truth often confronts us with our own faults and weaknesses, but it also offers us the path to redemption and growth. When we acknowledge the truth, we can find solace in the Lord's forgiveness and grace.
As we journey through life, we are urged to improve ourselves continuously. The messages of grace that we receive are not meant to be taken lightly; they hold immense power to transform our lives. We should not wait until our time on Earth is near its end to change; rather, we should actively work on bettering ourselves every day. The Lord's blessings serve as a catalyst for this improvement, urging us to become the best versions of ourselves.
In addition to personal growth, the hymn reminds us of the importance of avoiding harm. Sin, in its various forms, can cause immense damage to ourselves and those around us. By asking the Lord to keep us from harm, we acknowledge our vulnerability to temptation and seek divine guidance to avoid falling into its grip. The hymn speaks to our desire to stay on the righteous path and live a life free from the consequences of sin.
Seeking peace is another theme that resonates within the hymn. The world can be a chaotic and tumultuous place, but the Lord's guidance can lead us towards inner peace and tranquility. By directing us in the way of peace, the hymn emphasizes the importance of maintaining harmonious relationships and finding inner calm amidst the storms of life. Embracing the Lord's blessings and striving for peace allows our souls to flourish and grow.
Ultimately, the hymn calls us to envision a glorious ending to our lives. It encourages us to persevere on our journey, striving to live a life worthy of reaching that glorious destination. The hymn acknowledges that our time on Earth is temporary, and it is our responsibility to utilize the blessings and guidance bestowed upon us to make the most of this finite existence.
In conclusion, "Now Lord, Thy Blessing Add" is a powerful hymn that reminds us of our imperfections and the importance of seeking the Lord's forgiveness and grace. It encourages us to revere the truth, continually improve ourselves, and strive for a life of peace. By embracing the Lord's blessings and working towards personal growth, we can ultimately reach the glorious destination that awaits us. Let us hold onto these messages of faith and embody the hymn's teachings in our daily lives.
I hope this hymn inspired image brings you hope and peace. Share it with someone who needs it today!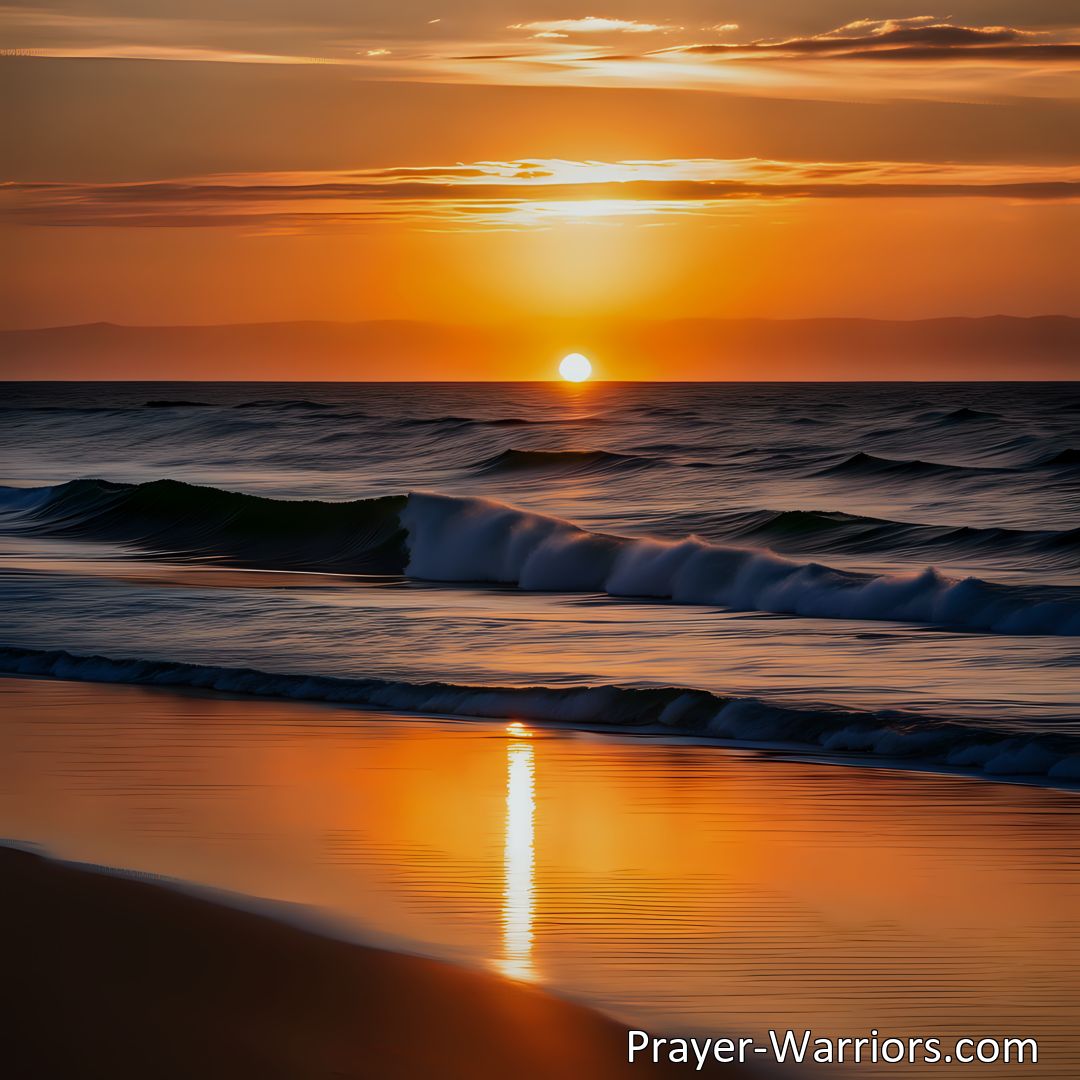 Join the Prayer Warriors Community!
Sign-up for our newsletter and embark on a transformative journey with Prayer. Enter your email below and become a part of our Prayer Warriors family.