O Lord Around Thine Altar Now – Hymn Lyric
"O Lord, Around Thine Altar Now" is a heartfelt hymn where we, as humble children, gather around Your altar, seeking Your grace and guidance. We long for Your presence and desire to see Your loving smiles upon us. Through this hymn, we express our deep desire for a closer relationship with You, recognizing our weaknesses and acknowledging the importance of Your guidance and love in our lives.
---
---
O Lord Around Thine Altar Now – Hymn Lyric
O Lord,
around Thine altar now,
To supplicate Thy grace,
As children we would humbly bow
And seek our Father's face.
Hide not from us, our Father dear,
Thy gracious smiles, we pray;
But let Thy love dispel our fear
And draw us near to Thee.
Let Thy great light illume our souls,
And guide our erring feet;
Thy Spirit o'er us hold control
And keep us from deceit.
Then, gracious God,
accept us now,
From Thy great throne above,
Help each to pay his sacred vow,
And fill us with Thy love.
Meaning of O Lord Around Thine Altar Now
O Lord, Around Thine Altar Now: Seeking Grace and Guidance
In this hymn, we come together as humble children to supplicate Thy grace, O Lord. We gather around Thine altar, seeking Your presence and desiring to see Your gracious smiles upon us. As we come before You, we ask that You do not hide from us, our Father dear, but instead let Your love shine upon us, dispelling our fears and drawing us near to You.
As the hymn continues, we acknowledge that we are like children in need of Your guidance and illumination. We ask that Your great light may illuminate our souls and guide our erring feet. We recognize our tendency to be led astray and deceived, so we humbly request that Your Spirit hold control over us and keep us away from deceitful paths.
As we approach You, O gracious God, we ask for acceptance. We recognize that it is from Your great throne above that we seek approval and love. Help us to honor our sacred vow to You and enable us to fulfill it. Fill us with Your boundless love that overflows to others, so that we may be vessels of Your grace in this world.
In this hymn, we find an earnest plea and expression of our deep desire for a closer relationship with You, O Lord. We acknowledge our human weaknesses and the need for Your guidance and love to strengthen us. As we delve deeper into these ideas, we unravel the significance of each verse and the beautiful message it conveys.
In the first verse, we envision ourselves gathered around Thine altar, O Lord. This imagery calls to mind a communal gathering, where we come together as a family of believers. We approach Your throne with reverence and seek Your grace and favor. As children, we understand our dependency on You and humbly bow before You, seeking the comfort and assurance of our Father's presence.
The second verse highlights our longing for Your love to dispel our fear. We recognize that fear often creeps into our lives and hinders our relationship with You. But we trust in Your boundless love, which has the power to cast out all fear. In Your loving embrace, we find the courage to draw closer to You, knowing that You are always there for us.
In the third verse, we acknowledge our human tendency to make mistakes and wander off course. We understand that without Your guidance, we are prone to err and lose our way. That is why we fervently implore You to guide our erring feet and illuminate our souls. We seek Your divine wisdom to lead us on the right path, away from the pitfalls of deceit and falsehood.
The fourth verse encapsulates our heartfelt desire for acceptance and fulfillment of our sacred vow. We approach Your throne, recognizing that it is You who holds the power to accept us as we are. We understand that it is through Your grace and love that we are able to fulfill our commitment to You. Help us, O Lord, to honor our sacred vow and be faithful in our devotion to You.
As we explore the deeper meaning of this hymn, we uncover a profound call to seek Your grace and guidance in our lives. We learn that our journey of faith is not without challenges and obstacles. However, we can find solace and strength in Your presence, which surrounds Thine altar. It is within this sacred space that we encounter Your love, compassion, and forgiveness.
The hymn also reminds us of the importance of coming together as a community of believers. Just as children gather around their father, we too gather around our heavenly Father. We draw strength from one another, encouraging and supporting each other in our pursuit of a deeper relationship with You.
In conclusion, "O Lord, Around Thine Altar Now" is a hymn that eloquently expresses our yearning for Your grace, guidance, and love. It reflects the humble and sincere hearts of believers who come before You seeking solace and comfort. Through this hymn, we recognize our dependency on You as our loving Father, and we reaffirm our commitment to honor our sacred vow. May Your light continue to illuminate our souls, and may Your Spirit guide us on the path of truth and righteousness.
I hope this hymn inspired image brings you hope and peace. Share it with someone who needs it today!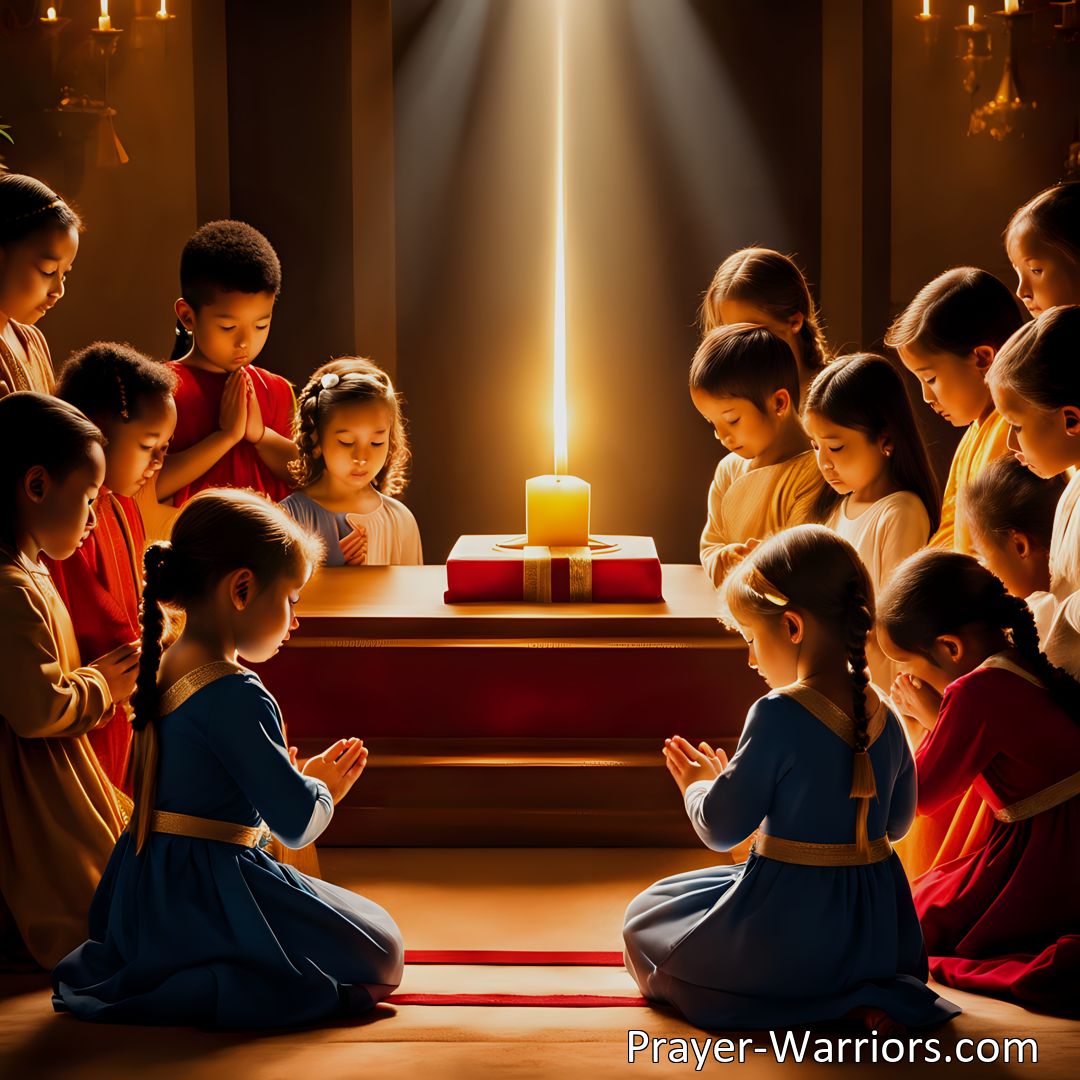 Join the Prayer Warriors Community!
Sign-up for our newsletter and embark on a transformative journey with Prayer. Enter your email below and become a part of our Prayer Warriors family.