To Thee O Lord I Humbly Cry – Hymn Lyric
"Finding Strength in Times of Distress: To Thee O Lord I Humbly Cry" is a powerful hymn that reminds us to seek solace and comfort in God during difficult times. The lyrics beautifully express a heartfelt plea for guidance and mercy. Through prayer and faith in God, we can find the strength to overcome challenges and become a source of inspiration for others.
---
---
To Thee O Lord I Humbly Cry – Hymn Lyric
To thee, O Lord, I humbly cry,
To Thee my supplication make,
To Thee I bring my sad complaint,
To thee my bitter grief I take.
Thou knowest, Lord, my deep distress,
The lonely path, the hidden snare,
How refuge faileth, friends forsake,
And no man for my soul doth care.
My prayer is unto Thee, o Lord,
No refuge but in Thee I know,
No portion but in Thee I find;
Lord, in my need Thy mercy show.
Be Thou my Savior, O my Lord,
For I am weak and foes are strong;
My captive soul from prison bring,
And glad shall be my thankful song.
Around me shall the righteous throng,
And crowned with joy Thy saints shall be,
Their hearts made glad because the Lord
In richest grace hath dealt with me.
Meaning of To Thee O Lord I Humbly Cry
To Thee O Lord I Humbly Cry: Finding Strength in Times of Distress
In times of distress and sadness, it can be difficult to find solace and comfort. We may feel lonely, trapped, and abandoned, with no one to turn to. But in the midst of our troubles, there is one who is always there, ready to listen and offer a helping hand. In this hymn, "To Thee O Lord I Humbly Cry," we find a heartfelt plea to God for guidance and strength.
The first verse of the hymn sets the tone for the rest of the song. It begins with a humble cry to the Lord, acknowledging our need for His intervention. It is an honest admission of our struggles and a plea for His mercy. This opening verse shows that the person praying understands that only God can provide true refuge and comfort in their time of need.
The lyrics continue to describe the depths of the singer's distress. They speak of a lonely path and hidden snares, illustrating the obstacles and challenges that they face. It is a reminder to us all that life is not always easy, and we will encounter hardships along our journey. But even in the face of adversity, the singer does not lose hope. They trust that God is aware of their distress and will come to their aid.
"My prayer is unto Thee, O Lord," the hymn continues, emphasizing the singer's reliance on prayer as a means of connection with God. They acknowledge that there is no other refuge but in the Lord. This recognition of God's power and ability to provide solace is a powerful message. It reminds us that, no matter how dire our circumstances may seem, we can always turn to Him for comfort and support.
The hymn goes on to describe the singer's weakness and the strength of their foes. It paints a picture of a captive soul, imprisoned in their distress. But amidst this despair, there is a glimmer of hope. The singer asks the Lord to be their Savior, recognizing that only He has the power to rescue them from their troubles. This plea showcases the singer's faith and trust in God's ability to deliver them from their hardships.
When we find ourselves in moments of desperation, it can be easy to focus on our weaknesses and the strength of our adversaries. However, this hymn reminds us that our faith in God can transcend any challenges we face. It reminds us that even when it feels like we have no one else, the Lord is always there, ready to save us and bring us back to a place of joy and gratitude.
The final verse of the hymn brings a message of hope and restoration. It speaks of a righteous throng surrounding the singer, rejoicing in the Lord's grace and deliverance. It reminds us that when we put our trust in God, we not only find strength and comfort for ourselves but also become a source of inspiration and joy for others. Our experiences of God's faithfulness can serve as a testimony to His goodness and draw others closer to Him.
In conclusion, the hymn "To Thee O Lord I Humbly Cry" serves as a powerful reminder of the strength and solace we can find in God during times of distress. It encourages us to turn to Him in prayer, acknowledging our need for His help and guidance. It reminds us that, no matter how difficult our circumstances may be, there is always hope and deliverance through our faith in Him. Let us take comfort in the words of this hymn and trust in the Lord to bring us through our trials.
I hope this hymn inspired image brings you hope and peace. Share it with someone who needs it today!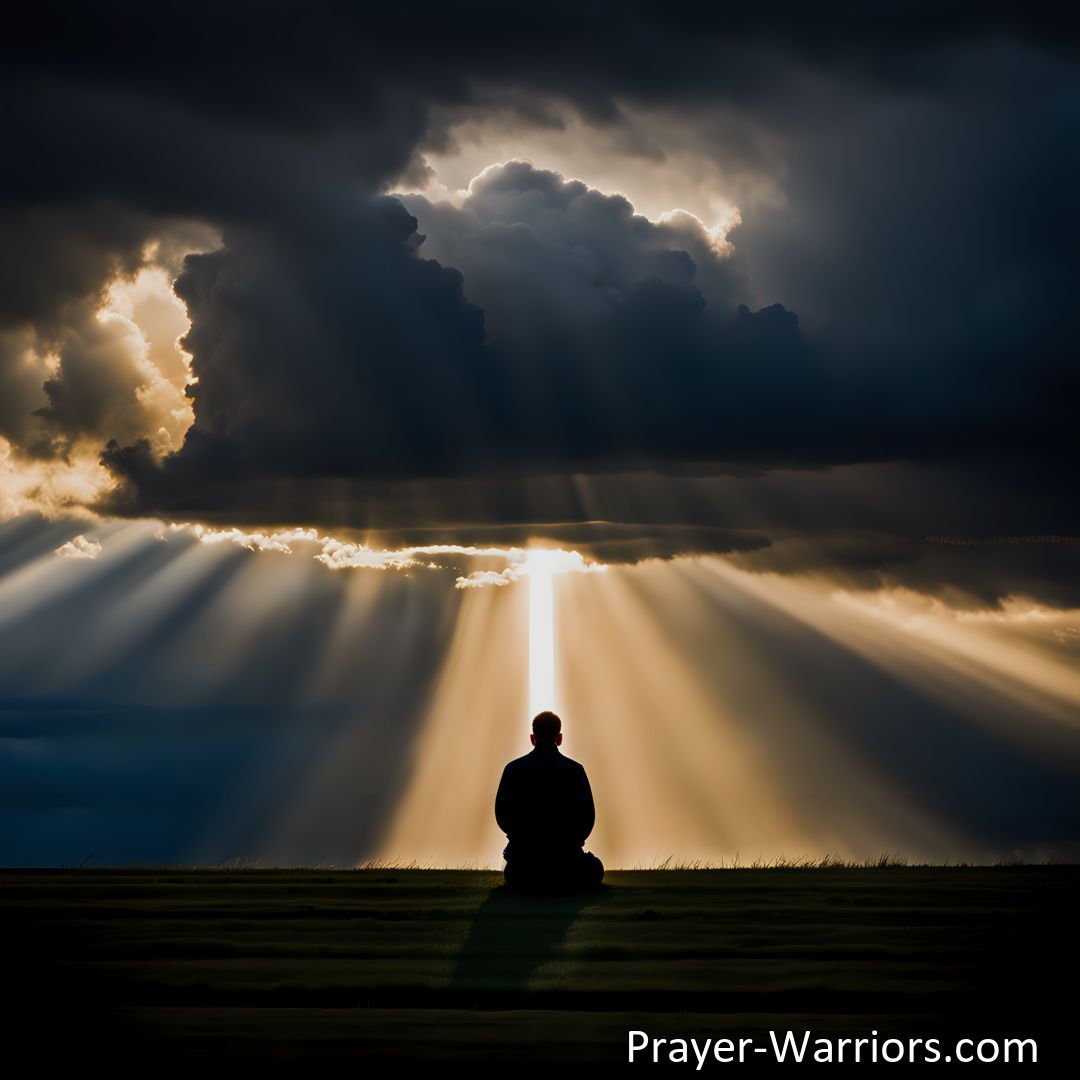 Join the Prayer Warriors Community!
Sign-up for our newsletter and embark on a transformative journey with Prayer. Enter your email below and become a part of our Prayer Warriors family.