Prayer and manifestation can help align your faith with your goals, allowing you to bring your dreams into reality. By identifying your goals, praying with intention, practicing daily affirmations, taking inspired action, and trusting in the process, you can harness the power of prayer to manifest the life you desire. So set your goals and watch as the universe conspires to make them a reality through the practice of prayer and manifestation.
---
---
Prayer and Manifestation: Aligning Faith with Your Goals
Prayer and Manifestation: Aligning Faith with Your Goals
Have you ever wished there was a way to bring your dreams into reality? A way to connect your faith with the achievement of your goals? Well, look no further! In this article, we will explore the power of prayer and manifestation and how they can help align your faith with your goals.
Prayer, in its simplest form, is a form of communication with a higher power. For many, prayer is a way to connect with God or a higher spiritual entity. It is a time to express gratitude, seek guidance, and find solace in times of need. But prayer is not just about asking for things; it's about building a relationship with the divine. And through this relationship, we can tap into a wellspring of power that can help us achieve our goals.
Manifestation, on the other hand, is the act of bringing something into existence through belief and intention. It is the process of aligning our thoughts, emotions, and actions with what we desire. Essentially, manifestation is about creating our own reality by focusing our energy and attention on what we want to attract into our lives. And when prayer and manifestation are combined, they become a potent force for aligning our faith with our goals.
So how can we align our faith with our goals through prayer and manifestation? Let's break it down into simple steps that anyone can follow.
Step 1: Identify your goals
Before you can align your faith with your goals, you need to know what those goals are. Take some time to reflect on what you truly desire in life. Is it better health, a successful career, fulfilling relationships, or financial abundance? Write down your goals in a journal or create a vision board to visualize them.
Step 2: Pray with intention
Once you have defined your goals, it's time to bring them to the divine through prayer. Find a quiet place where you can connect with your higher power. Begin by expressing gratitude for what you already have in your life. Then, state your goals clearly and with conviction. Visualize yourself already achieving those goals and believe that they are within reach. Ask for guidance and strength to overcome any obstacles that may come your way.
Step 3: Practice daily affirmations
Affirmations are positive statements that reinforce your beliefs and reinforce what you want to manifest. By repeating affirmations daily, you are sending a powerful message to your subconscious mind and the universe. For example, if your goal is to find a fulfilling career, you can affirm, "I am attracting the perfect job that aligns with my passions and skills." Repeat these affirmations several times a day, especially during times of doubt or when facing challenges.
Step 4: Take inspired action
Prayer and manifestation are not about sitting back and waiting for miracles to happen. They require you to take inspired action towards your goals. Ask yourself, "What steps can I take today to move closer to my goals?" Break your goals down into smaller, manageable tasks and take consistent action towards them. When you combine action with prayer, you are demonstrating your faith and commitment to your goals.
Step 5: Trust and let go
One of the most challenging aspects of aligning faith with your goals is learning to trust and let go. Trust that your prayers have been heard and that the universe is working in your favor. Let go of any attachment to specific outcomes and surrender to the divine timing. Sometimes, what we desire may not align with what is truly best for us. Trust that the universe knows what is in your highest good and have faith that everything will unfold as it should.
In conclusion, the practice of prayer and manifestation can be a powerful tool for aligning your faith with your goals. By combining your beliefs, intentions, and actions, you can harness the energy of the divine to manifest the life you truly desire. Remember to identify your goals, pray with intention, practice daily affirmations, take inspired action, and ultimately trust and let go. As you align your faith with your goals, watch as the universe conspires to make your dreams a reality. So go ahead, set your goals, and bring them into manifestation through the power of prayer!
I hope this prayer inspired image brings you hope and peace. Share it with someone who needs it today!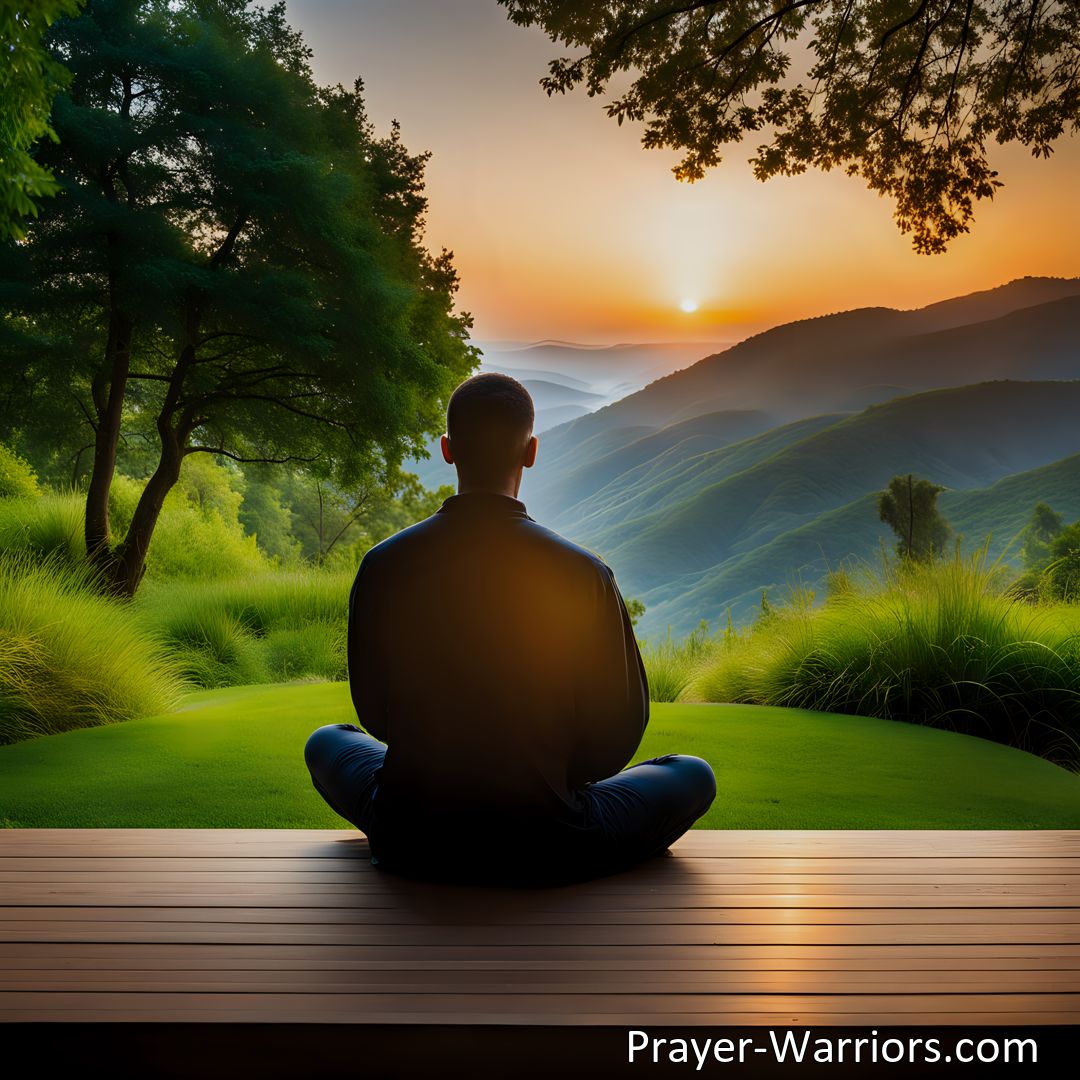 Join the Prayer Warriors Community!
Sign-up for our newsletter and embark on a transformative journey with Prayer. Enter your email below and become a part of our Prayer Warriors family.