Discover the power of prayer in overcoming impatience and trusting divine timing. Prayer allows us to express our inner thoughts and find peace in challenging times, teaching us to surrender our impatience and trust in a greater plan. By cultivating patience, seeking guidance, and embracing personal growth, we can find gratitude and understanding in the waiting period.
---
---
Prayer and Overcoming Impatience: Trusting Divine Timing
Prayer and Overcoming Impatience: Trusting Divine Timing
Have you ever found yourself in a situation where you desperately wanted something to happen right away? Perhaps you were waiting for that dream job offer, waiting for someone to say "yes" to your proposal, or even waiting for a miracle to happen in your life. In those moments, impatience can creep in, making it difficult to trust that everything will work out according to a higher plan. But that's where the power of prayer comes in, helping us overcome impatience and teaching us the art of trusting divine timing.
Prayer, in its simplest form, is a conversation with a higher power. It allows us to express our innermost thoughts, desires, and concerns to a force that is greater than ourselves. It is a powerful tool that not only brings us closer to the divine but also helps us find peace and clarity in challenging times.
When we find ourselves becoming impatient, it is often because we have a specific outcome in mind and want it to happen immediately. However, life doesn't always unfold according to our timeline. Divine timing teaches us that there is a perfect moment for everything to happen, and that timing may not align with our own expectations. Through prayer, we can surrender our impatience and learn to trust that the universe has a greater plan for us.
In prayer, we can ask for guidance and patience to navigate through periods of waiting. We can seek clarity on the lessons we need to learn while we wait, and we can find the strength to trust in divine timing. It is during these moments of surrender that we begin to understand that our perspective is limited, and there may be unseen forces at work, preparing us for something even better than what we initially desired.
Trusting divine timing doesn't mean that we passively sit back and do nothing. It means that we actively engage with the present moment, while simultaneously embracing the uncertainty of the future. We can use prayer to cultivate patience and perseverance while we actively work towards our goals. It is a delicate balance between surrender and action, knowing when to let go and when to keep pushing forward.
Prayer also helps us shift our focus from external desires to internal growth. When we become fixated on a particular outcome, we often miss the valuable lessons that the waiting period has to offer. Through prayer, we can develop a deeper understanding of ourselves, our strengths, and our weaknesses. We can use this time to work on personal growth, self-reflection, and cultivating qualities such as gratitude and resilience.
Additionally, prayer helps us build a relationship with something greater than ourselves, whether we call it God, the universe, or a higher power. This relationship provides us with a sense of comfort and assurance that we are not alone in our journey. It reminds us that there is a divine plan unfolding, even if we cannot fully comprehend it in the present moment.
During prayer, we can also seek guidance and wisdom to help us make decisions while we wait. Impatience often leads to impulsive actions, which may not be in our best interest in the long run. By connecting with the divine through prayer, we can tap into a source of wisdom that can guide us towards making choices that align with our highest good.
As we continue to pray and trust in divine timing, we may find that our impatience begins to diminish. We start to realize that life is a journey, and each step along the way is essential for our growth. We learn to appreciate the process rather than solely focusing on the destination. And when the moment finally arrives, and our prayers are answered, we can look back with gratitude and understand the significance of the waiting period.
In conclusion, prayer is a powerful tool for overcoming impatience and learning to trust in divine timing. Through prayer, we cultivate patience, surrender our need for immediate results, and embrace the journey of life. It helps us shift our focus from external desires to internal growth, seek guidance during waiting periods, and build a relationship with a higher power. So, the next time impatience creeps in, take a moment to connect with the divine through prayer and trust that everything will unfold in the perfect time and in the best possible way.
I hope this prayer inspired image brings you hope and peace. Share it with someone who needs it today!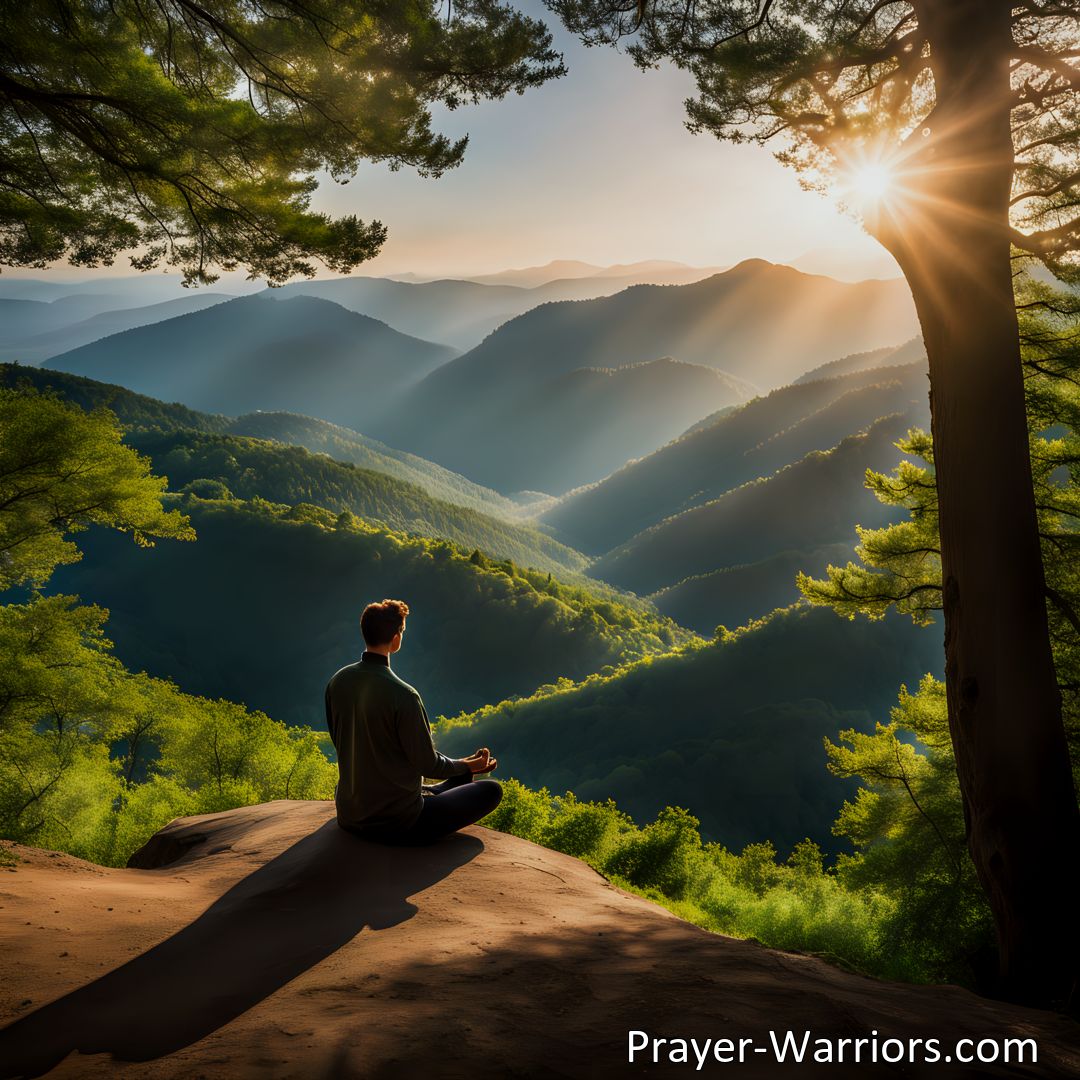 Join the Prayer Warriors Community!
Sign-up for our newsletter and embark on a transformative journey with Prayer. Enter your email below and become a part of our Prayer Warriors family.