Discover the transformative power of praying with others and experiencing corporate anointing. When we come together in prayer, our intentions merge and our faith multiplies, creating a profound and uplifting experience. Through shared prayer, we find solace, support, and a deeper connection with the divine, transforming our lives and communities.
---
---
The Power of Praying with Others: Experiencing Corporate Anointing
The Power of Praying with Others: Experiencing Corporate Anointing
Prayer is a deeply personal and spiritual practice that holds immense power. It allows us to connect with a higher power, seek guidance, and find comfort in times of need. While praying alone is impactful, there is something undeniably special about joining forces with others in prayer. This collective prayer, known as corporate anointing, amplifies the power of our individual prayers, creating a profound and transformative experience.
Experiencing corporate anointing through prayer is a beautiful way to come together as a community, to share our hopes, desires, and concerns. It transcends barriers and brings people from diverse backgrounds and beliefs together, united in a common purpose. When we join in prayer with others, we not only strengthen our own connection with the divine, but we also uplift and support one another.
One of the most significant advantages of praying with others is the evident increase in spiritual energy. When we gather as a group to pray, our combined intentions and devotion create a palpable energy that permeates the space. This energy is contagious and contagious and elevates everyone in the group, making the prayers more potent and effective. The collective faith and focus on a common goal generates a spiritual synergy that can move mountains.
Moreover, praying in a group fosters a sense of unity and belonging. In a world that often feels divided, coming together in prayer erases those artificial boundaries and reminds us of our shared human experiences and needs. It encourages empathy, compassion, and understanding. When we listen to others' prayers, we gain insight into their unique struggles and joys, creating a deeper sense of kinship and empathy. Praying with others teaches us that we are not alone in our journey and that we can lean on one another for support.
Another aspect of corporate anointing is the wisdom and insight gained from diverse perspectives. Each person brings their unique life experiences, beliefs, and understanding of the world to the prayer circle. This diversity enriches the collective prayer and provides a broader understanding of the issues at hand. Through open dialogue, we can gain new perspectives, challenge our own assumptions, and cultivate a deeper understanding of ourselves and others. This multi-dimensional approach to prayer enhances our ability to address complex problems and find meaningful solutions.
Furthermore, the communal act of praying together strengthens our bond as a community. It fosters a deep sense of trust, support, and love. When we come together regularly to pray, we build meaningful connections and friendships. These spiritual relationships become a source of comfort and encouragement, enabling us to navigate life's challenges with greater resilience. Knowing that we have a community of people who genuinely care and pray for us is incredibly powerful and uplifting.
Additionally, praying with others offers a newfound sense of accountability. When we pray alone, it is easy to become complacent or distracted. However, praying in a group creates an environment of accountability, keeping us focused and motivated. We can openly share our prayer requests and concerns, knowing that others will hold us in their thoughts and prayers. This sense of accountability can help us stay committed to our spiritual practice and deepen our connection with the divine.
In conclusion, the power of praying with others and experiencing corporate anointing is truly transformative. When we gather as a community to pray, our intentions merge, and our faith multiplies. The collective energy, unity, diverse perspectives, and accountability create an environment conducive to spiritual growth and healing. Through shared prayer, we find solace, support, and an increased connection with the divine. Let us embrace the power of corporate anointing and come together to uplift and transform our lives and communities through the profound act of prayer.
I hope this prayer inspired image brings you hope and peace. Share it with someone who needs it today!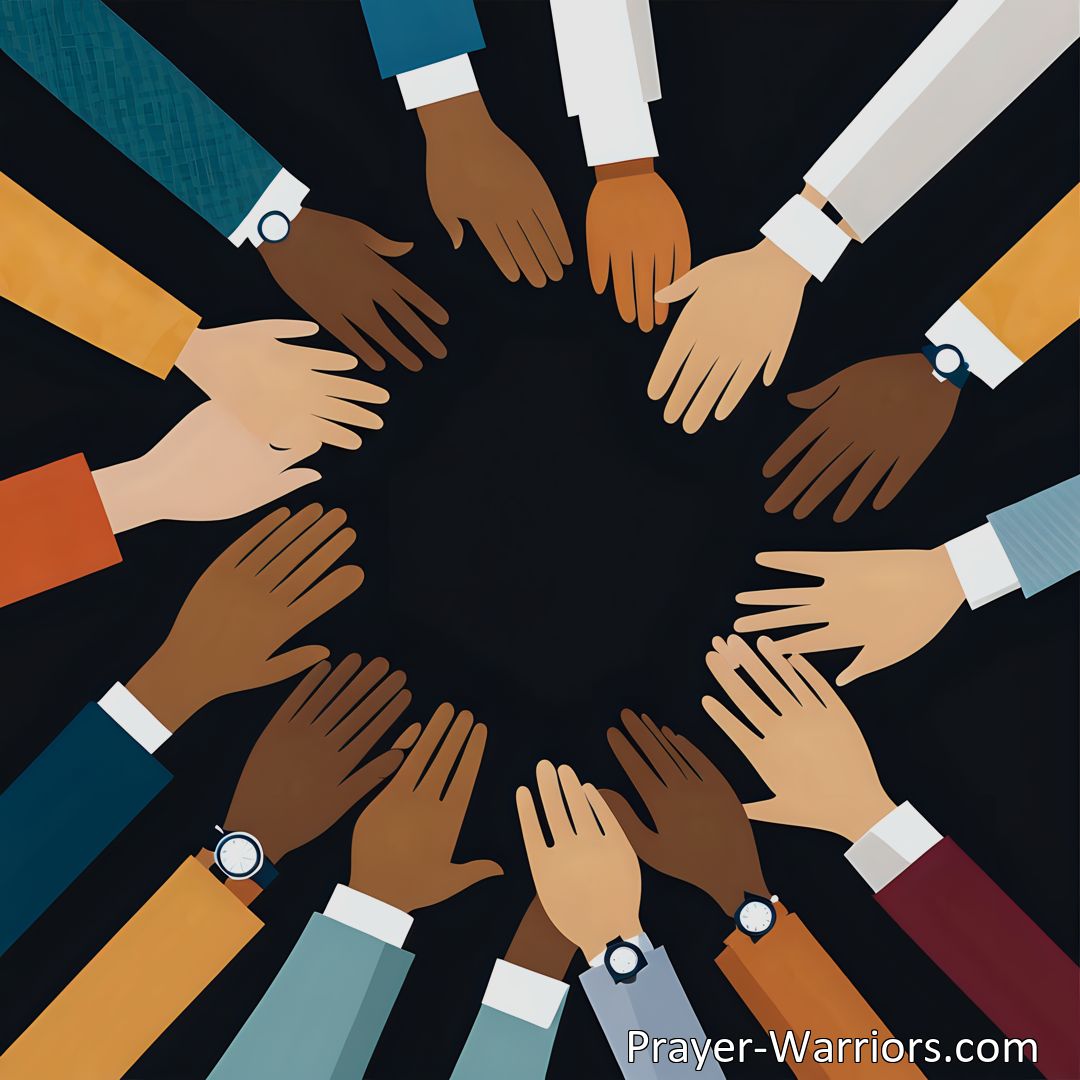 Join the Prayer Warriors Community!
Sign-up for our newsletter and embark on a transformative journey with Prayer. Enter your email below and become a part of our Prayer Warriors family.