Discover the power of prayer and perspective in shifting your focus towards gratitude. In today's fast-paced world, it's easy to get caught up in negativity, but by incorporating prayer into your daily routine and adopting a perspective of gratitude, you can find solace and contentment amidst chaos and uncertainties. Embracing prayer and perspective allows you to unlock immense joy and cultivate an attitude of appreciation for the blessings in your life.
---
---
Prayer and Perspective: Shifting Focus towards Gratitude
Prayer and Perspective: Shifting Focus towards Gratitude
In today's fast-paced and often overwhelming world, it is easy to get caught up in the negatives and lose sight of the things that truly matter. This is where prayer and perspective play a crucial role in our lives. By shifting our focus towards gratitude, we can find solace and contentment in the midst of chaos and uncertainty.
Prayer has been an integral part of human history for as long as civilization itself. It provides a channel through which we can connect with something larger than ourselves, seeking guidance, comfort, and strength. It allows us to humbly acknowledge our dependence on a higher power and surrender our worries and fears. Through prayer, we can express gratitude for the blessings we have received and request assistance in navigating life's challenges.
However, prayer is not solely about asking for favors or pleading for help. It is also a powerful tool for self-reflection and cultivating a positive mindset. It encourages us to shift our focus away from what is lacking and towards gratitude for what we already have. When we practice gratitude through prayer, we develop an attitude of appreciation and begin to notice the abundance that surrounds us.
Perspective, on the other hand, refers to the way we interpret and make sense of the world around us. It is a lens through which we view our experiences, shaping our thoughts and emotions. Our perspective can greatly influence our overall well-being and outlook on life. By consciously choosing to adopt a perspective of gratitude, we can transform even the most challenging situations into opportunities for growth and learning.
When faced with difficulties, it is natural to feel overwhelmed and discouraged. However, by shifting our perspective towards gratitude, we can find hidden blessings and reasons to be thankful even in the face of adversity. For instance, if we lose our job, instead of dwelling on the negative aspects, we can choose to be grateful for the free time that allows us to explore new career possibilities or spend more quality time with loved ones. This shift in perspective allows us to see setbacks as stepping stones towards a better future.
Furthermore, gratitude has numerous physical and mental health benefits. Research has shown that individuals who regularly practice gratitude experience lower levels of stress and depression and have a higher overall sense of well-being. By focusing on what we are grateful for, we train our brains to filter out negative thoughts and emotions, leading to increased happiness and resilience.
Incorporating prayer and gratitude into our daily lives can be as simple as setting aside a few minutes each day for reflection and expression of thanks. During prayer, we can specifically express gratitude for our relationships, health, achievements, and even the smallest moments of joy. These moments of conscious gratitude help us develop a more positive mindset and cultivate an attitude of abundance.
In addition, sharing our gratitude with others strengthens our connections and fosters a sense of community. When we express gratitude towards someone, whether through words or small acts of kindness, we not only uplift their spirits but also reinforce our own positive mindset. It creates a ripple effect of gratitude that has the power to transform the lives of those around us.
To truly shift our focus towards gratitude, it is important to be mindful of our thoughts and emotions throughout the day. Regularly taking inventory of our blessings, no matter how small, helps us maintain a perspective of abundance. It is a way of reminding ourselves that life is filled with countless reasons to be grateful, even amidst the chaos and challenges.
In conclusion, prayer and perspective play a crucial role in shifting our focus towards gratitude. By incorporating prayer into our lives, we open ourselves up to a deeper connection with a higher power and cultivate an attitude of trust, surrender, and appreciation. Shifting our perspective towards gratitude allows us to find blessings even in the most difficult circumstances, leading to increased happiness, resilience, and overall well-being. So, let us embrace prayer and perspective as tools to shift our focus towards gratitude, and in doing so, unlock the immense joy and contentment that lies within us.
I hope this prayer inspired image brings you hope and peace. Share it with someone who needs it today!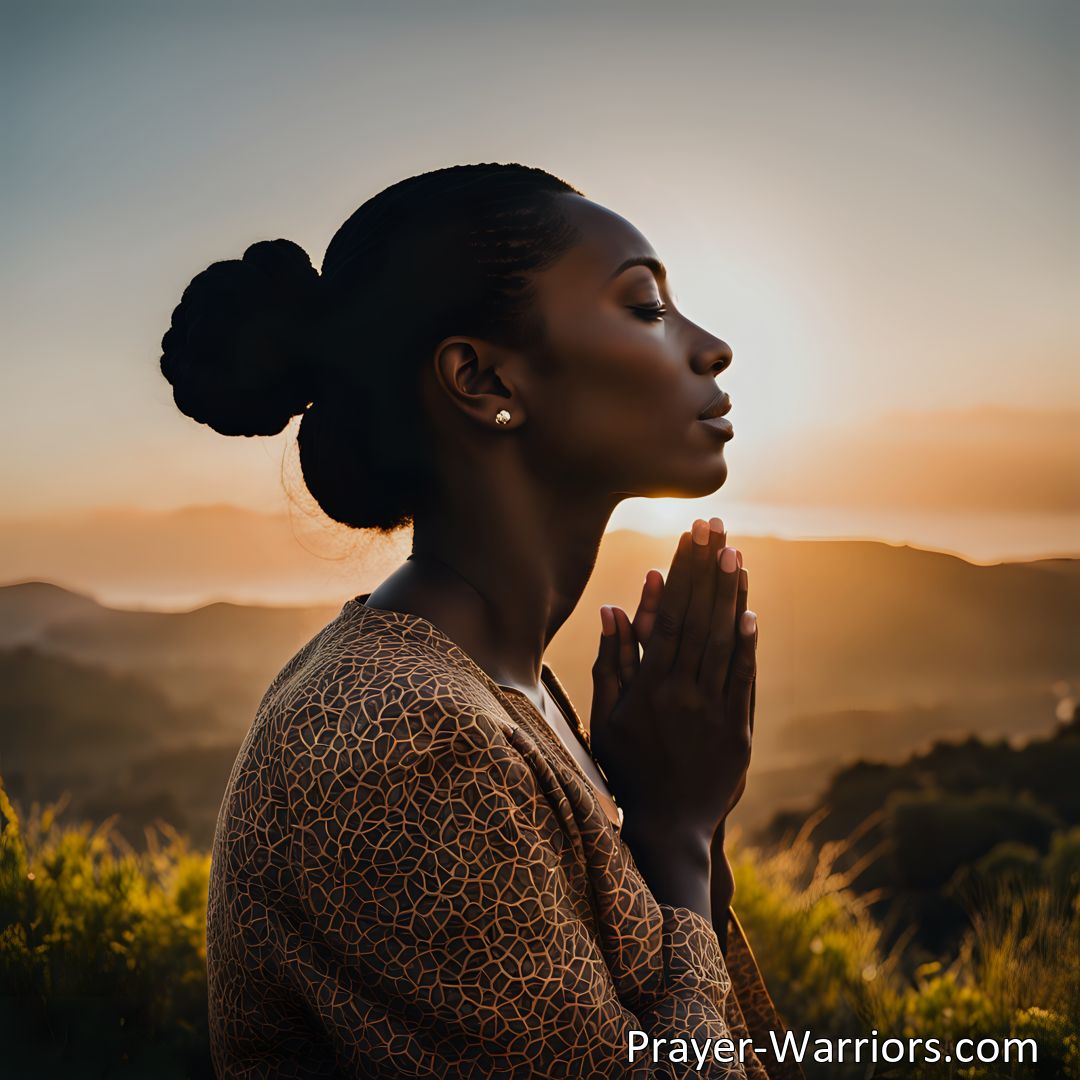 Join the Prayer Warriors Community!
Sign-up for our newsletter and embark on a transformative journey with Prayer. Enter your email below and become a part of our Prayer Warriors family.