Prayer and stress relief: Managing anxiety through faith. In today's hectic world, stress and anxiety are common challenges. However, prayer can be a powerful tool for finding solace and inner peace. By turning to prayer, individuals can regain a sense of control, shift perspectives, promote gratitude, and induce relaxation. It is important to remember, though, that prayer should be complemented by other coping strategies and, if needed, professional support.
---
---
Prayer and Stress Relief: Managing Anxiety through Faith
Prayer and Stress Relief: Managing Anxiety through Faith
In today's fast-paced and chaotic world, it's no wonder that anxiety and stress have become common challenges for many people, regardless of their age or background. Amidst the hustle and bustle of daily life, finding effective methods to alleviate stress has become essential for maintaining good mental and emotional health. One such powerful tool for managing anxiety is prayer. For centuries, individuals have turned to prayer as a means of finding solace, inner peace, and stress relief.
Prayer, an act of communication with a divine power or higher being, holds a significant place in various religious and spiritual practices. While the concept and techniques of prayer may differ across different faith traditions, its benefits in regard to stress relief are widely recognized. Prayer can serve as an anchor in times of turmoil, enabling individuals to redirect their worries and anxieties towards a source of comfort and guidance.
One of the key aspects of prayer is its ability to provide a sense of control over circumstances beyond one's influence. Many stressors in life are beyond our control, such as accidents, illness, or financial difficulties. By turning to prayer, individuals can find solace in knowing that they are not alone in facing these challenges. The belief in a higher power allows people to surrender their worries and anxieties, trusting that there exists a larger plan or purpose beyond their understanding.
Furthermore, prayer can help individuals shift their perspective and focus on gratitude, rather than dwelling on their anxieties. When we take the time to express gratitude during prayer, we acknowledge the positive aspects of our lives and reframe our thoughts towards the blessings we have received. This change in mindset can foster feelings of contentment and reduce stress levels.
In addition to its psychological benefits, prayer also has physiological effects that aid in stress relief. Studies have shown that prayer can reduce heart rate, blood pressure, and levels of stress hormones such as cortisol. These physiological changes can promote a state of relaxation and calmness, counteracting the body's stress response and inducing a sense of overall well-being.
Another aspect of prayer that contributes to stress relief is the act of sharing burdens and seeking guidance. Through prayer, individuals can pour out their worries, fears, and concerns, knowing that their words are not falling on deaf ears. This act of "letting go" can help individuals unload the weight of their anxieties, resulting in a sense of relief and release. Moreover, seeking guidance through prayer provides a space for reflection and self-discovery, helping individuals gain insight into their struggles and find the strength to face them.
It is important to note that prayer should not be seen as a magical cure-all or substitute for professional mental health support when needed. While prayer can be a valuable tool for managing stress and anxiety, it is crucial to seek additional help if feelings of anxiety persist or significantly impact daily life. Consultation with a mental health professional, such as a counselor or therapist, can provide additional coping strategies and support.
Prayer and stress relief through faith is a personal journey, regardless of one's religious affiliation or spiritual beliefs. It is a practice that encourages individuals to slow down, reflect, and connect with something greater than themselves. Whether it involves praying in solitude, attending religious services, or joining prayer groups, the act of prayer can be a potent antidote to the anxiety and stress that pervade our lives.
In conclusion, prayer can be a powerful tool for managing anxiety and stress. Its ability to provide a sense of control, shift perspectives, promote gratitude, and induce physiological relaxation makes it an effective strategy in coping with anxiety. However, it is crucial to remember that prayer should be complemented by other healthy coping mechanisms and, if needed, professional support. By incorporating prayer into our daily lives, we can find solace, peace, and a renewed sense of hope amidst life's challenges.
I hope this prayer inspired image brings you hope and peace. Share it with someone who needs it today!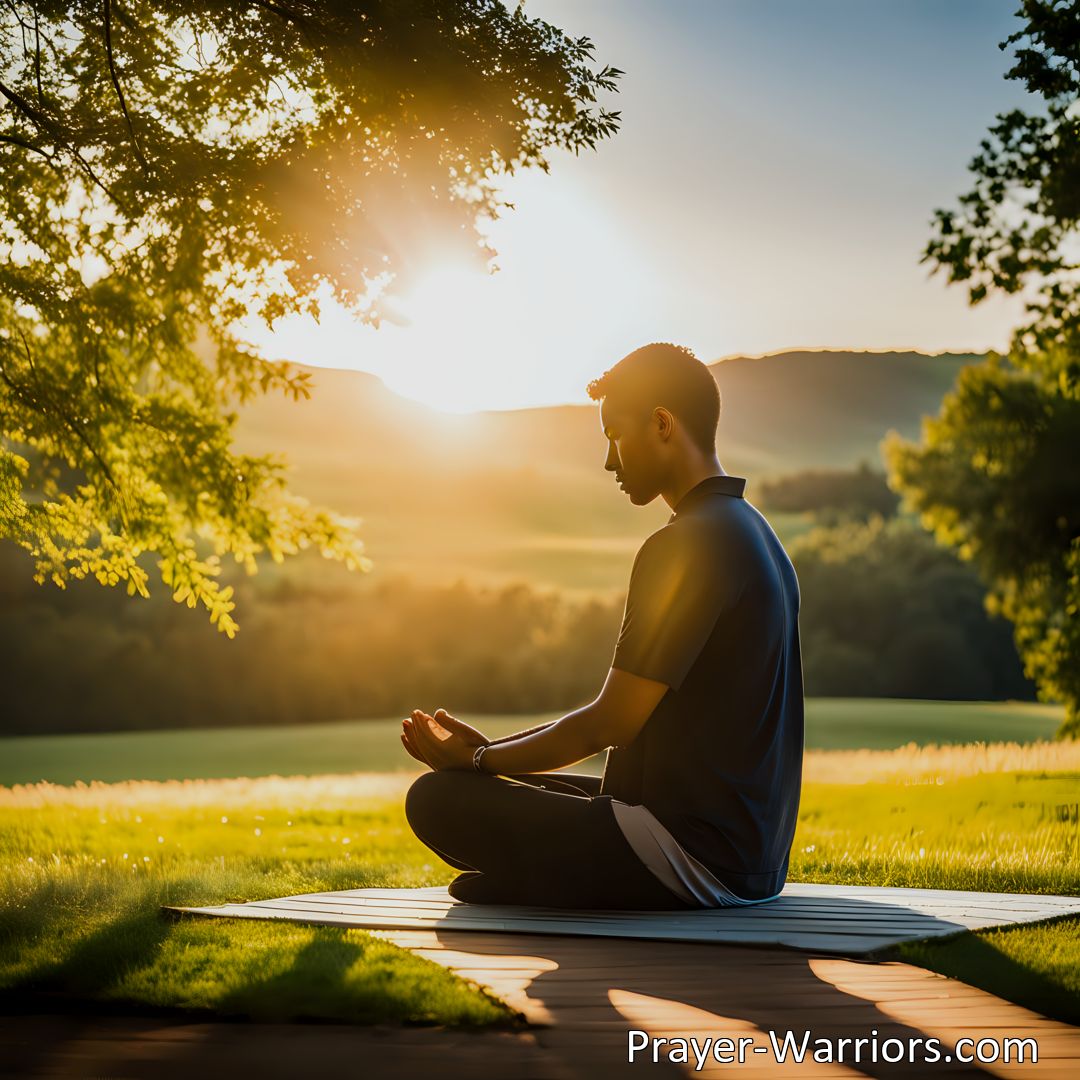 Join the Prayer Warriors Community!
Sign-up for our newsletter and embark on a transformative journey with Prayer. Enter your email below and become a part of our Prayer Warriors family.