Praying for Breakthrough in Ministry: Overcoming Challenges and Obstacles Discover how prayer can help individuals in ministry overcome challenges. From lack of support to burnout and financial constraints, learn practical tips on how to navigate through these obstacles and find strength, wisdom, and guidance. By praying for breakthroughs, individuals can fulfill their calling in ministry and experience a deeper connection with God.
---
---
Praying for Breakthrough in Ministry: Overcoming Challenges and Obstacles
Praying for Breakthrough in Ministry: Overcoming Challenges and Obstacles
In our journey of serving in ministry, we often face numerous challenges and obstacles that can make us feel discouraged and overwhelmed. However, through the power of prayer and a deep faith in God, we can find the strength to overcome these hurdles and experience breakthroughs in our ministry work. In this article, we will explore different challenges that individuals in ministry might face and provide practical tips on how to overcome them through prayer.
One of the most common challenges faced by individuals in ministry is the lack of support and understanding from others. Sometimes, people may not fully grasp the importance of ministry work or may not appreciate the effort and dedication it requires. This can be disheartening and leave us feeling isolated. However, instead of getting discouraged, we can turn to prayer and ask God to soften the hearts of those around us. We can pray for understanding, empathy, and a willingness to offer support. Furthermore, seeking guidance from God on how to effectively communicate the importance of ministry work can also help bridge the gap between us and others.
Another challenge commonly faced in ministry is the feeling of burnout and exhaustion. Serving in ministry often involves long hours, emotional investment, and relentless efforts to meet the needs of others. This can lead to fatigue, both physically and spiritually. During such times, it is essential to prioritize self-care and seek renewal through prayer. By setting aside dedicated time for personal reflection and prayer, we can find the strength and stamina to continue our ministry work. Asking God for renewed energy, wisdom, and guidance can help us navigate through challenging seasons and find a sense of purpose and joy in our service.
Financial constraints are also a significant obstacle in ministry. Many ministries rely on donations and contributions, and when funds are limited, it can restrict the scope of our work. In these situations, it is vital to turn to prayer and acknowledge our dependence on God's provision. We can pray for the resources needed to carry out our ministry effectively. Asking God for wisdom and creativity in finding alternative funding sources or partnerships can also be fruitful. Additionally, prayer can help us develop a spirit of contentment and gratitude, even in the midst of financial challenges.
Obstacles and resistance within the community or the broader culture can present significant challenges in ministry. Sometimes, the values and principles of our ministry may clash with societal norms or face opposition from individuals or groups. During such times, it is crucial to fervently pray for breakthroughs. We can ask God for wisdom and discernment to navigate through these challenges while staying true to our calling. Praying for guidance in finding allies and like-minded individuals who share a similar vision can also be beneficial.
In ministry, it is not uncommon to face moments of doubt and uncertainty. We may question our abilities, doubt the impact we are making, or wonder if we are on the right path. During such periods, prayer becomes an essential tool for finding clarity and confirmation. We can pray for guidance and discernment, asking God to strengthen our faith and reaffirm our calling. Seeking God's wisdom through prayer can provide the assurance and confidence needed to overcome obstacles and continue our ministry work with renewed enthusiasm.
Lastly, it is vital to remember that prayer is not just a means to overcome challenges but also an opportunity to connect with God on a personal level. Prayer helps us cultivate a deep relationship with our Heavenly Father and align our hearts with His purpose. By consistently seeking God's guidance, we can gain a clearer vision for our ministry and experience breakthroughs that go beyond our initial expectations. Through prayer, we can tap into a source of strength and wisdom that surpasses our human limitations.
In conclusion, challenges and obstacles are inevitable in ministry. However, through the power of prayer, we can overcome these hurdles and experience breakthroughs. By praying for support, renewed strength, provision, wisdom, guidance, and a deepening of our faith, we can navigate through the challenges and fulfill our calling in ministry. Let us approach prayer with confidence, knowing that God is faithful to answer our prayers and lead us toward breakthroughs in our ministry work.
I hope this prayer inspired image brings you hope and peace. Share it with someone who needs it today!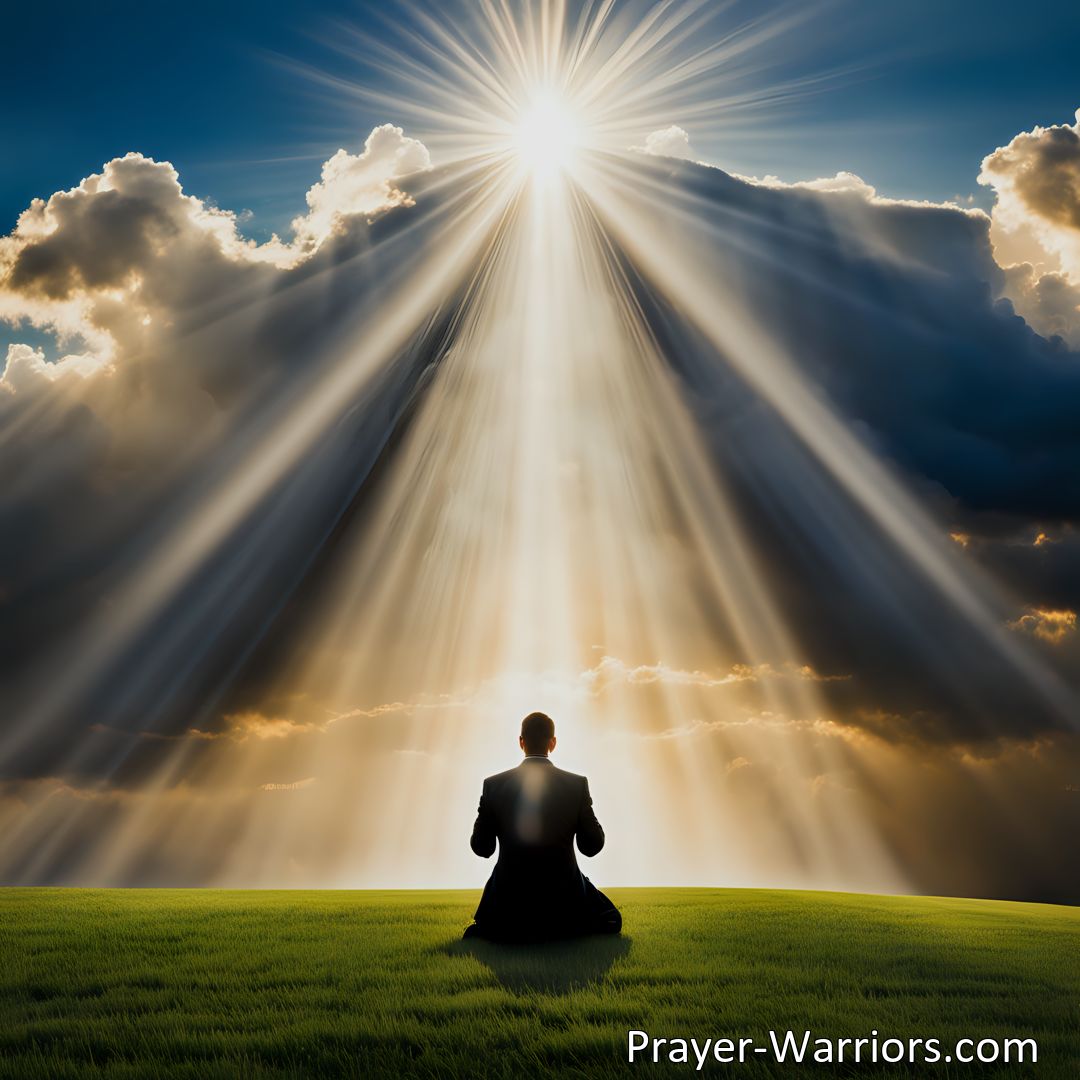 Join the Prayer Warriors Community!
Sign-up for our newsletter and embark on a transformative journey with Prayer. Enter your email below and become a part of our Prayer Warriors family.