The Heavenly Guide – Hymn Lyric
ERROR
---
---
The Heavenly Guide – Hymn Lyric
When thirst for power or for gold
Hath led our souls astray;
When, blind, by blinder guides we're told,
"Lo, here thou'lt find the way;
Look down, O Father, from above;
Set us from error free;
Teach us to serve Thee here in love,
And find our home in Thee.
When faith Thy guidance humbly takes,
And seeks Thy will to do,
Clear light upon our pathway breaks,
The world to guide us through.
Thy spirit send, our souls to keep;
Thy wisdom make our own;
And though our way leads through the deep,
We wander not alone.

Meaning of The Heavenly Guide
In the hymn "The Heavenly Guide," we are reminded of the dangers of thirsting for power or wealth and being led astray by misguided individuals. It warns us about the false promises of finding our way through these worldly desires. Instead, it encourages us to look to our Heavenly Father for guidance and to serve Him with love. This hymn emphasizes the importance of faith and seeking God's will, as it brings clarity and light to our path, allowing us to navigate through the challenges of the world.
The hymn's prayerful tone appeals to our Father in heaven, asking Him to look down upon us and deliver us from error. We acknowledge our inherent vulnerability and ask for His divine intervention to keep us on the right path. This highlights the belief that God's wisdom surpasses our own, and by seeking His guidance, we can avoid getting lost in the darkness of our own desires.
As we embark on our journey, the hymn reminds us that we are not alone. God's spirit is with us, serving as our constant companion and source of strength. His presence offers comfort and reassurance, even when our path leads us through deep waters. This imagery signifies the trials and challenges we may face in life, but with God's guidance, we can always find our way.
Expanding on these ideas, we can explore the dangers of thirsting for power and wealth. Often, society places great importance on material possessions and the pursuit of success. This can lead individuals to make unethical choices, prioritizing personal gain over the well-being of others. The hymn warns against putting blind trust in those who promise a path to power and wealth. Instead, it encourages us to focus on serving God and others with love.
By seeking God's will, we are aligning ourselves with a higher purpose. This requires humility and a willingness to surrender our own desires in order to follow His guidance. It is through this act of obedience that we find clarity and light in our lives. The hymn reminds us that the world can be a confusing and chaotic place, but with God as our guide, we can navigate through it with confidence and righteousness.
Prayer is a fundamental aspect of seeking God's guidance. The hymn calls upon Him to send His spirit to keep our souls safe and to impart His wisdom upon us. This demonstrates a recognition of our own limitations and a reliance on God's infinite knowledge. It is through His wisdom that we can make sound decisions, avoiding the pitfalls of worldly temptations.
As the hymn emphasizes, the journey of life is not without challenges. We may find ourselves in unfamiliar territories, facing deep waters that seem impossible to cross. However, by trusting in God's guidance, we can take comfort in the fact that we are not alone. He walks beside us, providing the strength we need to persevere.
In conclusion, "The Heavenly Guide" serves as a reminder of the dangers of thirsting for power and wealth, and the importance of seeking God's guidance instead. This hymn encourages us to look to our Heavenly Father as the ultimate source of wisdom and to serve Him and others with love. By doing so, we can find clarity, light, and comfort in our journey through life, knowing that God is always with us. Let us heed the message of this hymn and strive to live our lives in accordance with His divine guidance.
I hope this hymn inspired image brings you hope and peace. Share it with someone who needs it today!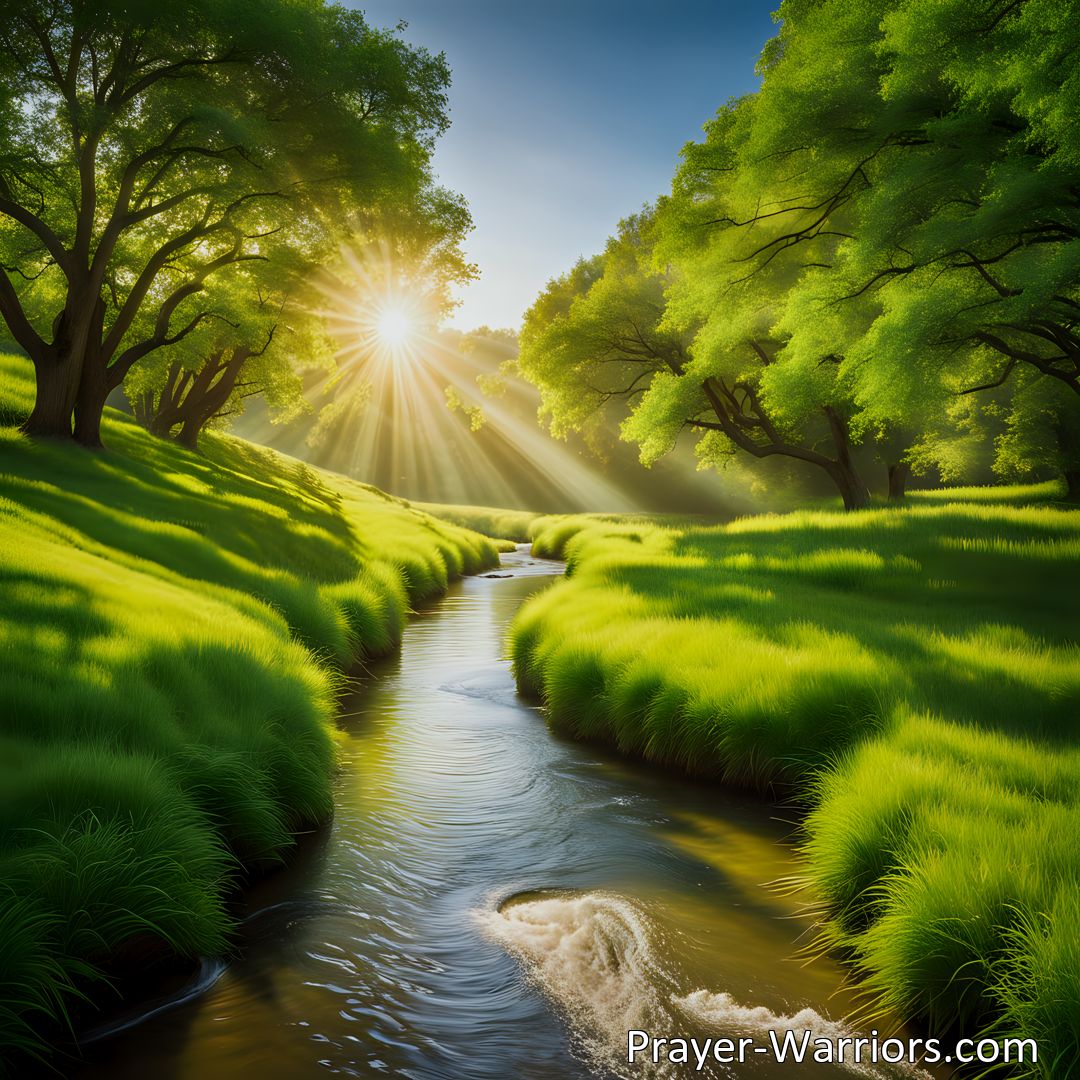 Join the Prayer Warriors Community!
Sign-up for our newsletter and embark on a transformative journey with Prayer. Enter your email below and become a part of our Prayer Warriors family.