The Tender Light Of Home Behind – Hymn Lyric
summary.txt
---
---
The Tender Light Of Home Behind – Hymn Lyric
The tender light of home behind,
Dark heathen gloom before,
The servants of the Lord go forth
To many a foreign shore:
But the true light that cannot pale
Streams on them from above,
A light divine, that shall not fail-
The smile of Him they love.
The sheltering nest of home behind,
The battlefield before,
They gird their heav'nly armor on,
And seek the foreign shore:
But Christ their captain, with them goes,
He leads them in the way;
With Him they face the mightiest foes,
With Him they win the day.
The peaceful joys of home behind,
Danger and death before,
Right cheerfully they set their face
To seek the foreign shore:
For Christ has called, and His dear Word
Brings bliss, whate'er betide;
'Tis not alone-'tis with their Lord
They seek the other side.
A wealth of love and prayer behind,
Far-reaching hope before,
The servants of the Lord go forth
To seek a foreign shore:
And wheresoe'er their footsteps move
That hope makes sweet the air;
And all the path is paved with love,
And canopied with prayer.
Christ in the fondly-loved behind,
Christ in the bright before,
Oh! blest are they who start with Him
To seek the foreign shore!
Christ is their fair, unfading light,
Christ is their shield and sword,
Christ is their keeper, day and night,
And Christ their rich reward.
Meaning of The Tender Light Of Home Behind
The hymn "The Tender Light of Home Behind" beautifully captures the journey of missionaries as they leave behind the safety and comfort of their homes to spread the light of God's love in foreign lands. This hymn reminds us of the profound sacrifice and steadfast dedication that these servants of the Lord display as they embark on their mission.
As the hymn suggests, the departure from home is not an easy one. The familiar and comforting light of home is left behind, and instead, there is a foreboding darkness that awaits them. This darkness represents the challenges and obstacles that lie ahead in their mission work. However, this darkness is no match for the true light that shines upon them from above. It is a divine light, unyielding and unwavering, which comes from the smile of Him they love- God himself.
The missionaries are compared to soldiers on a battlefield, donning their heavenly armor as they step out into the foreign shore. They are not alone in this battle, for Christ, their captain, walks with them. He leads them through every trial and empowers them to face the mightiest foes. It is with Christ by their side that they are able to emerge victorious and win the day.
Despite the dangers and inevitable harsh conditions that they will encounter, the missionaries willingly set their faces towards the foreign shore. They do so cheerfully because Christ has called them. His word gives them comfort and assurance, regardless of what may come their way. They know that it is not just their human strength that propels them forward, but it is Christ himself who leads the way.
Love and prayer play a significant role in the journey of a missionary. They have a wealth of love and prayer that follows them, even as they leave home. This love is not confined to their immediate family and friends but extends to the people they are called to serve. Their footsteps are guided by the hope that their presence will bring joy to those they encounter. This hope makes the air sweet and fills every step they take with purpose.
The hymn emphasizes that while missionaries may physically leave their loved ones behind, they are never alone. Christ remains with them every step of the way. His presence brings comfort and serves as a reminder that they are on a mission for Him. He is their light that guides them, their shield that protects them, and their sword that enables them to tackle any adversary. Moreover, the promise of Christ as their keeper day and night offers them reassurance and security throughout their journey.
In seeking the foreign shore, missionaries are not driven solely by their desire to spread the Gospel. They are also motivated by the deep and unwavering love they have for Christ. They understand that He is their ultimate reward. Every step they take, every challenge they overcome, and every soul they touch is a testament to the incredible love they have for their Lord.
The title of this hymn, "The Tender Light of Home Behind," encapsulates the bittersweet nature of a missionary's journey. While they must leave behind the familiarity and comfort of home, they do so with the knowledge that they are pursuing a higher purpose. They are answering God's call, spreading His love, and bringing light to places that desperately need it.
In conclusion, "The Tender Light of Home Behind" paints a beautiful picture of the sacrifices, challenges, and rewards that missionaries face as they embark on their mission. It reminds us of the constant presence and support of Christ throughout the journey. This hymn serves as an inspiration not only for those called to be missionaries but for all of us as we seek to shine our own lights in the world.
I hope this hymn inspired image brings you hope and peace. Share it with someone who needs it today!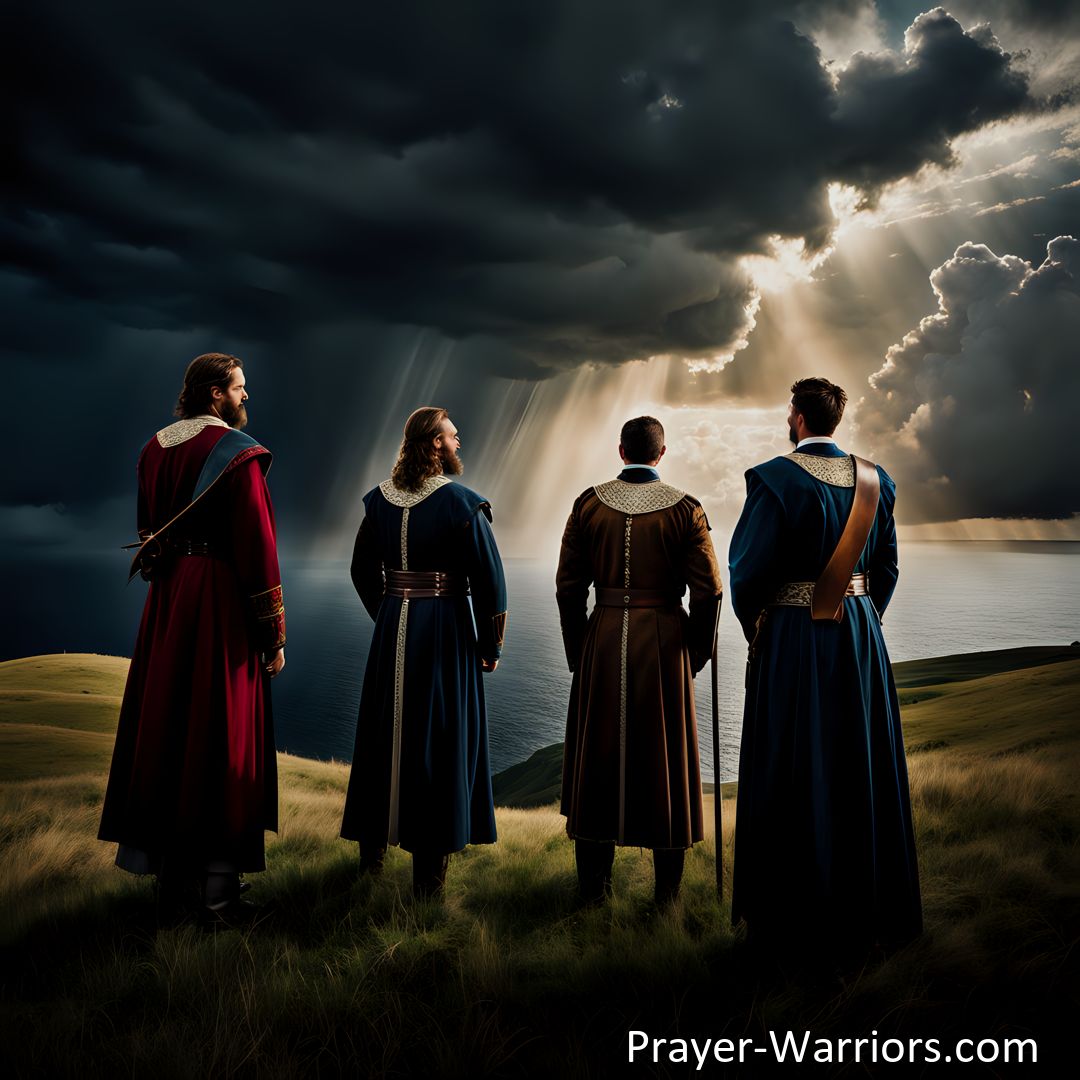 Join the Prayer Warriors Community!
Sign-up for our newsletter and embark on a transformative journey with Prayer. Enter your email below and become a part of our Prayer Warriors family.