Thou Knowest, Lord – Hymn Lyric
"Thou Knowest, Lord" is a hymn that reminds us to find comfort in God's knowledge and understanding. It acknowledges the weariness and sorrow that we often face in life and encourages us to bring our burdens to the Lord. With His infinite knowledge and understanding, we can trust that God is aware of our present circumstances and our future, providing us with solace, guidance, and hope.
---
---
Thou Knowest, Lord – Hymn Lyric
Thou knowest, Lord,
the weariness and sorrow
Of the sad heart that comes to Thee for rest;
Cares of today, and burdens for tomorrow,
Blessings implored, and sins to be confessed;
I come before Thee at Thy gracious word,
And lay them at Thy feet: Thou knowest, Lord.
Thou knowest all the present:
each temptation,
Each toilsome duty, each foreboding fear;
All to myself assigned of tribulation,
Or to beloved ones than self more dear;
All pensive memories, as I journey on,
Longings for vanished smiles and voices gone.
Thou knowest all the future:
gleams of gladness
By stormy clouds too quickly overcast;
Hours of sweet fellowship, and parting sadness,
And the dark river to be crossed at last;
O what could confidence and hope afford
To tread that path, but this, Thou knowest, Lord!
Meaning of Thou Knowest, Lord
Thou Knowest, Lord: Finding Comfort in God's Knowledge and Understanding
Life can often be filled with weariness and sorrow. As human beings, we often find ourselves burdened by the cares of today and the worries of tomorrow. We all have blessings that we implore the Lord for and sins that we need to confess. In times like these, we can find solace in knowing that we can come before the Lord with all our troubles and lay them at His feet. He knows us intimately, and He understands our deepest needs and desires. This hymn, "Thou Knowest, Lord," beautifully expresses this truth.
When we approach the Lord in prayer, we can trust that He knows all the present circumstances we face. He is aware of our temptations, the toilsome duties we must carry out, and the fears that often grip our hearts. Whether it is our own tribulations or the troubles of our loved ones that concern us, God understands the weight we carry. We are not alone in our struggles and worries. By acknowledging that the Lord knows all our present circumstances, we can find comfort in the fact that He is with us every step of the way.
Not only does God know our present, but He also knows our future. He understands the fleeting moments of gladness that are overshadowed by stormy clouds. He knows the joyous hours of fellowship and the heart-wrenching moments of parting. And ultimately, He knows that each of us will face the dark river of death. It is in these moments of uncertainty and fear that we find our confidence and hope in the Lord. We can trust that He will guide us through the unknown and walk with us as we cross that final bridge.
The knowledge that God possesses is not just an intellectual understanding but an intimate knowing. He knows the depths of our hearts, the longings for those who have passed on, and the ache of their absence. In times when we journey on, burdened by memories and longing for what once was, we can find comfort in knowing that God is aware of our every emotion. We are not alone in our grief. We have a compassionate and understanding God who walks alongside us, bringing us solace and peace.
As we reflect on the beautiful words of this hymn, we can find assurance in knowing that God's knowledge and understanding extend far beyond our own limited comprehension. In times of weariness, sorrow, and uncertainty, we can take comfort in the fact that we do not have to bear our burdens alone. We can lay them at the feet of our loving Father, confident that He knows our every need. His understanding is infinite, His compassion immeasurable. As we trust in His knowledge and lean on His understanding, we can find rest for our weary souls.
In conclusion, "Thou Knowest, Lord" is a hymn that offers words of comfort and assurance. It reminds us that we can bring our weariness and sorrow to God, knowing that He understands our every need. Through this hymn, we are encouraged to trust in His knowledge and rest in His understanding. God's love for us extends beyond our comprehension, and He is always with us, guiding us through the present and preparing us for the future. So, in times of struggle and uncertainty, let us find solace in the fact that we have a God who intimately knows and cares for us – a God who says, "Thou knowest, Lord."
I hope this hymn inspired image brings you hope and peace. Share it with someone who needs it today!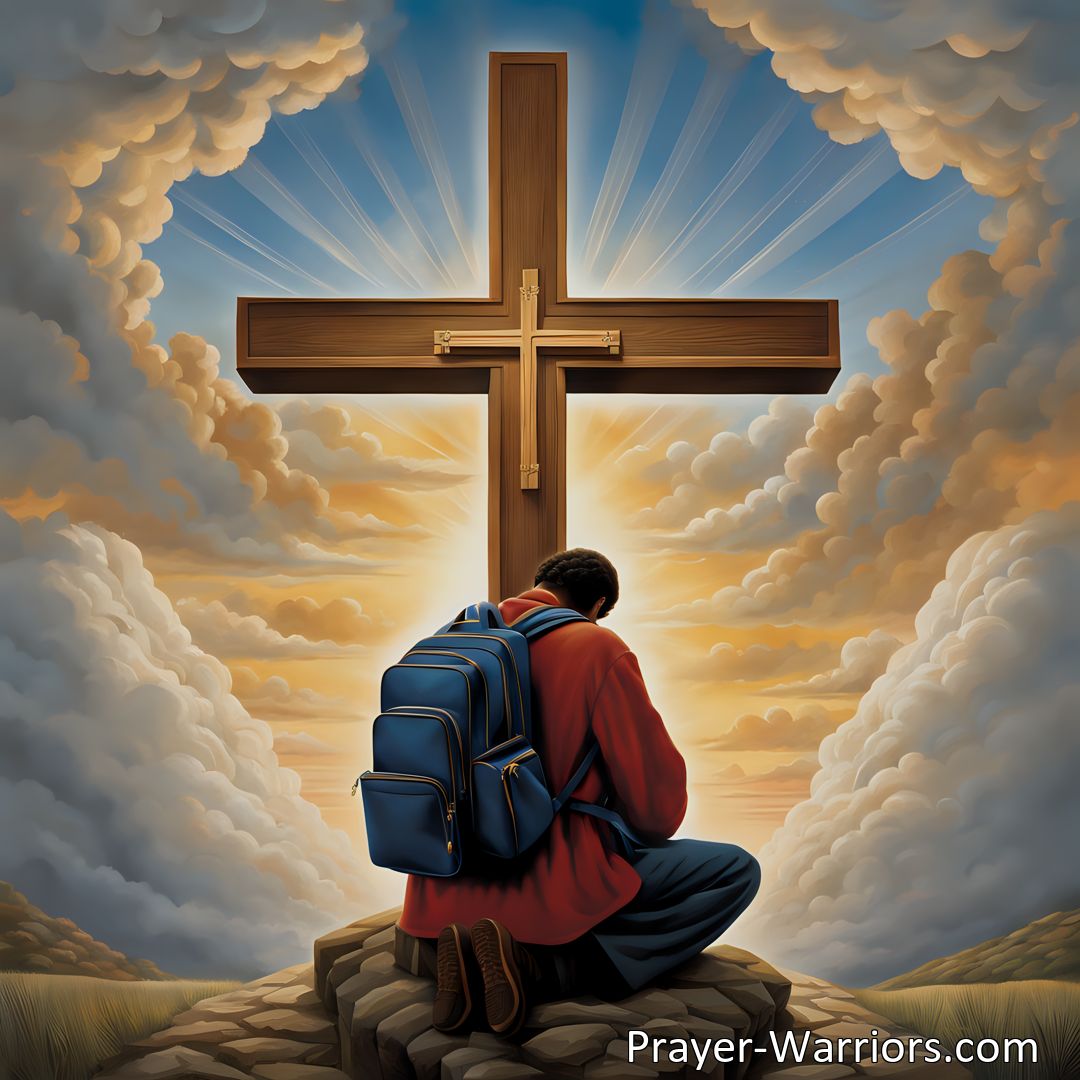 Join the Prayer Warriors Community!
Sign-up for our newsletter and embark on a transformative journey with Prayer. Enter your email below and become a part of our Prayer Warriors family.