What Shall Be The Tribute That Today We Bring – Hymn Lyric
summary.txt
---
---
What Shall Be The Tribute That Today We Bring – Hymn Lyric
What shall be the tribute that today we bring
To our loving Father that he most will prize?
What have we to offer this Redeemer King?-
O a heart of love is precious in his eyes.
Refrain:
Loving Father, take the gifts we bring,-
Earnest hearts and loyal to the King!
Help us live for others as for thee,
Till we sing thy praises in eternity.
Just a heart that loves him, and is glad to do
Something for the Master, tho' the deed be small,
Loyal, willing, loving, all life's journey thro',
Just a heart that loves and trusts him all in all.
[Refrain]
Bring we each our off'ring to the King, and say,-
Take this heart, my Father, full of love for thee;
Mould it to thy purpose in thine own good way;
Make our lives what thou wouldst have them, Lord, to be.
[Refrain]
Meaning of What Shall Be The Tribute That Today We Bring
What Shall Be The Tribute That Today We Bring
In our busy lives, it is easy to get caught up in the materialistic world. We often find ourselves consumed with accumulating possessions and achieving personal success. However, amidst the hustle and bustle of our daily routines, it is important to pause and reflect on what truly matters.
As the hymn suggests, we are called to offer a tribute to our loving Father that he most will prize. But what does this tribute entail? What does our Redeemer King desire from us? The answer lies not in physical gifts or extravagant displays, but in something much more valuable – a heart of love.
Imagine a heart overflowing with love, one that exudes warmth and kindness towards others. This is the precious offering that our Heavenly Father seeks from us. He cherishes a heart that is genuine, a heart that embodies the selfless love shown by Jesus Christ.
In our youth, it's easy to feel insignificant and believe that we have nothing to offer. We may think that our contributions are too small to make a difference. But the hymn reminds us that even the smallest of deeds can bring joy to our Master.
It is not about the magnitude of the act, but rather the sincerity behind it. Whether it is a kind word, a helping hand, or a simple gesture of love, our willingness to serve others reflects the goodness in our hearts. The hymn encourages us to be loyal, willing, and loving throughout life's journey.
Life can be challenging, and we often face obstacles that test our faith and commitment. However, regardless of the difficulties we encounter, we are called to remain steadfast in our love and trust for the Lord. This unwavering devotion is what truly matters.
When we bring our offerings to the King, we are not only presenting tangible gifts but also offering our hearts. We surrender ourselves to God's will and ask Him to mold us to His purpose. We seek His guidance and wisdom, acknowledging that our lives are meant to be lived according to His plan.
It is easy to lose sight of our purpose and get caught up in pursuing our own desires. Yet, the hymn reminds us to live for others as we live for God. It encourages us to focus on how we can make a positive impact in the lives of those around us. By serving others, we reflect God's love and become conduits of His grace.
As we strive to live a life of love and service, we recognize that our actions have eternal significance. The hymn expresses the desire to sing God's praises in eternity, envisioning a future where we can rejoice in the presence of our Heavenly Father.
In conclusion, the tribute that we bring to our loving Father is not measured by material possessions or extravagant gestures. Rather, it is measured by the love that flows from our hearts. Our willingness to love and serve others, to be loyal and devoted to our Redeemer King, is what truly matters.
Let us remember that even the smallest acts of kindness and obedience can bring joy to our Heavenly Father. May we offer our hearts to Him, seeking His guidance and allowing Him to shape our lives according to His purpose. And may we continue to live for others as we sing His praises in eternity.
I hope this hymn inspired image brings you hope and peace. Share it with someone who needs it today!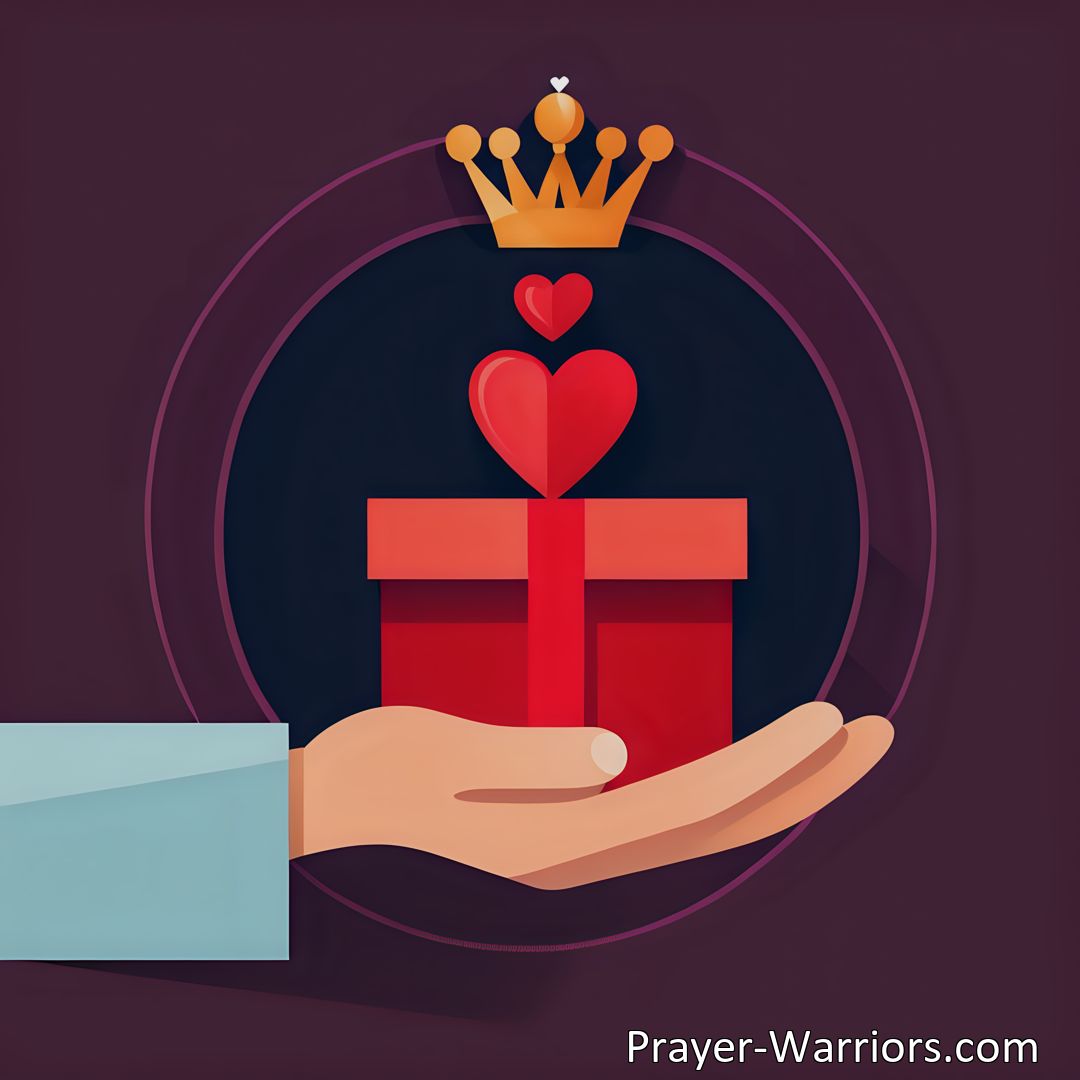 Join the Prayer Warriors Community!
Sign-up for our newsletter and embark on a transformative journey with Prayer. Enter your email below and become a part of our Prayer Warriors family.