O God Be Merciful – Hymn Lyric
summary.txt
---
---
O God Be Merciful – Hymn Lyric
O God be merciful,
Be merciful to me,
For man, with constant hate,
Would fain my ruin see.
My many enemies
Against me proudly fight;
To overwhelm my soul
They watch from morn to night.
What time I am afraid
I put my trust in thee;
In God I rest, and praise
His word, so rich and free;
In God I put my trust,
I neither doubt nor fear,
For man can never harm
With God my helper near.
All day they wrest my words,
Their tho'ts are full of hate;
They meet, they lurk, they watch,
As for my soul they wait;
Shall they by wickedness
Escape Thy judgment right?
O God of righteousness,
Destroy them in Thy might.
Thou knowest all my woes,
O treasure Thou my tears;
Are they not in thy book,
Where all my life appears?
My foes shall backward turn
When I appeal to Thee,
For man can never harm
With God my helper near.
In God, the Lord, I rest,
His word of grace I praise,
His promise stands secure,
Nor fear nor foe dismays;
In God I put my trust,
I neither doubt nor fear,
For man can never harm
With God my helper near.
Upon me are Thy voes,
O God, in whom I live;
The sacrifice of praise
To Thee I now will give;
For Thou hast saved from death,
From falling kept me free,
That in the light of life
My walk may be with Thee.
Meaning of O God Be Merciful
In times of trouble and adversity, we often turn to a higher power for guidance and support. This hymn, titled "O God Be Merciful," beautifully expresses the desire for God's mercy and protection in the face of constant hate and enemies.
The first verse sets the tone for the plea to God for mercy. The songwriter acknowledges that there are many enemies who proudly fight against them, seeking their ruin. It is clear that the songwriter feels overwhelmed and under constant surveillance, as their enemies watch from morning until night. In these moments of fear and uncertainty, the songwriter puts their trust in God and praises His word, which they describe as rich and free.
The second verse continues to emphasize the trust the songwriter has in God. They declare that they neither doubt nor fear because they believe that with God as their helper, no harm can come to them. Despite their enemies manipulating their words and harboring hate-filled thoughts, the songwriter remains steadfast in their trust in God. They describe how their enemies meet, lurk, and watch for opportunities to harm them. However, they have faith that God's righteous judgment will prevail and that He will destroy those who seek to harm them.
As the hymn progresses, the songwriter's trust and reliance on God become even more evident. They appeal to God to remember their sorrows and to treasure their tears. They believe that God knows every aspect of their life, and they trust that their pleas for help will not go unheard. The songwriter acknowledges that their enemies will turn back when they appeal to God because no one can harm them when God is by their side.
The fourth verse highlights the rest and security that the songwriter finds in God. They express gratitude for God's grace and promise, which provide a firm foundation in the midst of fears and adversities. The songwriter's faith in God remains unshaken, knowing that neither fear nor enemy can destabilize them when they put their trust in God.
The hymn takes a turn in the fifth verse, as the songwriter acknowledges the troubles and burdens that they carry. They are not blind to the challenges they face, but they choose to offer a sacrifice of praise to God. They recognize that God has saved them from death and has kept them from falling. This experience of being protected and delivered is a testament to God's faithfulness. With God as their guiding light, the songwriter desires to walk in His presence and live a life that honors Him.
The final verse concludes the hymn on a note of gratitude and commitment to God. The songwriter acknowledges that their enemies and sorrows have not disappeared, but they express their willingness to offer a sacrifice of praise in the midst of their experiences. They give thanks to God for His deliverance and reveal their desire to walk in the light of life with Him by their side.
This hymn serves as a powerful reminder of the importance of trust, faith, and gratitude in our relationship with God. Even in the face of constant opposition and fear, the songwriter finds solace in God's mercy and protection. They choose to put their trust in Him and believe that no harm can come their way when God is near.
May this hymn inspire us to seek God's mercy and protection in our own lives, and may we find comfort and strength in knowing that He is always with us, ready to guide and sustain us.
I hope this hymn inspired image brings you hope and peace. Share it with someone who needs it today!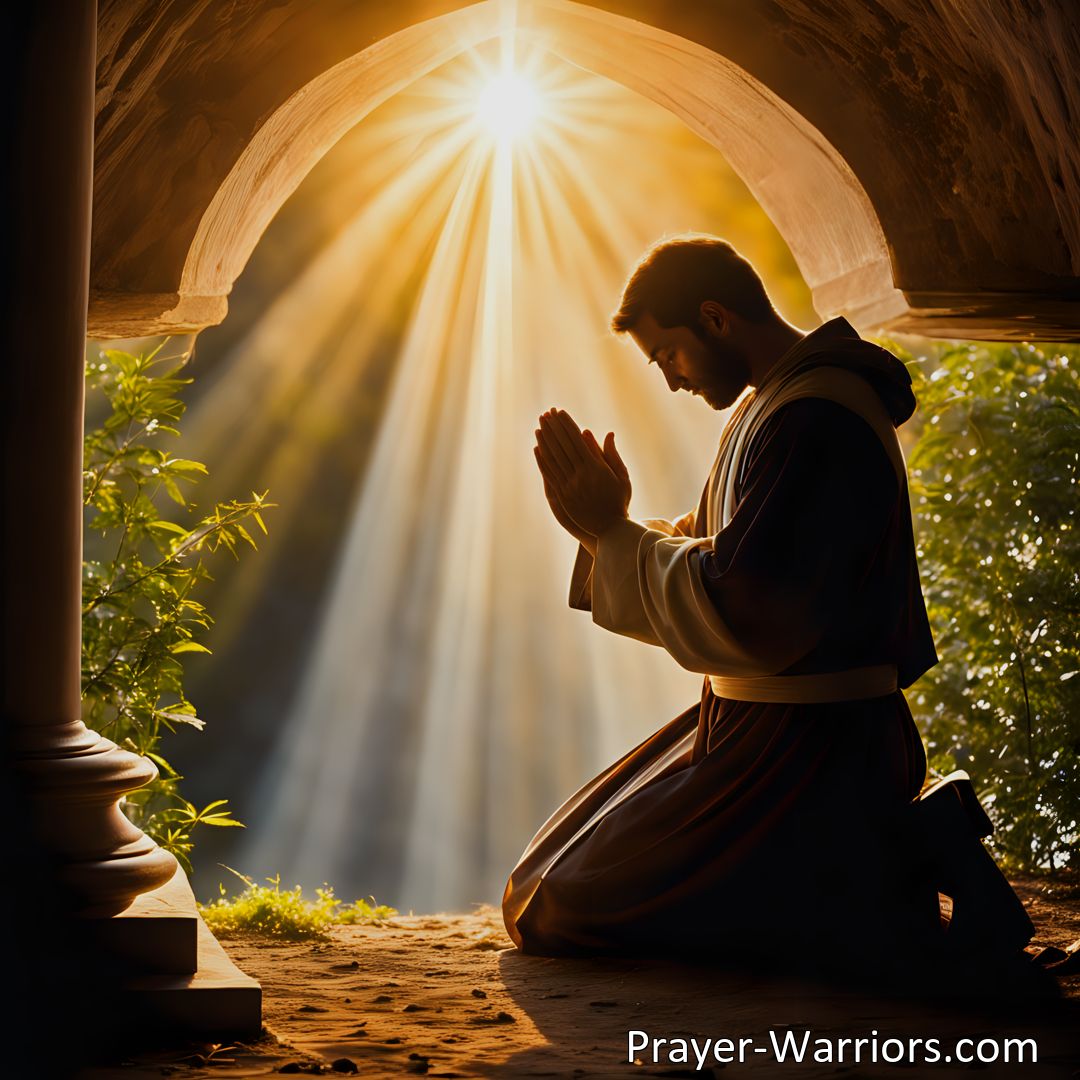 Join the Prayer Warriors Community!
Sign-up for our newsletter and embark on a transformative journey with Prayer. Enter your email below and become a part of our Prayer Warriors family.