Ye Heavenly Choir – Hymn Lyric
summary.txt
---
---
Ye Heavenly Choir – Hymn Lyric
Ye heavenly choir, assist me to sing,
And strike the soft lyre, and honor our King;
His mighty salvation demands all our praise,
Our best adoration, and loftiest lays.
All glory to God, Who ruleth on high,
And now hath bestowed, and sent from the sky
Christ Jesus, the Savior, poor mortals to bless,
The pledge of His favor, the seal of their peace.

Meaning of Ye Heavenly Choir
Ye Heavenly Choir: Singing the Praises of Our King
In this hymn, we are called upon to join the heavenly choir in singing praises to our King. As we strike the soft lyre and raise our voices in honor of God, we are reminded of the mighty salvation that He has brought to us. This salvation demands our praise, our adoration, and our loftiest songs of gratitude.
All glory is due to God, who reigns on high. He is the one who has bestowed upon us the greatest gift of all – the gift of Christ Jesus, the Savior. Sent from the sky, Jesus came to bless poor mortals like us, to bring us hope, peace, and eternal salvation. He is the pledge of God's favor and the seal of our peace.
As we gather together and lift our voices in praise, let us delve deeper into the significance of each line of this hymn. Let us explore the themes of salvation, adoration, and the role of Christ Jesus in bestowing these blessings upon us.
Salvation is a fundamental concept in Christianity. It refers to the act of being saved from sin and its eternal consequences. The hymn reminds us that this salvation is mighty and worthy of our praise. It is a gift given to us by God through His grace, and it is not something that we can earn or achieve on our own.
In recognizing the magnitude of God's salvation, we are called to offer Him our best adoration. Adoration involves deep respect, reverence, and love for God. It is an expression of our gratitude for His endless love and mercy. As we sing praises to our King, we are reminded of the importance of wholeheartedly worshiping Him and acknowledging His greatness.
The hymn also acknowledges the role of Christ Jesus in our salvation. He is described as the Savior who was sent from the sky. Jesus' birth, life, death, and resurrection have paved the way for our reconciliation with God. Through Him, we have received forgiveness for our sins and the promise of eternal life. He is the bridge that connects us to God's love and mercy.
Christ Jesus is not only the bringer of salvation, but also the pledge of God's favor. This means that He serves as the guarantee of God's love and care for us. By sending His Son, God has demonstrated His commitment to our well-being. The lyrics of the hymn remind us that in Jesus, we find the ultimate expression of God's love and the reassurance of His unwavering support.
Furthermore, Christ Jesus is the seal of our peace. In a world filled with chaos, struggles, and conflict, Jesus brings us peace that surpasses all understanding. This peace is not dependent on our circumstances or external factors. It comes from knowing that we are reconciled with God and that we have a helper, comforter, and guide in Jesus.
As we reflect on these ideas, we are invited to join the heavenly choir in singing our praises and expressing our gratitude for the blessings we have received. Through our voices, whether spoken or sung, we can convey our love, adoration, and thanksgiving to God.
So, let us raise our voices and strike the soft lyre, for our King deserves to be honored and exalted. Let our songs of praise resound, reaching the heavens, as we acknowledge God's mighty salvation, offer our best adoration, and lift our loftiest lays in His honor.
In conclusion, the hymn "Ye Heavenly Choir" calls upon us to join in singing the praises of our King. It reminds us of the mighty salvation that God has brought to us through Christ Jesus. It encourages us to offer our best adoration to God and acknowledge His greatness. Through our voices, we can express our gratitude, glorify God, and experience the peace that comes from knowing we are loved and saved. So, let us unite with the heavenly choir and let our songs of praise fill the air, for our King is worthy of all honor and adoration.
I hope this hymn inspired image brings you hope and peace. Share it with someone who needs it today!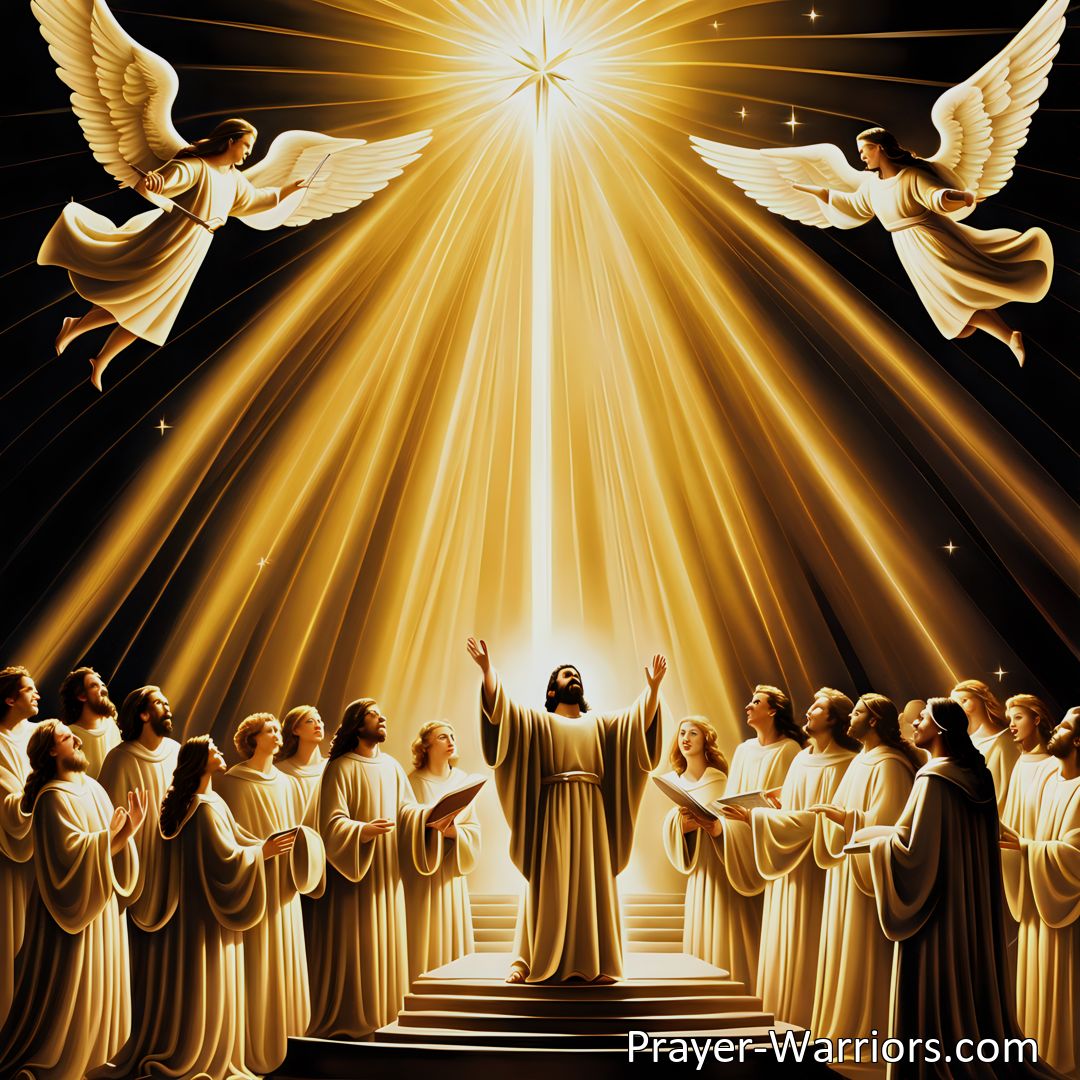 Join the Prayer Warriors Community!
Sign-up for our newsletter and embark on a transformative journey with Prayer. Enter your email below and become a part of our Prayer Warriors family.