From Depths Of Woe I Cry To Thee – Hymn Lyric
summary.txt
---
---
From Depths Of Woe I Cry To Thee – Hymn Lyric
From depths of woe I cry to Thee,
In trial and tribulation;
Bend down Thy gracious ear to me,
Lord, hear my supplication.
If Thou rememb'rest ev'ry sin,
Who then could heaven ever win
Or stand before Thy presence?
Thy love and grace alone avail
To blot out my transgression;
The best and holiest deeds must fail
To break sin's dread oppression.
Before Thee none can boasting stand,
But all must fear Thy strict demand
And live alone by mercy.
Therefore my hope is in the Lord
And not in mine own merit;
It rests upon His faithful Word
To them of contrite spirit
That He is merciful and just:
This is my comfort and my trust.
His help I wait with patience.
And though it tarry through the night
And till the morning waken,
My heart shall never doubt His might
Nor count itself forsaken.
O Israel, trust in God your Lord.
Born of the Spirit and the Word,
Now wait for His appearing.
Though great our sins, yet greater still
Is God's abundant favor;
His hand of mercy never will
Abandon us, nor waver.
Our shepherd good and true is He,
Who will at last His Israel free
From all their sin and sorrow.
Meaning of From Depths Of Woe I Cry To Thee
From Depths Of Woe I Cry To Thee: Finding Hope and Comfort in Times of Trial
Life can often be filled with trials and tribulations that leave us feeling overwhelmed and helpless. In times like these, it is natural to look for someone or something to turn to for comfort and support. The hymn "From Depths Of Woe I Cry To Thee" beautifully captures the essence of this longing for solace and provides a message of hope and encouragement for those who find themselves in the depths of despair.
The first verse of the hymn poignantly expresses the cry for help that arises from the depths of our souls when we face difficult circumstances. It acknowledges that in times of trial and tribulation, it is necessary to turn to a higher power, in this case, addressed as "Thee." The lyrical plea for divine intervention resonates with readers who have experienced the weight of their own challenges and are seeking relief.
The hymn goes on to highlight the well-known fact that everyone is flawed and has committed sins. It acknowledges that if we were to be judged solely based on our transgressions, none of us would have a chance at heaven or even stand before the Divine presence. This humbling realization reminds us of our inherent need for mercy and grace.
Despite our shortcomings, the hymn assures us that God's love and grace are more than enough to pardon our transgressions. It emphasizes that our best efforts and deeds are inadequate in breaking free from sin's grip. The hymn encourages us to rely on God's mercy as the only means to obtain forgiveness and salvation, reinforcing the idea that our trust should not rest in our own merit but in the Lord's faithful Word.
Waiting for something we desire can be a test of patience and faith. The hymn acknowledges that God's help may not come immediately, and we may have to endure difficult times before experiencing relief. However, it also assures us that even in the darkest hours of the night, we should never doubt God's power or feel abandoned. Instead, we are reminded to trust in His might and patiently wait for His deliverance.
The hymn addresses the people of Israel specifically, calling them to place their trust in God as their Lord. This serves as a reminder that regardless of our individual circumstances, we can find solace in knowing that God's mercy and justice are not limited to a specific group of people but extended to all who approach Him with a contrite spirit.
In contemplating the enormity of our sins, it is easy to feel weighed down and unworthy of God's favor. However, the hymn directs our attention to the abundant favor of God, which surpasses the magnitude of our transgressions. It assures us that God's hand of mercy will never abandon us or falter, instilling in us a sense of security that allows us to face our sin and sorrow with courage.
As we journey through life, feeling burdened by our own shortcomings, it is comforting to know that we have a shepherd who is both good and true. The hymn refers to God as our shepherd and hints at the eventual liberation of Israel from sin and sorrow. This imagery serves as a beacon of hope, reminding us that God is with us every step of the way and that, in the end, He will set us free from the burdens that weigh us down.
In conclusion, "From Depths Of Woe I Cry To Thee" is a hymn that beautifully expresses the universal human need for comfort and hope in times of trial. It reminds us to turn to God, acknowledging our own limitations and seeking His mercy and grace. The hymn's profound message resonates with readers of all ages, offering solace and encouragement to anyone who finds themselves in the depths of despair. Through its timeless lyrics, this hymn continues to inspire and uplift those who are facing challenges, providing a reminder of the unwavering love and support available to all who seek it.
I hope this hymn inspired image brings you hope and peace. Share it with someone who needs it today!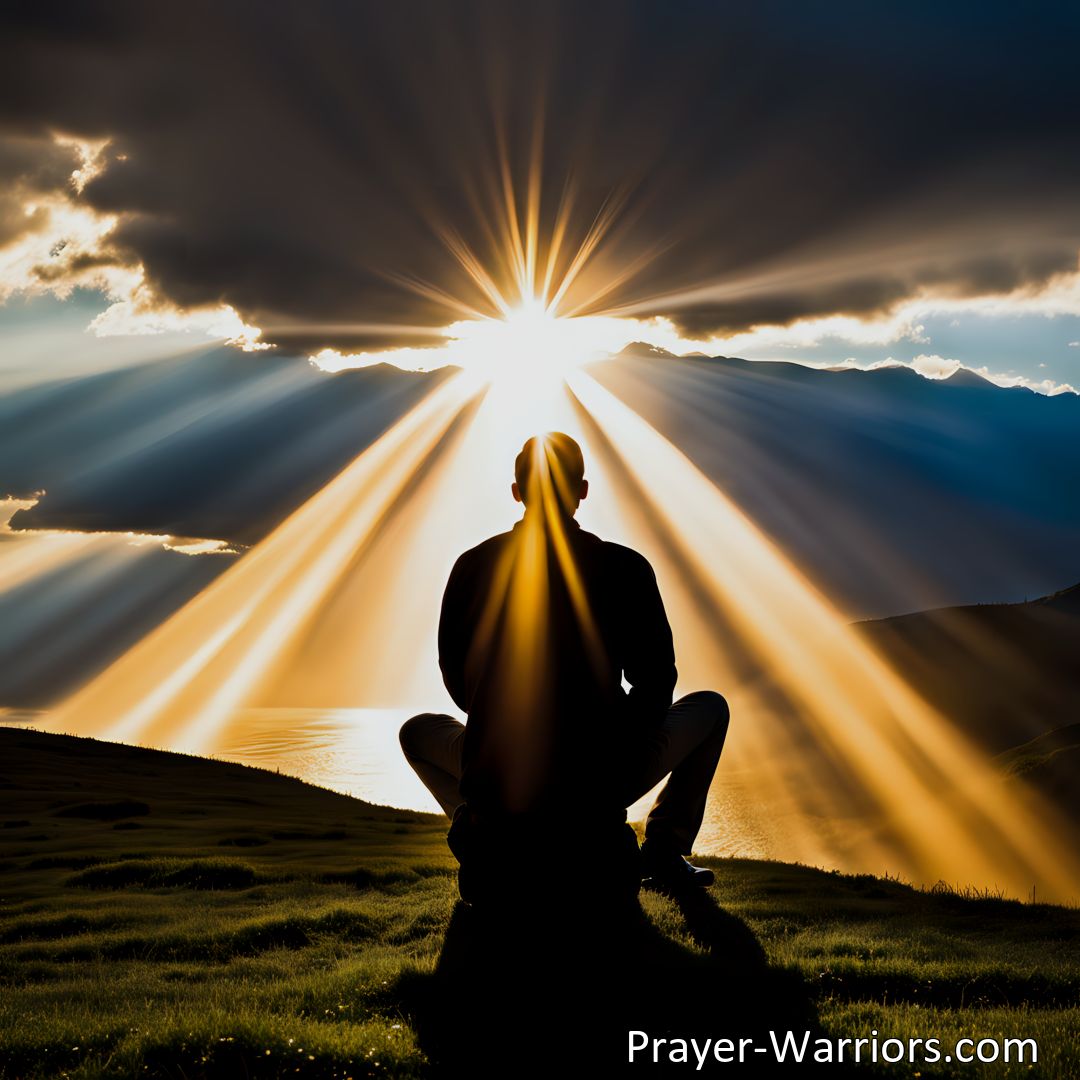 Join the Prayer Warriors Community!
Sign-up for our newsletter and embark on a transformative journey with Prayer. Enter your email below and become a part of our Prayer Warriors family.